A new Bible app containing 57 Indigenous languages represents 20 years of compilation from floppy disks and manuscripts and reflects a seismic shift in attitudes towards the importance of Aboriginal Scriptures.
The Australian Bibles App, available on both Android and iOS phones and tablets, contains almost all translated Scripture in Australian Indigenous languages and Aboriginal English, in both text and audio formats, along with Auslan sign language.
Stuart Cameron started collecting Indigenous Scripture in 2002 when he discovered an air-conditioned room containing phone equipment and floppy disks at the SIL (Summer Institute of Linguistics) centre in Darwin, where he was then working.
"They basically had digital copies of various and sundry things and there was a lot of Scripture there, and I thought, 'Oh, this is interesting.' So I started my collection of Australian vernacular Scripture at that point," he tells Eternity.
Fuel your faith every Friday with our weekly newsletter
"As time went on, I became more and more involved with the Aboriginal work. I then just started compiling Scripture and taking note of what was in digital form and what was not. At one point, we decided to make a list and make a poster of all the Scripture publications that have ever been done in Australian Indigenous languages. And then I thought, 'All right, this is serious.'"
"Basically the app represents 57 languages of which there's some Scripture published." – Stuart Cameron
Stuart and Maryanne Cameron first worked in Southeast Asia as Bible translators. After moving to Darwin in 2002, they began working with Aboriginal people and supporting translators and teams in Australia. Now based on the Sunshine Coast in Queensland, Stuart provides IT support for Aboriginal and Torres Strait Islander programs and translators for AuSIL (the Australian Society for Indigenous Languages) and Bible Society Australia.
"Gradually over the years, I've been compiling information of what's available and what's not. And then if there was a publication – say, a gospel in Awabakal, which is north of Sydney – I got that digitised and proofread, and placed into Paratext (Bible Translation Software) so it could be made into various products. I remember months working alone on the Luritja Bible, a substantial publication. And in the last few years, other language publications. These recent publications, however, I have been so thankful for volunteers who have helped me."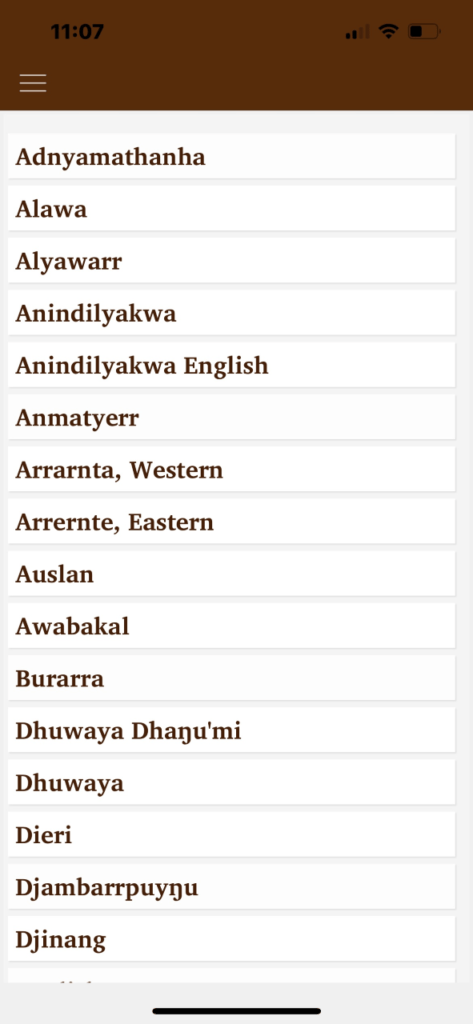 Cameron then discovered that for the past 200 years, Bible Society Australia had been sending copies of everything they produced to England for long-term storage. And there was a group connected with Bible Society and Wycliffe UK called Mission Assist who were willing to rekeyboard old Bible manuscripts.
"They do it in a special way. They get two people to keyboard the same thing. And then at the end of it, they just compare them. They then look at the areas where there are mistakes and fix and refine so it's very, very accurate."
At the moment, Mission Assist is retyping portions of the Gumatj Old Testament because "there were some conversations about the reliability of the digital texts. I thought, 'Oh, well, let's just get it rekeyboarded. And then we'll know.'"
I mentioned that when I went to the library at Nungalinya Theological College in Darwin I saw an impressive array of Indigenous Bible translations in printed form, some of which didn't appear to have been opened for many, many years. I'd thought at the time what a huge job it would be to get all of those digitised. Well, I needn't have worried because almost all of it has been digitised and put into Paratext format, which is the main software that Bible translators use and from which it is easy to produce a PDF for publication.
"So basically the app represents 57 Australian languages of which there's some Scripture published," Cameron says.
"Now, some languages might just have the book of Jonah or the book of Ruth or some passages of, say, the Christmas story, versus whole Bibles, whole New Testaments, all that kind of thing. So the app represents all that text plus any audio that's been recorded."
"A lot of it is synchronised, which means that as you play the audio, it highlights the text, which is very good for literacy." – Stuart Cameron
Asked if there's any overlap with the 5Fish App of Global Recordings Network, Cameron says yes, but 5Fish is purely audio and in a story by story format, whereas the Australian Bibles app uses a chapter by chapter format.
"The App has both text and audio and a lot of it is synchronised, which means that as you play the audio, it highlights the text, which is very good for literacy. A lot of Aboriginal people can't read their own language – they're more literate in English than their own language."
Thanks to Cameron's work, there is also a new Northern Australian Lectionary App containing liturgies and devotionals in the five Indigenous languages of the Anglican communities in the Territory. This is only available on Android, but Cameron is looking at putting some of the content into the Australian Bibles app to have it on both platforms.
Asked what might be the main obstacle to uptake of the Australian Bibles app, Cameron says most language groups around the world prefer to have their own app, but it doesn't make sense for the smaller language groups.
"I have produced apps for some of these smaller groups and there's no uptake, and there are some social and technical reasons for that," he says.
"One is their phones are always full of photos and other stuff and Aboriginal people generally renew a phone every year. So it might have been on a past phone, but not now. At Katherine Christian Convention, people would come up and say, 'Where's our language?' And basically, we hadn't done an app for it. And I thought, 'Well, let's do one app with all 57 languages so that you only have to download that one app and you can find whatever's in your language. It might not be your own language app, but any published Scripture in your language is there.
"I've been talking to the Guugu Yimithirr mob in north Queensland. They don't actually have any Scripture, but they have liturgies and hymn books and videoed sermons of local people. And so I put them in the app and they're just so excited about it."
"When we arrived from Indonesia to Darwin in 2002, even then there was still a lot of resistance by the Christian community for Aboriginal things." – Stuart Cameron
Cameron says he has witnessed a great change in Australian Christians' attitudes to Indigenous Bible translations in the past 20 years.
"When we arrived from Indonesia to Darwin in 2002, even then there was still a lot of resistance by the Christian community for Aboriginal things, but just in 20 years, it's just turned right around," he says.
"I think people in both secular and non-secular society have started saying 'This is not right – we should value our umpteen thousand years of cultural history.' And I think people now see that racism is actually wrong and anti-Christian. But it's a slow grind. There's still a lot of resistance out there, especially in some areas of the country. But justice is part of who we are as Christians."
Cameron said there were only 20,000 speakers of the Indonesian language group he worked with, but their language was used every day in the community, although they were bilingual.
"When we'd translate something from the national language, which they could speak, they'd go, 'Oh, wow, is that what it really says?' And they'd go away and have a hard think and it would sink into their heart.
"I remember one fellow said he just listened to a sermon preached in the local language about the walk to Emmaus, and 'for years I had in my head that these people were just far away and just foreigners, but as the sermon was being preached, I could see them outside the church, coming down the road here!'"
Anyone who downloads the Australian Bibles app on their phone can receive a verse a day at midday in the Plain English Version (Aboriginal English). You can even click on a verse and then send it on top of a picture to someone. "Aboriginal people love that," says Cameron.
Email This Story
Why not send this to a friend?