Over 1000 kids youth kids from 70 different Australian youth ministries joined together online to hear Christian academics answer big questions about God, at two YouthQ events last month.
YouthQ is a series of online youth events conducted by the Bible Society Australia (BSA) which aims to offer both content and connection for youth groups around Australia.
Youth groups gather individuals together (in accordance with their local coronavirus health restrictions, of course) and tune in online to hear academics, thinkers and other Christian leaders speaking in a relaxed presentation, often from their living rooms.
BSA's hope for YouthQ events is that they would benefit the spiritual lives of the young people who take part in them, regardless of where they are on their Christian journey. As a 21-year-old medical science student from the inner-west of Sydney, I found them both helpful and encouraging.
The first YouthQ was held in early June and featured John Lennox, professor of Mathematics at Oxford University, in conversation with Jordan Thyer from Ravi Zacharias Ministries (RZIM), tackling the burning question of "where is God in a coronavirus world?"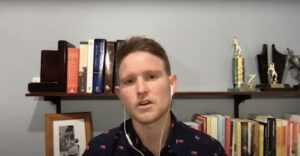 "Many people say there can't be a God because of [suffering, etc]," Lennox explained.
But, he asserted, not believing in God actually leaves people with more questions than they began with.
"If you remove God from the equation, you solve the intellectual problem, but, you see, you've done nothing about the suffering. What has gone is all ultimate hope. If you remove God, it's very difficult to see what justice, good and evil are," he said.
And, for humans who foster a deep sense of justice and fairness, that's a solution which proves unsatisfactory.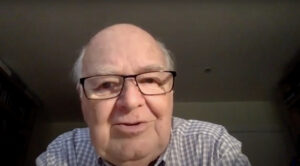 The second YouthQ event was held later in June and dealt with another curly question: "Why isn't God more obvious?".
Dan Paterson, a pastor, itinerant speaker and former RZIM speaker explored the question with youth groups who had gathered online.
"We've grown up in a culture that has taught us to believe that the only things worth believing in are the things that can be proved objectively by science. And God just doesn't seem to fit into that category."
Paterson went on to raise a question that has plagued humans across the world for thousands of years: Why doesn't God fit into a "can-be-proven" category? If God is as powerful as the Bible says, he could do a bazillion fun things to prove he is real, and yet he doesn't. Why?
"God could spell out our names with constellations in the night sky, or [he] could stamp 'made by God' with a birth mark on our feet." Paterson mused.
So, what are we meant to make of the fact that God doesn't do these things?
"One way to come at this question is actually to explore God may be more obvious that we tend to give him credit for," Paterson suggested. "Take nature for instance. In Psalm 19.1, the Bible says the heaven declare the glory of God and the sky proclaim the work of God."
For Paterson, nature is proof of God. In the creation of Earth, God is made obvious.
As someone who is currently interning with BSA and didn't attend the events, I watched the recorded versions of these events on YouTube earlier this week with interest, wondering whether I would find them "too high school" for me.
Not only was I was pleasantly surprised to hear respected academics wrestle with questions that were utterly relevant, but I also found the advice offered to me as a young person to be inspiring.
"It's not a question of waiting for pie in the sky when we die… we're able to know God here on Earth and walk with Him even in the valley of the shadow of death," Lennox said. "If there is a God, what could be bigger and better than walking through life [with him]? It transforms all of life."
Upon closing the event, Lennox encouraged his audience:
"It will be very sad to look back on a life where you've had no sense of flourishing, no sense of real, deep achievement," he noted. "So, I would encourage you as an older person who loves young people, to get [the God stuff] sorted out."
For other young people who are seeking to do just that, may I encourage you to watch the YouthQ events for yourself here and here and email  [email protected] to ensure you don't miss the next one.
Also: next up in the Bible Society Australia's youth event series is 'Masterclass' – an event for students in Years 9-11 that allows them to explore contemporary issues from a biblical perspective and includes a Q&A session. learn more and register here.
Email This Story
Why not send this to a friend?