Australia's Annual Reconciliation Week got underway yesterday and extends until Wednesday 3 June, with the week's start and finish commemorating two significant milestones in the reconciliation journey— the successful 1967 referendum, and the High Court Mabo decision.
National Reconciliation Week is, as Reconciliation Australia explains, "a time for all Australians to learn about our shared histories, cultures, and achievements, and to explore how each of us can contribute to achieving reconciliation in Australia."
"Reconciliation is a journey for all Australians …" – Karen Mundine
This year marks a special anniversary: 20 years since the establishment of Reconciliation Australia, which is the lead body for reconciliation in Australia. 2020 also marks 20 years since 250,000 Australians walked across the Sydney Harbour Bridge – and across bridges in all capital cities, as well as many other cities and towns around the country.
"The reconciliation bridge walks marked a shift in our national consciousness and, 20 years later, more than 90 per cent of Australians now support reconciliation, with 80 per cent believing in the importance of formal truth-telling processes," said Reconciliation Australia's Chief Executive Officer, Karen Mundine.
Yet, with this year's NRW theme 'In This Together', Reconciliation Australia has its focus fixed on the future.
"Today we work together to further that national journey towards a fully reconciled country," declares Reconciliation Australia's website. "Reconciliation is a journey for all Australians – as individuals, families, communities, organisations and importantly as a nation. At the heart of this journey are relationships between the broader Australian community and Aboriginal and Torres Strait Islander peoples.
"We strive towards a more just, equitable nation by championing unity and mutual respect as we come together and connect with one another. On this journey, Australians are all 'In This Together;' every one of us has a role to play when it comes to reconciliation, and in playing our part we collectively build relationships and communities that value Aboriginal and Torres Strait Islander peoples, histories and cultures."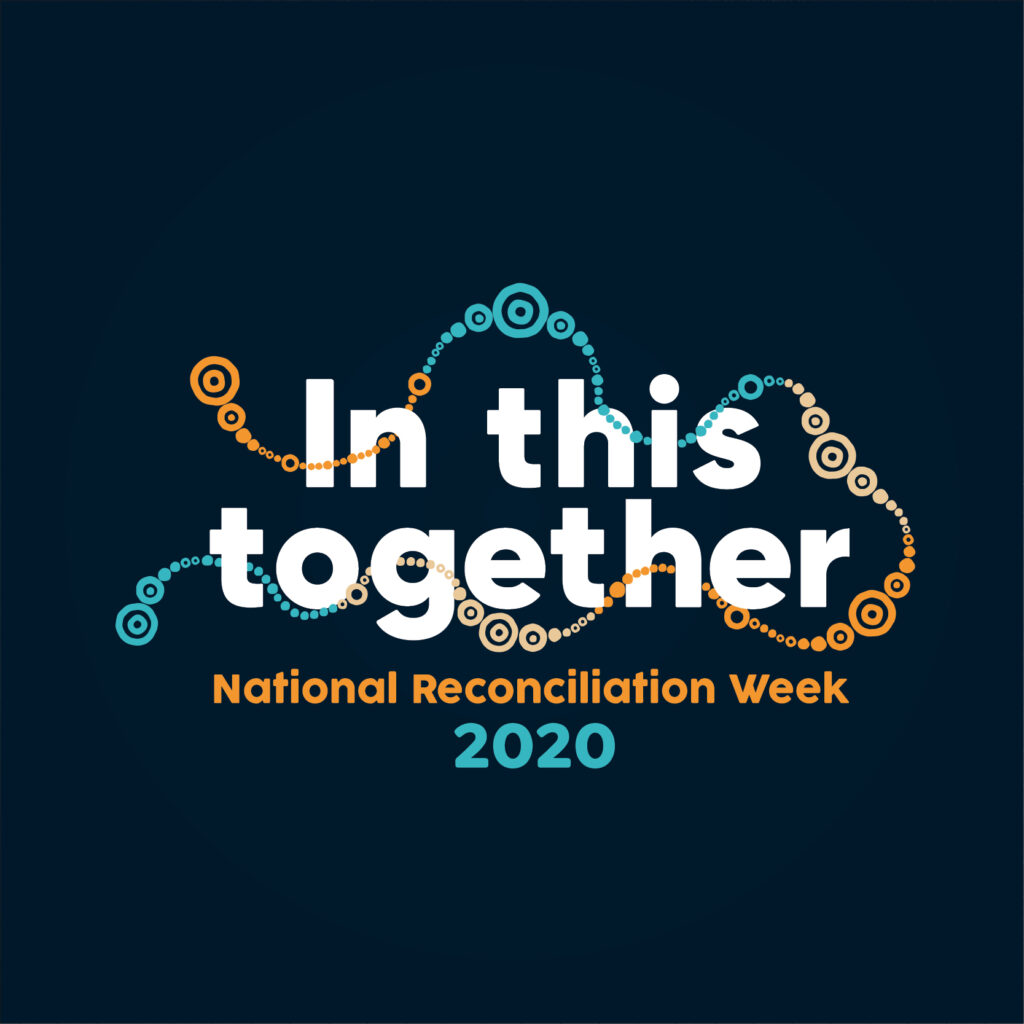 Reconciliation Week Resources for Christians
A wealth of material has been created by Christian churches and organisations to help engage practically with NRW. Here's a range of resources Eternity has gathered. (Please feel free to link anything else that's great in the comments section of this article or its social media post).
Resources for personal reflection and action
Melbourne Anglican's Aboriginal Education Unit has released a set of readings and resources for NRW 2020 prepared by by Rev. Glenn Loughrey for individuals who "take their faith seriously and look for ways to integrate it with the social issues of the day", "wish to consider how scripture informs our response to the social landscape and how that social landscape in return influences, impacts or changes our understanding of scripture." Each day, lectionary texts and a short reflection are provided. The resource also includes a Fact Sheet regarding a social justice issue affecting Aboriginal people, as well as an 'Australian Eucharist' with variations for mid-week and Sunday worship.
Common Grace is inviting Christians to view their 'Walks for Reconciliation 2000 Gallery & Stories' and to reflect upon where they were during the 2000 walks, as well as consider the next 20 years. In addition, the justice group asks Christians to commit to "#StillWalkingForReconciliation" by uploading a photo of themselves and writing a pledge on their website.
The Anglican Church of Southern Queensland has collated film, book and music recommendations which can be used as a creative resource for reflection.
The Anglican Board of Mission (ABM) has released A Voice in the Wilderness: a free, eight-part study for reflecting of the historic 'Statement from the Heart' made by Aboriginal and Torres Strait Islander representatives at Uluru in May 2017. The study is written by ABM Reconciliation Coordinator, Celia Kemp, with art by Rev. Glenn Loughrey.
Resources for listening to Aboriginal and Torres Strait Islander voices
The Anglican Board of Mission has also created a series of YouTube videos of 'National Reconciliation Week Conversations', featuring interviews with leading Aboriginal and Torres Strait Islander figures from the Anglican Church of Australia.
The Uniting Church of Australia's National Reconciliation Week resource for 2020 includes a reflection from Interim National Chairperson of Uniting Aboriginal and Islander Christian Congress Mark Kickett, along with 'Reconciliation Sunday' material prepared by Tarlee Leondaris, Covenanting Officer at the Synod of South Australia.
Each day during NRW, Hillsong Church is publishing a daily reflection written by an Aboriginal or Torres Strait Islander member of the church.
Common Grace has produced devotional reflections authored by Aboriginal and Torres Strait Islander Christian leaders which can be received daily via email or read online.
Resources for church services, pastors and ministers
The Uniting Church of Australia has included a Reconciliation Sunday Resource with its comprehensive Reconciliation Week Resource, (prepared by Tarlee Leondaris, together with other leaders). It includes a link to an online service for Reconciliation Sunday (31 May), as well as a suggested Order of Service for Sunday 31 May, a list of Covenanting and Reconciliation resources, plus intergenerational ideas for adapting the resource.
TEAR Australia designed a comprehensive Reconciliation Action Kit "created to inspire groups and individuals to act in seeking to build connection and relationship with Aboriginal and Torres Strait Islander peoples and to walk together in seeking justice." It includes discussion questions, reflective exercises, prayers, resources and much more.
TEAR Australia's Reconciliation Resources, which complement its Reconciliation Action Kit described above, include a liturgy, prayers, Acknowledgment to Country guide, tips for identifying the Indigenous history of the local area, creative resources (such as film and poetry) and a Reconciliation Action Plan Information Sheet.
The Anglican Church Southern Queensland has designed a resource for churches that collates links to guides and information for every aspect of a church service including Acknowledgment of Country, liturgy, prayer, story, the use of flags and film.
The Anglican Board of Mission has collated a range of prayers for Reconciliation Week on its website.
Email This Story
Why not send this to a friend?