A miniature "sacred city" made out of glass and china has won Perth artist Mikaela Castledine this year's Mandorla Art Award for contemporary religious art, which had the theme of a new heaven and a new earth.
Castledine's crochet, glass and ceramic sculpture, entitled God is in the House, was announced as the winner of the $25,000 acquisitive prize at Perth's Turner Galleries last night. The gathering included Anglican Archbishop Kay Goldsworthy, Catholic Bishop Don Sproxton, other patrons and artists who had travelled from across Australia for the awarding of our most significant thematic religious art prize.
The winning work – a tiny "sacred city" created from bottles and pottery "stupas" topped with spiralling crochet domes – was described by pastor Jarrod McKenna as "found objects in the kitchen beatified."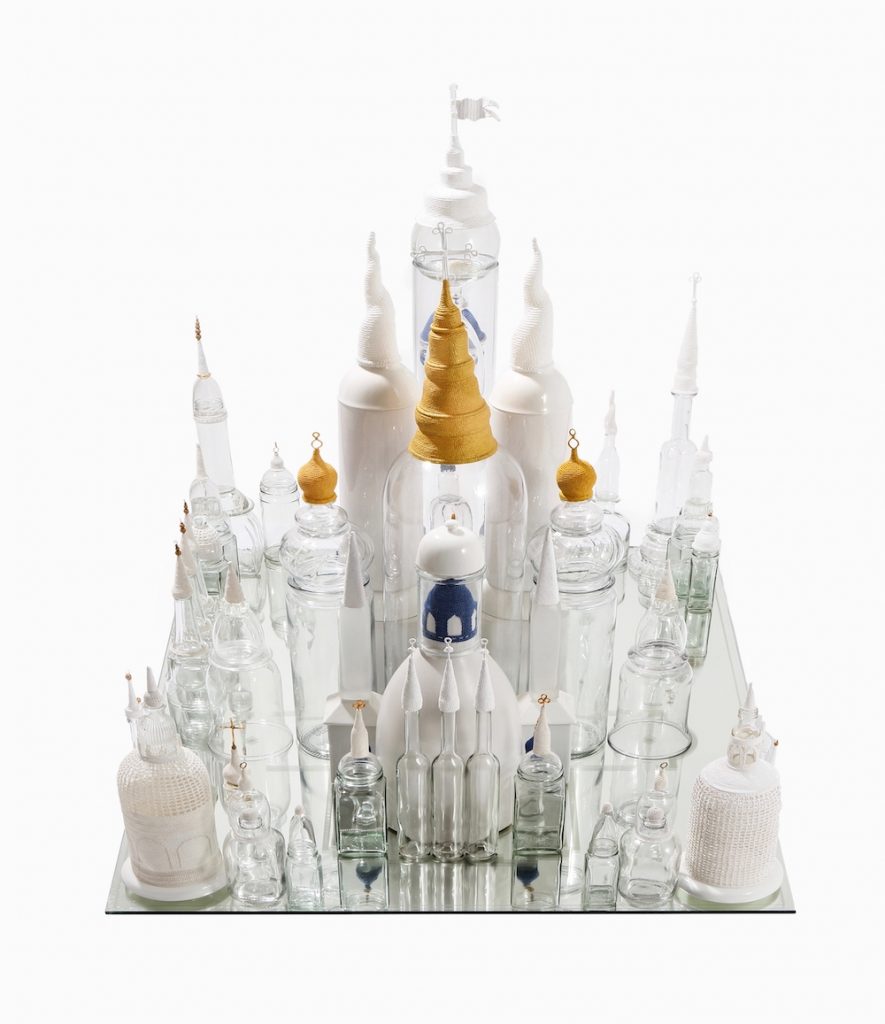 McKenna, Ric Spencer, curator, Fremantle Arts Centre, and Anne Ryan, Curator at the Art Gallery of NSW, chose the prize-winning work from 40 finalists yesterday morning.
"We find the work is beautifully crafted, it uses all very humble objects, found objects which have been turned through the artistic process into something quite extraordinary," said Ryan.
"It has a very feminine feel to it – maybe that's the threads – and it was about creating an architecture and that human idea of creating something new, and perhaps something within us all that, if we had to start again using bits of found glass and bits of found porcelain, we would create similar forms that tell of something greater than us."
A delighted Mikaela Castledine told Eternity the work evolved from a trip in 2015 to Burma, where her mother had been born.
"She had Alzheimer's and I wanted to go and find some of those memories that she was losing. I went to Rangoon, I found the house where she was born and the church where she was baptised," she said.
After visiting India, Egypt and Barcelona in recent years, the artist realised that religious buildings in all countries are similar, "so maybe human beings find those shapes sacred. So instead of God giving them to us, we've given them to God. It's like that's the best shape we can come up with to give to God in every religion."
In entitling the work God is in the House, she wanted to express the idea that if people don't go to church any more there is a need to put Christian values somewhere.
"I wanted to say maybe we can find somewhere – things that are in your house; household things, little things that we can transform into these sacred shapes – [that] might be a place where we can bring those values to," she said.
Castledine said her mother, who had passed away, would be "very proud of me today but she'd also be quite cross because she wanted to win it … and my uncle is also an artist and he's been a finalist many times, so he will be happy but also a bit cross."
The Mandorla Art Award for contemporary religious art is Australia's most significant thematic religious art prize. The biennial award differs from the Blake Prize for religious art in that it asks artists to respond to a thematic spiritual inspiration from the Bible that changes with each exhibition. This year it was: "And then I saw a new heaven and a new earth; for the first heaven and the first earth had passed away, and the sea was no more. And I saw the holy city, the new Jerusalem, coming down out of heaven from God, prepared as a bride adorned for her husband." (Rev 21:1-2).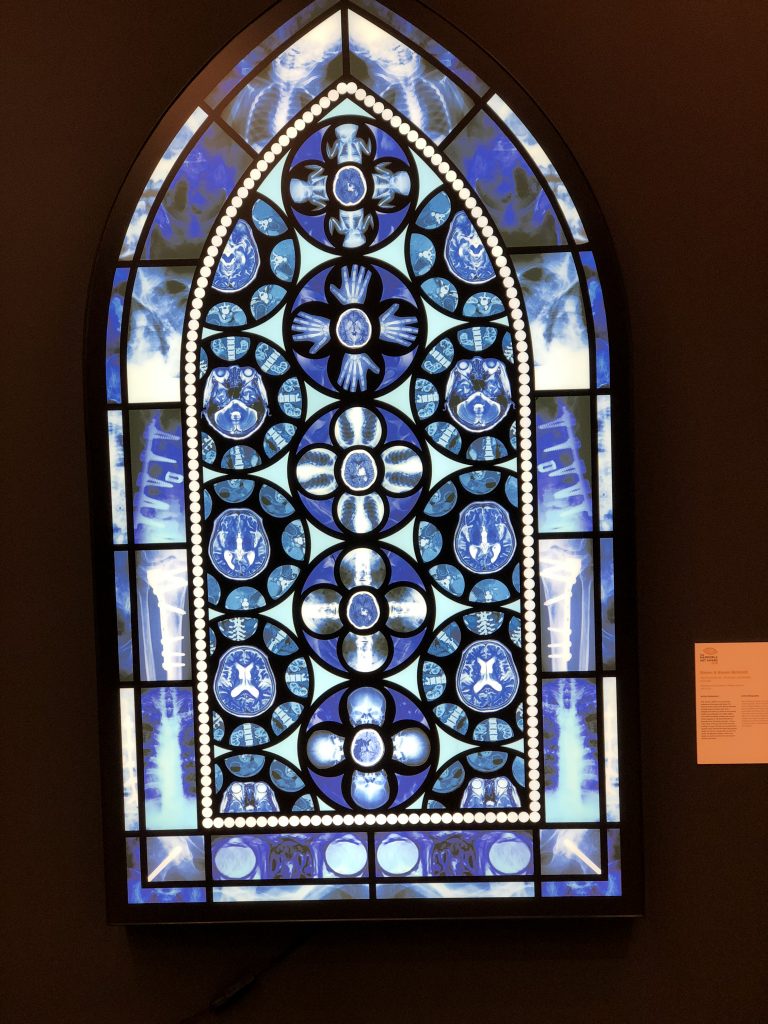 One of two highly commended awards of $5000 went to Simon and Naomi McGrath from NSW for their work called The First Earth – Sickness and Death, which was created from radiology scans printed on a Perspex light box.
"We liked the fusion of quite obviously ecclesiastical shapes or forms of the window, the stained glass, telling a personal story through medical technology," Ryan commented.
"It's about a journey these people have gone through, through their own ill health, and also through the experience of death of friends and family."
In the exhibition catalogue, the artists noted that the work was inspired by the many scans Naomi collected through years of chronic pain and a diagnosis of cancer.
"As much as we worship health and wellbeing, it is a futile religion," they write. "There is no hope here on this first earth, but because of Jesus' victory over death, we look forward to the new heaven and the new earth."
The other highly commended prize of $5000 was given to Brian Robinson, an indigenous artist from Far North Queensland, for a black-and-white linocut, called Moving with the Rhythm of the Stars, which depicts star constellations of importance to indigenous people.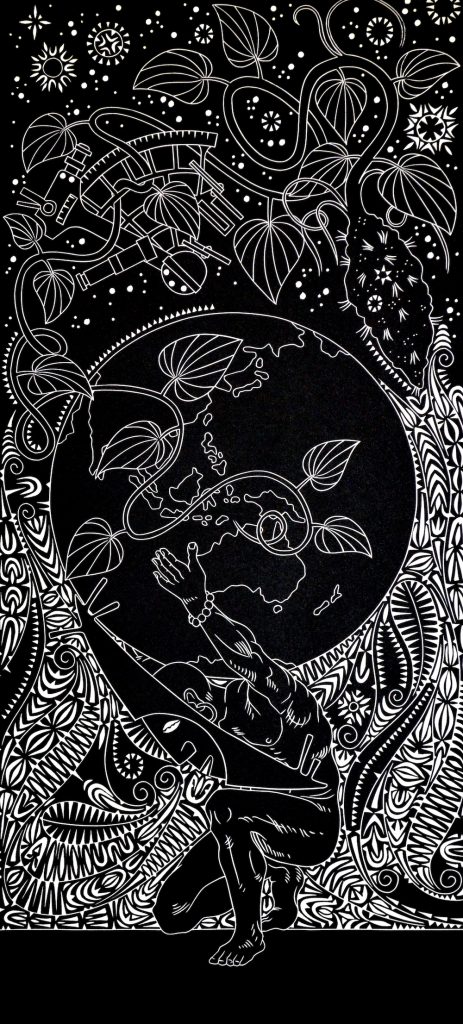 "Brian comes from multiple cultures, from far north of Australia in the Torres Strait, but he also has a Malaysian heritage and he's an artist who is dealing with the confluence of cultures; he's an artist who incorporates his Tiwi culture with his own iconography," Ryan explained.
For the first time, painting was specifically celebrated with a new prize – in honour of a founding Mandorla member who had bemoaned in 2014 that none of the prize-winning works were paintings.
Melbourne-based artist Julie Davidson snagged the Patricia Toohey Painting Award for her richly dramatic oil-and-resin circular painting, And I Saw (after John Martin), which depicts the Apostle John as a modern-day backpacker chancing upon a brilliant vision.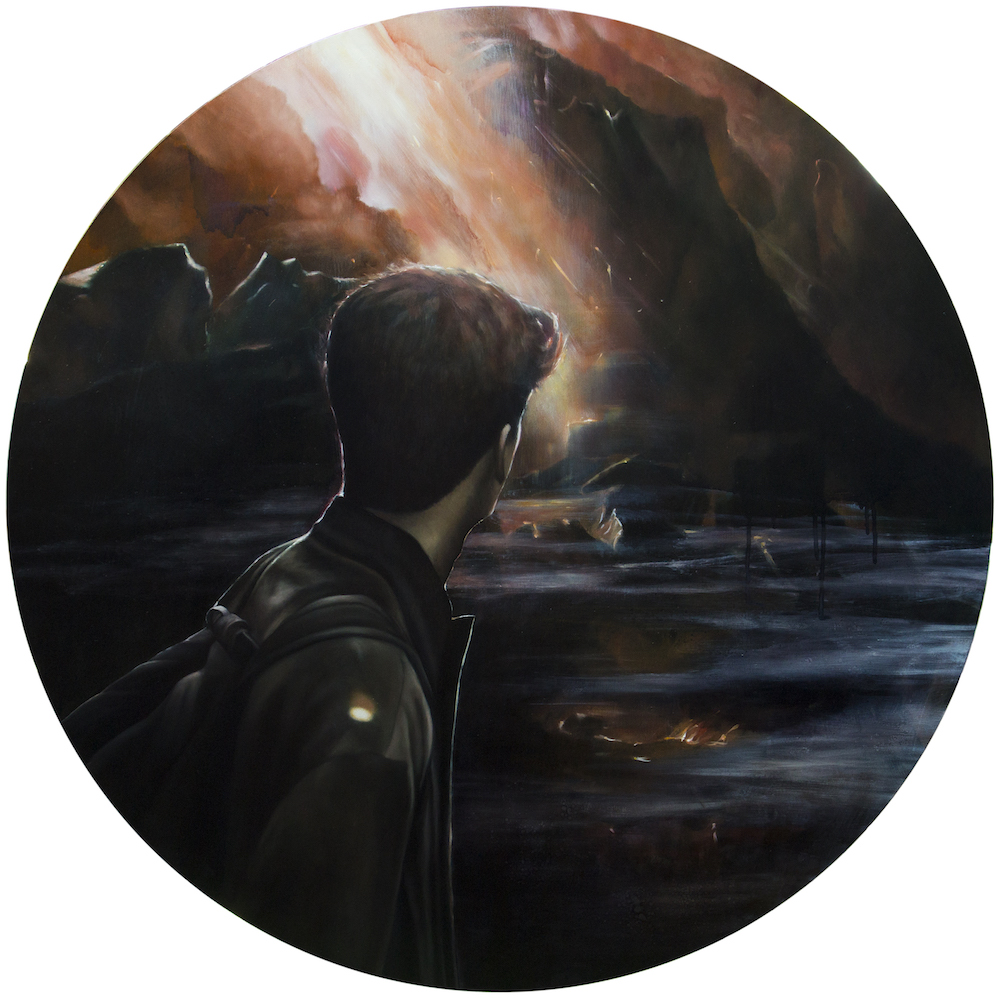 "We felt this had interesting links and feelings to the contemporary, to popular culture, to film and screen culture as well as … to the work of John Martin, who was an extraordinary British artist who painted massive apocalyptic imaginative paintings," Ryan said.
"We liked the materials that were used, the shape of the work, which suggested a lens or a portal that we look through and it felt very much like a work that was part of now."
A People's Choice award of $2000 will be awarded on July 7 on the basis of a public vote, bringing the total prize pool to $42,000.
WA Anglican Archbishop Kay Goldsworthy commented that the artworks "help us enter even more deeply into the mystery of God by reflecting ourselves, by the art that you have given us, what it is to be part of new heaven and new earth, what it is that we hope for and how it is we might be able to contribute in our own ways."
Angela McCarthy, chair of the Mandorla Art Award, reflected on the importance of the award in an increasingly secular world where it was difficult for artists to work in the religious genre.
"I've had artists who said they cannot exhibit religious works because galleries won't accept them and, in fact, a very good iconographer … sent in an icon to the Blake Prize and it was returned saying it was too religious."
"These people can't offer their religious works to the public and, so, the efforts of churches and others working within religious culture are important to support what we truly need in order to praise the God in whom we believe."
An exhibition of the finalists' works is being held at Turner Galleries in Perth from June 1-30, after which selected works will tour to New Norcia Museum and Art Gallery, St Mary's Cathedral, Perth, and WA's St John of God Healthcare. Bible Society Australia has been a sponsor of the award since 2016.