When was the last time you read an article in a mainstream newspaper discussing the need to strengthen families and combat loneliness and isolation in our communities?
Brisbane-based law professor Patrick Parkinson challenges you to find any significant public debate about such issues in the 10 years since he wrote a report mapping the deterioration in the social environment for children and the vulnerable.
A respected expert on family law and child protection, Parkinson noted that while his 2011 report For Kids' Sake attracted a lot of media attention, featuring on the front page of the Sydney Morning Herald and page two of The Australian, "nothing happened – it fell on deaf ears".
"Ten years 10 years on, the problems are worse, the situation is more desperate, and you see this in the mental health of young people," he tells Eternity.
His deep concern, particularly about the escalating numbers of children in foster care over the past 15 years, has prompted Parkinson to launch Publica, which he describes as "a think tank on public policy but with a very practical focus."
At the moment, Parkinson is the only public face of Publica, other than his board chair, Anglican minister Michael Jensen. However, he intends to appoint a part-time staff member and hopes to attract volunteers as momentum builds.
"It's about giving an evidence base to what we are doing and going into the public square on these issues around families."
The law professor at the University of Queensland has gone part-time in order to do this work. First up is a training session for the Sydney board of Anglicare's strategy day, presenting the latest research on families and its implications for Anglicare's work in Sydney. He has a similar invitation to do a training day for Anglicare's board and leadership in Tasmania.
"So these are the sorts of things that I'll be doing and we'll build from there. It's about giving an evidence base to what we are doing and going into the public square on these issues around families."
Publica was launched in Sydney last Friday by a panel including Stu Cameron, CEO of Wesley Mission, and Kate Harrison Brennan, head of policy at the Paul Ramsay Foundation. Generous seed funding got Publica started and its website appeals for about 30 foundation donors contributing $100-150 a month for the first three years.
The website also contains four fact sheets on families, communities and poverty, which Parkinson hopes will be used in multiple ways such as Christian studies classes and youth groups.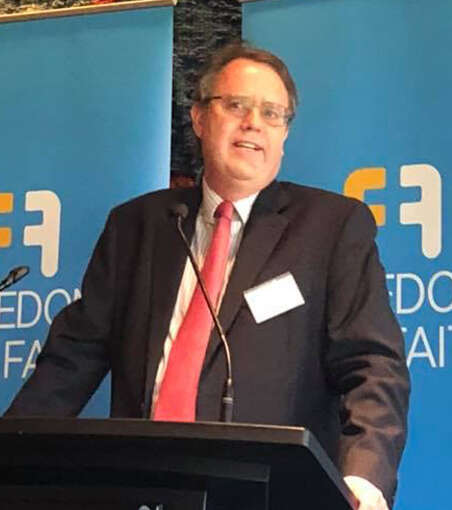 But Parkinson has a much more ambitious vision for Publica than this: he wants to engage in conversations not only with churches and Christian organisations but also with governments and broader society.
"Publica is about being in a public square, with a positive message around these issues, not a message about what we are against," he explains.
"Why have Publica? Well, one of the reasons is that we are neglecting discussion on so many issues which are critical to the wellbeing of people, critical of the wellbeing of children. How often have you heard a coherent evidence-based discussion of what is going on in terms of the families and children's lives?
"We have a 250 to 300 per cent increase in the number of kids in foster care as a percentage of all children, not just because the population has gone up over the past 15 years. And we've known this for years. It keeps going up. What's going on? How do we address that?"
Having specialised in families and child protection for most of his career, these are heartland professional concerns for Parkinson. But he also admits to being influenced by personal experience with marriage breakdown and blended families.
Such experience "does give you empathy, gives you insight. And I talk about my own experience for the very good reason that Christians are sometimes treated as if we've got all the answers and we don't share in the pain of the community. That's just nonsense. And by talking about that openly, I'm trying to get over any impression that there's any sort of judgmentalism around talking about issues around family stability," he says.
"Christians are sometimes treated as if we've got all the answers and we don't share in the pain of the community. That's just nonsense."
The executive director of Publica also hopes to be involved in shaping policies as well as just discussing them.
"If I may say so, I've been able to do that very successfully over the years. I was behind the Family Relationship Centres, for example – they arose out of a conversation I had with the prime minister's office and then John Howard personally in the mid-2000s. And they've been very much admired all over the world," he says.
He also chaired a review of the Child Support System in NSW in 2004-5 which led to the enactment of major changes to the Child Support Scheme.
"I have a long history of engagement on these issues. I think that I have the respect of many in having something sensible to say on these issues, and I would like to have another generation of people who are continuing that sort of work."
"The loneliest age group of all in every single study I've looked at is the 18- to 24-year-olds."
An allied focus of Publica's work aims at alleviating a pandemic of loneliness, especially among young people. According to a recent study that Parkinson cited at Publica's launch, 16-year-olds in 36 out of 37 countries reported significantly more loneliness than they had reported a few years ago.
"And we're seeing this in Australia too. And the loneliest age group of all in every single study I've looked at is the 18- to 24-year-olds – more so than the elderly, more so than divorced and separated.
"When you ask the question, 'do you always or often feel lonely?', then you're getting significant numbers of 18- to 24-year-olds who will say 'yes, they do' … And 7 to 8 per cent of Australians in a recent study reported they'd been lonely for at least eight years. So that's really harrowing and it has enormous impacts on people's lives, their physical health. They will die younger if they don't have that social connection."
"They will die younger if they don't have that social connection."
Parkinson sees a role for churches in addressing the loneliness crisis, although he understands that pastors are feeling exhausted after two years of dealing with COVID.
"There are two realities. The first one is that if the church didn't exist in the local community, there would be almost no points of connection between neighbours," he says.
"You've got connections around schools, sometimes good, sometimes pretty minimal. You have sporting organisations. Some places might have an active Rotary group or something like that. But think about the community organisations who can respond to a crisis, who can be the arms and legs, the hands and feet of help. There are not many ways in which we are organised as a society. And so we tend to put more and more reliance on government, or at least government funding and professional organisations which are government-funded, and we've got to find ways to move beyond that. And the churches in local areas are some of the only organisations which have the capacity to do that."
He sees a growing conversation around loneliness and a need for "a much more sophisticated and nuanced understanding of what is going on and what things we might do differently."
When talking about ways to prevent family breakdown, Parkinson stresses that this is not about going back to the 1950s and seeking the same solutions as in the "good old days" but looking forward to ways to create a more stable social environment for children in particular.
His key goal is sparking conversations about the deterioration in the social environment.
"It's the fact that if you think about the conversations we have as a society, what the TV station news organisations focus on, it's a relatively narrow range of issues which are of great concern to inner-city, urban professionals, particularly of the progressive orientation," he says.
"So obviously climate change, Indigenous issues, LGBT issues – we have endless discussions on these things and that's okay. But there's a whole lot of other issues we are neglecting in society, particularly the deterioration in the social environment for our children and the loss of community.
"And if Publica can do any good, it will be in reigniting those conversations saying, 'Look, you can get to net-zero [emissions] by 2050, but if your social environment is at the point of collapse, if people are stuck in big apartment blocks not knowing their neighbours, desperately alone, not growing up nearly as often as they did in stable families, where they are nurtured and loved and cared for, you've only improved one aspect of our society, which is global warming. There's a whole heap of other issues, which actually are far more pertinent to people's daily lives and lived experience."
Email This Story
Why not send this to a friend?