Friday night, scrolling through Instagram, and up pops a post from Brian C Houston, with a screenshot of what looks like a text.
It appears Brian Houston has broken his silence since the Board announced details regarding his interactions with two separate women, which led him to him resigning as the Global Pastor of Hillsong Church, the church he and his wife Bobbie established in Castle Hill NSW nearly 40 years ago.
ABC's take on Hillsong and property means they don't understand churches
Hillsong clarifies Bobbie Houston's redundancy in email to church
Hillsong's Brian Houston apologises
Hillsong creates a 'healthier structure' of church leadership
The message pictured reads:
Dear Bobbie, I wanted to text to let you know I will be sending an email shortly regarding your employment. Please let me know if you would like to talk about it or if you have questions. Yours faithfully (and lots of white-out)
In a blue box is the response, from Bobbie, Eternity assumes.
(name, whited out)…I don't even have words to express how cold and callous this has all become, including this…
And then there is a personal message from the owner of this Instagram, brianchouston, with 3,144 likes.
"After 39 years of exemplary service and extraordinary faithfulness and fruitfulness, this is the communication Bobbie received from the Hillsong Church board as she is made redundant (effective immediately) through no choice of her own. This is just 3 weeks after she hosted her 26th year of Colour Conferences. (A total of 118 conferences around the world.) She has relentlessly served God and served people as she stood side by side with me for four decades leading Hillsong Church, faithful in the good times and the tough times alike. And we are supposed to act like this is all ok. It's not! Our beautiful church is losing its soul."
It is unclear whether Brian Houston is implying that Bobbie Houston has been informed she no longer has a job via the impersonal ubiquitous text message. What is clear is that there is obviously much action going on behind closed doors at Hillsong and that the Houstons are not happy about how they have been treated.
Eternity has written to Hillsong to request more information about the circumstances around Bobbie's role being terminated, and we will update this article when more details become available.
As a Christian news site, I can only ask readers to pray for Hillsong, its board, the Houstons and the Hillsong Church family. It is never fun to have your 'dirty laundry' played out in public.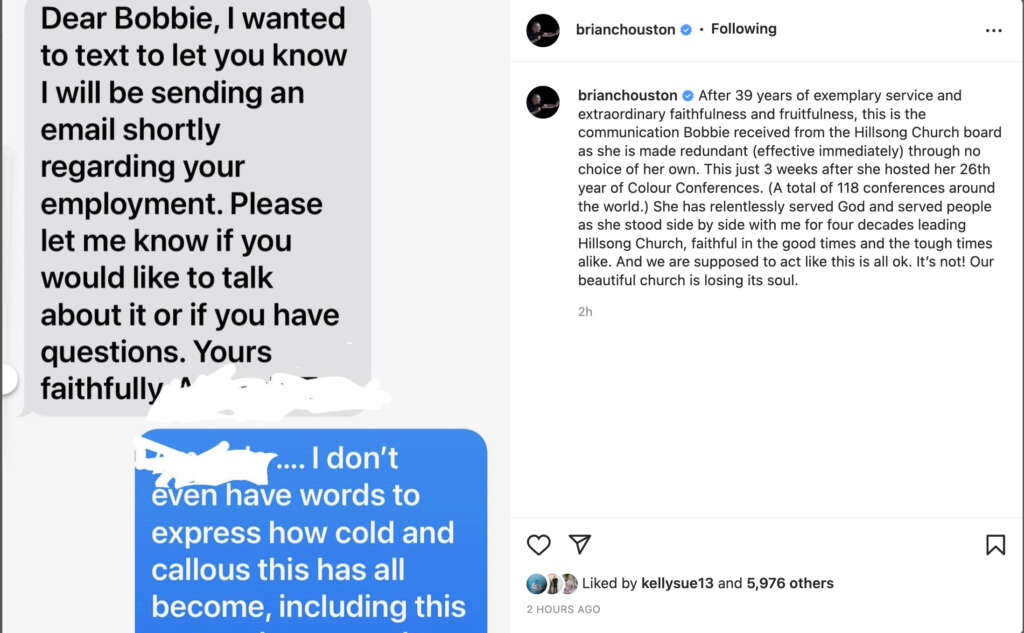 Email This Story
Why not send this to a friend?