Australia
sexism
Victory for campaign to get rid of 'sexist rubbish' soft porn mags
Collective Shout hails consigning of People and The Picture to history's bin
With news this week that Bauer Media Group is axing soft porn titles People and The Picture magazines for good, activist group Collective Shout – which opposes the objectification and sexualisation of women and girls – is claiming victory.
Both magazines have been long-standing men's magazine titles and will close by the end of the year, joining other raunchy men's titles including Zoo and FHM which were closed in 2015.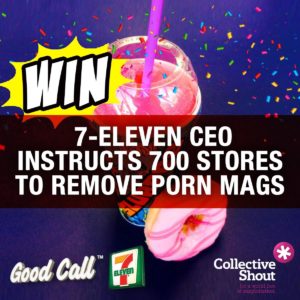 A Bauer spokesperson said the commercial viability of the magazines had been damaged after several big retailers, including BP, 7-Eleven and Coles Express, pulled the magazines off their shelves in September and October. The action was in response to a social media campaign run by Collective Shout, a grassroots campaigns movement against the objectification of women and the sexualisation of girls.
Headlines on the covers of People and The Picture have included "Better Than Viagra" and featured a photograph of a young woman in pigtails with the caption "I have no gag reflex," Collective Shout said on their website.
"Through our campaign, we have relentlessly exposed the true nature of these 'Unrestricted M rated' magazines. We have repeatedly made the case for why they should not be sold in service stations and ultimately, why they shouldn't be sold anywhere," the group said.
Speaking with Eternity, Collective Shout's founder Melinda Tankard Reist hailed a "significant victory" that she said had been ten years in the making.
"I wrote my first article on the availability of porn magazines in 2005," Tankard Reist said. "But I think [now] the time was right. We continue to see a growing body of global literature that demonstrates that the display and sale of pornographic magazines in the public space creates a hostile environment for women and girls."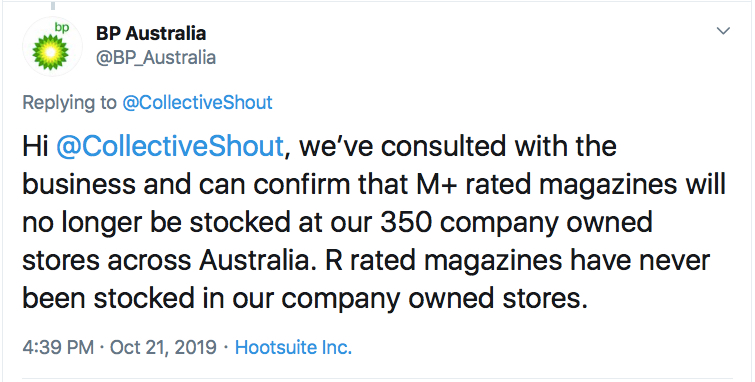 "Sexual objectification and sexism creates a culture of violence against women. This is acknowledged in the Federal Government National Plan to Reduce Violence against Women and their Children 2010-2022."
Tankard Reist said Bauer's decision to axe the titles was evidence that society had moved on. "These sexist titles cannot co-exist in a society that claims to care about sexual harassment and other forms of mistreatment of women," she said.
"All the women and girls we represent thank Bauer Media for demonstrating corporate social responsibility. May other companies follow their lead." – Melinda Tankard Reist
She added there was plenty of evidence of how a sexist culture groomed sexist boys. She points to the recent reports of misogynistic behaviour by boys from St Kevin's School, a prestigious inner Melbourne boys' school. Video footage emerged last week of Year 12 graduates singing a sexist chant in public on a packed Melbourne tram and then later in the week on a pub crawl.
"The sexist behaviour of the St Kevin's students just this week is a reflection of boys' conditioning by a pornified culture. They learn early that women exist for their gratification. We can't change behaviour without addressing the cultural normalising of it.
"All the women and girls we represent thank Bauer Media for demonstrating corporate social responsibility. May other companies follow their lead."
Tankard Reist says Collective Shout and its supporters have been buoyed by this victory, and are ready to "go harder" on their next campaigns.
Collective Shout is currently running a campaign against Honey Birdette, a lingerie store located in shopping centres around the country which has attracted hundreds of complaints for its sexist advertising. According to Collective Shout, Ad Standards has investigated complaints against 70 ads and upheld those complaints in 38 cases.
"[Kanye] West was a creative director of Pornhub's awards last year … buy. We're calling on him to end that connection." – Melinda Tankard Reist
Even so, Honey Birdette continues to sexually objectify women, with a new campaign of "porn-inspired/BDSM" ads which are displayed in family shopping malls, according to Tankard Reist.
On Twitter, Collective Shout has also started to call out global porn portal Pornhub for its films made by alleged sex traffickers. Pornhub is the world's leading adult entertainment site, with more than 10 million videos and 120 million daily visitors.
Kanye West, who has made headlines this week for his dramatic conversion to Christianity, told late night talk host Jimmy Kimmel in 2018 that being married to Kim Kardashian didn't stop him from visiting Pornhub. After the interview, Pornhub rewarded his "loyalty" with a lifetime premium Pornhub membership, and West performed at the site's annual Pornhub Awards later that year.
Tankard Reist says Collective Shout is calling on West to cut ties with Pornhub, given the news of his "spiritual awakening".
"West was a creative director of Pornhub's awards last year, and he has a fashion line associated with Pornhub that people can continue to buy. We're calling on him to end that connection."