Have you seen, been given, or handed out to your neighbours a card offering help – all sorts of help –  in our Covid era? Chances are if your church is one of the many groups reaching out in new neighbourly ways they may have been helped along that path by an organisation you probably have not have heard of. Virtual Church Assist (VCA) is a team that aims to serve churches and ministry organisations throughout Australia with administrative, design, communications and events support.
And this is their moment. It is #virtualkindness time.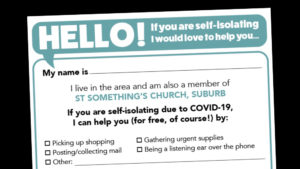 Samantha Jensen, VCA Director, started her journey of service back in 2015. Having previously worked in administrative roles both within the church and in the secular world, she was looking for work in the same field. She would keep seeing job ads for part time admin roles with small amounts of hours here and there. With a young child at home, she was hoping that she would be able to work from home, "They all said no, but I knew that, actually, I could do all these things from home if the church was prepared to move online."
Jensen became a Christian at the age of 20 and from then on, she knew that there was no other path for her besides the path of service. "I thought, 'This is something I love doing, I get to serve the church in a really big way. I can't see any other path for me aside from serving God. I want to see the growth of God's kingdom."
The online buzz of people helping their neighbours during this pandemic inspired Jensen. She realised that her team of eight at VCA could have an enormous impact and could help so many churches and church leaders. Their main aim was to help ministers encourage their congregations to help their neighbours. "As Christians, we really need to be on the forefront of this message, to support each other, serve each other and love each other. I thought, 'Hey, as Christian's, let's do this, but in the name of Jesus.'"
The #virtualkindness initiative was created as way for Christians to serve their communities and neighbours in a way that far extends helping with groceries or offering a phone call.  It was a way for churches to say, 'Even though our doors are closed, we are still here.' Through the distribution of #viralkindness cards, churches are able to offer free services such as practical support in the form of grocery delivery and of course lending a listening ear.
We can use social media to grow churches and to show our love for people – Samantha Jensen
In a time of great disconnect, physically, Jensen believes that there is a silver lining. "This is a hugely positive step forward. We live in an increasingly online and digital world and some church leaders may think that social media is less personal, when actually that's not the case. We can use social media to grow churches and to show our love for people."
Jensen prays that after all this, that faith grows stronger and the community can come together and be stronger. "I am hopeful that once things start picking up again, that it will just mean that we have an even tighter community with people wanting to love and support each other more."
https://www.virtualchurchassist.com/viralkindness
Samantha Jensen and the VCA team are serving churches and church leaders throughout this pandemic in hopes that through this disconnect, we can come out the other end more connected.
Email This Story
Why not send this to a friend?