Australia's Christian men are being asked to examine their attitudes and behaviour as part of the annual 16 Days of Activism Against Gender-Based Violence, a UN event held this year from 25 November to 10 December.
"I am calling on men to look at themselves and look at their own attitudes and behaviours and pray that prayer of David in Psalm 139, 'Search me, Oh God, and know my heart and see if there's any offensive way within me and lead me to your way everlasting,'" said Mandy Marshall, the Anglican Communion's Director for Gender Justice.
"Because if you openly pray that, God will come in and show you what you need to change. So it's about being vulnerable and being willing to learn where do I need to change? We still live in a patriarchal society and some of Australian society is sexist. So what do we need to change to see everybody is made in the image of God so that they can flourish into all that God created them to be?"
Marshall believes getting rid of domestic violence is a key discipleship issue, and it's mainly the attitudes and actions and behaviours of men that have to change because the vast majority of violence is in intimate partner relationships.
"It's not stranger danger as we were told as kids; it's danger in your home. Phumzile Mlambo-Ngcuka, the former executive director of UN Women, said the home is the unsafest place for a woman to be. And that is such a contrast to what it should be – it should be the safest," she says.
"In one sense, men are deceived because they're accepting this infinitesimally small idea that power and control are better than the love and freedom that Christ brings. The illusion is 'I can control this', and they don't see that it's an illusion. Love and freedom are scary because people can choose not to love you and choose to go away."
Marshall called on Australian churches to "speak up, to break the silence and the shame and the stigma around gender-based violence."
Speaking to Eternity via Zoom from her home in London, Marshall called on Australian churches to "speak up, to break the silence and the shame and the stigma around gender-based violence, to educate themselves on the levels of abuse and the types of abuse and to recognise how serious an issue it is."
British and Australian studies show that one in three women globally will experience physical or sexual abuse in a lifetime. Worryingly, a family violence report by Australia's Anglican Church in 2021 found that churchgoing Anglican women were just as likely, or even more likely, to be abused than non-churchgoers.
The Anglican Communion is encouraging Anglican churches worldwide to organise events around the 16 days (25 November to 10 December) to promote gender justice – and many are doing so. For example, St Paul's Cathedral in Melbourne is staging a Walk Against Family Violence on 24 November starting at 11 am at Parliament House Steps, Spring Street, Melbourne. Then on 2 December at 5.10pm it will hold a Service of Lament for Women & all Victims of Intimate Partner Violence.
"There are lots of activities that people can do. Many of them do marches, wave banners or hold women's days, raise awareness church services, etc. I'm trying to make sure that there's some consistent prayer going through the whole of the 16 days, but also events that people can link in with."
Mother's Union has a range of suggested events, such as poems and prayers. For many years it has had a campaign of 'No More One in Three' and its new campaign is called RISE UP – standing for Respond, Inform, Support, Empower, Unite and Pray – to raise awareness about domestic abuse and ensure as many churches as possible have information about their local domestic abuse helpline.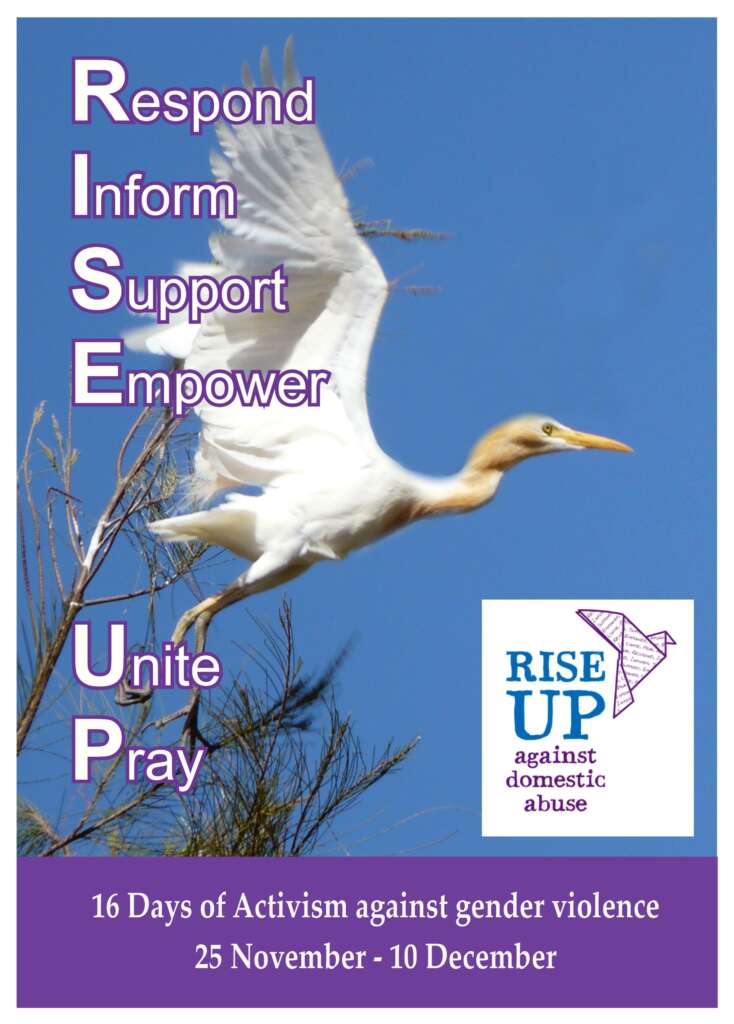 Mothers Union Australia has issued a prayer diary for the 16 Days of Activism using the RISE UP theme from Mothers Union. It also has released a set of 16 pictures to be used each day as Facebook posts to share, or for displays and prayer trees; a handout, and a poster for display on notice boards or placards.
The Anglican Communion also supports the Red Chair Project produced by the Christian Network to End Domestic Abuse. This is about placing a red chair in a public space as a symbol of the many women killed through gender-based violence. Last year it put red chairs in pews and this year it is putting a red-covered chair in its reception area with a notice saying: "She's missing, she's not here because of abuse."
Another initiative Thursdays in Black,  organised by the World Council of Churches, runs through the year and involves wearing black every Thursday to remind people that rape, sexual violence and abuse need to be stopped.
"One in four churchgoers were experiencing abuse and it went higher if you looked at past relationships." – Mandy Marshall
Marshall has been involved in fighting domestic violence for 20 years, first with Tearfund then co-founding her own charity, Restored, which has set up a network of Restored Beacon churches in the UK, that are trained in handling domestic abuse and being a refuge for survivors of abuse. In her current role with the Anglican Communion she works with churches, bishops and Anglican provinces to ensure a priority of funding and focus is given to the work of ending gender-based violence.
"This doesn't come in a vacuum for the Anglican Communion because there are many resolutions that the Anglican Consultative Council has passed on ending gender-based violence. It's trying to get provinces to focus on those issues that impact women on a daily basis," she told Eternity.
"The research that Restored did in the UK across Cumbria with the University of Leicester and University of Coventry found that one in four churchgoers were experiencing abuse and it went higher if you looked at past relationships. And more concerningly, six women were living in fear of their lives. So those were Christians in one region across Cumbria in the UK."
She quotes the horrific statistic that two women a week are killed in the UK. In Australia, that number is hardly less concerning – one woman a week.
"When I'm teaching stuff in Africa and other countries, they'll go, 'Why is there domestic abuse in your country? You're a rich country.' But it's not about poverty. Abuse is purely about power and control and it's a choice. So, it's nothing to do with alcohol or job loss or anger, which are often the myths of abuse. They may be contributing factors but it's still a choice to abuse," she says.
"We're trying to encourage churches to create spaces for survivors, making sure that the silence and the shame and the stigma – the toxic three S's around abuse – are broken. And to ensure blame is put where it lies, with the perpetrator, and encouraging bringing the perpetrator to justice."
Email This Story
Why not send this to a friend?