Culture Watch
music
Childish Gambino's last show: 'This is church, Holy Spirit'
Audiences told "we're here to have an experience together"
"This is church," declared hip-hop superstar Childish Gambino last night from the main stage at Sydney's Qudos Bank Arena.
Winner of this year's Grammy for best song – protest jam This is America – Gambino asked his gathered congregation to put their phones away because "we're here to have an experience together".
Later in his captivating concert, Gambino was elevated above the crowd on a raised platform as he sang "Holy spirit, do you hear me? Do you love me? Can you hold me up?" – the refrain of song Human Sacrifice.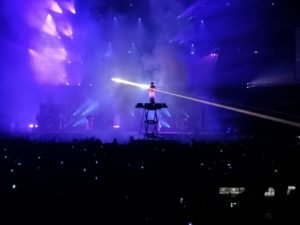 The final concert on his Australian tour, Gambino's Sydney "church" service also marked the retirement of the musical alter ego of actor Donald Glover. Also heard at cinemas in Australia as the voice of Simba in The Lion King remake, Glover has decided it's time for Gambino to give it a rest.
Across Australia, Gambino has been declaring his live shows to be church and called to mind Kanye West's Sunday Sessions – his regular live shows which also bring in language, moves and symbolism of church services.
The infusion of Christian beliefs, words and displays into the work of African-American musicians has been longstanding and often public. Earlier this year, singing sensation Beyonce was prominently seen leading a detailed prayer before her 2018 Coachella concert, in the Netflix documentary Homecoming.
Last year, rapper Snoop Dogg released gospel album The Bible of Love that Relevant described as "impressively thorough in its representation of the saving grace and expansive love of God".
Online juggernaut Chance the Rapper has peppered his releases with references to Christian faith, and declared "I claim this victory in the name of the Lord" when he won Best New Artist at the 2017 Grammys.
Late last year, he went on a sabbatical to "learn the word of God." But such spiritual pursuits still might not stir forgiveness in the hearts of fans disappointed that, with only 24 hours notice, Chance the Rapper cancelled his scheduled Australian performances this week.