On August 6, 1930, Arthur Stace found God. Eternity took on new meaning for Arthur – and for us. Here is an excerpt from Mr Eternity, written by Roy Williams and Elizabeth Meyers, about the moment when a hard-drinking Sydney bloke had his entire life changed.
As night fell on 31 December 1999, five million Sydneysiders looked forward to hours of splendid celebration. It was the eve of the twenty-first century; the eve of the third millennium. A feast of live entertainment was planned, much of it on Sydney's majestic, incomparable harbour.
At ten seconds to midnight the countdown began. Then, as the new millennium arrived, there came a massive fireworks display – perhaps the most spectacular ever seen in Australia – that lasted 24 minutes. The focal points were Sydney's two matchless icons of engineering: the Harbour Bridge and the Opera House. At the end, a fiery cascade erupted downwards from the Bridge's deck. The bells of a dozen churches pealed loudly.
This was a word deeply and affectionately associated with the history of Sydney – and with one man in particular.
And then, as the smoke cleared, it came into view – emblazoned in gold letters just below the apex of the Bridge's towering arch. The first written word of the third millennium, in distinctive copperplate script:
Eternity
The crowds cheered with gusto. This was a word deeply and affectionately associated with the history of Sydney – and with one man in particular. He was not the first person to write "Eternity" around the streets of Sydney, but he was certainly the most prolific. He did it using chalk or crayon every day for almost 35 years, perhaps half a million times in all.
His name was Arthur Malcolm Stace. He had died 32 years before, but was far from forgotten.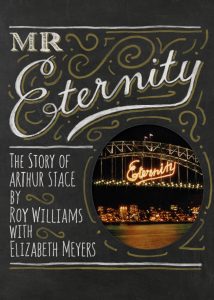 The Great Depression had produced human misery in Australia on a scale not seen before or since and, as was the case for countless others, Arthur's fortunes had reached rock bottom. Three incidents from this time remained seared in his memory in later life.
First, Arthur checked himself into a psychiatric clinic, Broughton Hall at Rozelle, which specialised in the treatment of World War I veterans of modest means who were suffering from mental illness of some sort, but not certifiably insane. In Arthur's case, the treatment was to no avail. Not even the frightening prospect of committal to the asylum next door, Callan Park, cured him of his destructive ways. But at least he escaped the fate of his father, who had died in a mental asylum.
The second incident was an appearance at Central Police Court on yet another charge of drunk and disorderly conduct. Arthur had spent the night before in a holding cell, and, in light of his dire record, the magistrate tried a threat: "Don't you know I have the power to put you in Long Bay Jail or the power to set you free?" Arthur replied meekly: "Yes, sir." He was let off lightly that time and released back into the community.
There, under a large fig tree, in the dark and out of sight, he knelt down and wept.
Despite his lenient treatment from the magistrate, Arthur felt no joy or relief. "He knew he needed something which the magistrate didn't have the power to give – power to stop drinking, power to overcome a vile heredity, power to throw off the effects of a slum environment." In despair, possibly straight after leaving the court, Arthur trudged to the police station at Regent Street, Broadway, and asked to be locked up.
"I said to the sergeant, 'Sergeant, put me away. I'm no good and I haven't been sober for eight years. Give me a chance and put me away.' The sergeant sniffed and said, 'You stink of metho. Get out!'"
Arthur thought to himself: "When I don't want them to put me in, they do it; now, when I want them to put me in, they shut me out."
It was winter by then, a dismal one for many people in the depressed and divided Sydney of 1930. Thousands of families had been evicted from their homes and several shanty settlements had formed. Among the few bright spots for all Sydneysiders was the ongoing construction of the Harbour Bridge. The two mighty half-arches were first joined in the centre during August 1930 and, coincidentally, that was also the month in which Arthur's life was transformed.
The vital day was 6 August 1930, a Wednesday. This may have been the very day that Arthur was sent packing by the sergeant at Regent Street police station. At any rate, on the evening of 6 August, he fronted up with a few of his derelict mates to one of R.B.S. Hammond's weekly Men's Meetings at St Barnabas' on Broadway. The attraction? It had nothing to do with "religion." Rather, word had got around that after these meetings, every man got a cup of tea and a rock cake. As Arthur told the story years later:
In those days you had to know when things like that were on to stay alive. At St Barnabas' Church we went around the back to the School Hall where Archdeacon Hammond used to preach for about an hour before the cuppa tea came on.
His famous catchcry – repeated countless times over the next 37 years – was that he "went into the meeting for a rock cake and came out with the Rock of Ages." Peace had come to his troubled soul.
There were 300 of us down and outs in the hall, and six people on the front seat, all decent and clean and dressed properly.
I said to the bloke next to me, "Who are they?"
He said, "They're Christians."
I said: "Well, look at them and look at us. I'm having a go at what they've got."
It seems, then, that Arthur was inclined to give Christianity "a go" even before Hammond began speaking. There is no record of the subject of the talk that night, but it is fair to assume that Hammond preached the gospel in his usual way – compellingly and winsomely. He was an orator of world class, a burly and avuncular figure with "a natural gift of incisive, compelling and arresting speech." He also knew how to pitch his message to suit a given audience.
Seated before him that evening were many down-and-outs and ne'er-do-wells, perhaps 300 in all. Some, like Arthur, would have known little or nothing about Christianity. Hammond truly loved needy men such as these. They were his reason for being.
No doubt Hammond got their attention quickly with a couple of pithy anecdotes from contemporary life. His serious message, one imagines, would have been simple and direct. However low your station, however big your handicaps, however bad the things you have done, God loves you. But you are a sinner. On your own you are helpless – and doomed. God sent Jesus to Earth to show you the way of salvation. Thanks to Jesus' death on the Cross, if you ask God for mercy with a penitent heart then all your sins will be forgiven – never counted against you again, in this life or the next.
For Arthur, the clearest outward sign of his new life in Christ was the ability to give up the grog.
According to one of Arthur's closest friends, Hammond's plea that night was this: "If any of you men are sick of the lives you are living, there is One who loves you who will set you free and His name is Jesus."
One can imagine Arthur's reaction. He was desperate. He was ashamed of his dark past and his dire present. He knew he needed love and forgiveness. He knew he needed the power to change. But he did not go forward at the meeting itself.
The moment of conversion – the taking of "the Leap" – is ineffable and mysterious. Sometimes it is not consciously appreciated by the convert. Christians believe that it is God – the Holy Spirit – who brings it about. Arthur later said that he "came under strong conviction of sin" and desired "to be delivered from its bondage." He also "realised that Christ was stronger than strong drink." After drinking his tea and eating his rock cake, he left the hall alone, crossed Broadway, and walked into Victoria Park (adjacent to Sydney University). There, under a large fig tree, in the dark and out of sight, he knelt down and wept. Then he cried out a simple prayer: "God, God be merciful to me a sinner!" The choice of words suggests strongly that, at some stage during the evening, Hammond had expounded the prayer of the repentant publican: "And the publican, standing afar off, would not lift up so much as his eyes unto heaven, but smote upon his breast, saying, God be merciful to me a sinner" (Luke 18:13).
Arthur always insisted that from that night onward, he never touched a drop of alcohol. "God really heard my cry that night!" he once declared. "God really met me that night in the park! … The desire to drink was taken away! I was a changed man!" Although successful "cold turkey" recoveries from addiction have always been rare, there is no good reason to doubt him. His famous catchcry – repeated countless times over the next 37 years – was that he "went into the meeting for a rock cake and came out with the Rock of Ages." Peace had come to his troubled soul.
Within a short time, quite possibly the very next day, Arthur returned to St Barnabas' and introduced himself to the Rev. Hammond. One imagines that Hammond greeted him warmly, elicited the basics of his story and encouraged him to attend Sunday services and Wednesday night Men's Meetings on a regular basis. No doubt, also, Hammond offered some immediate practical help – a few solid meals, a fresh set of clothes, a warm place to sleep.
Arthur made rapid progress. Truly, he was born again. According to his friend Lisle Thompson, "in a little while after his conversion, [he] learnt what he call[ed] the two secrets of success in the Christian life." These for him were prayer and obedience.
Arthur Stace rises early to read the Bible and pray simple, sincere prayers. At midday hour he prays again and when evening falls prayer arises again, for cleansing and help. Much prayer, says, Arthur Stace, keeps the channel clean, keeps us in touch with God …
For Arthur, the clearest outward sign of his new life in Christ was the ability to give up the grog. He also stopped smoking and gambling, and refrained from swearing or blaspheming. And, in what seems to have been a conscious attempt to imitate the respectable-looking Christian men who had so impressed him at Hammond's Wednesday night meeting, he began dressing and grooming himself neatly. Thereafter he always wore a suit and tie, Homberg hat and shiny shoes.
Understandably, Arthur was excited – perhaps a little proud. Around this time he visited Darlinghurst police station, one of the places at which he had often spent the night in a holding cell during his previous life. He told the sergeant that he had become a Christian and sworn off alcohol for good. They would never need to lock him up again! The sergeant scoffed: "Knowing you, this will just be a short-term change. You'll soon be back in the gutter again – you'll see."
But Arthur was never back in the gutter. A few months later he was still on the straight and narrow and could not resist another visit to the sergeant. That time, the man was impressed.
Check out www.mreternity.com for more.