In the new biopic "Respect" Aretha Franklin (played by Jennifer Hudson) demands that her producer let her make a gospel record.
"I need the Spirit," she says. "It's gotten me through before, and it will get me through again."
"Respect" is a dramatized homage to the Queen of Soul, honoring Franklin's powerful on-stage presence and her turbulent personal life. Most importantly, the film explores Franklin's connection to her faith and gospel music and how each influenced her music — and the entire soul genre — and helped pull her away from her demons.
Some have criticized the movie for being too far in-the-box — and they aren't wrong about that. Cinematically, "Respect" doesn't bring anything new to the biopic genre. If you've seen one story of a famous musician with childhood troubles turning into adult adversity and final victory, you've seen them all.
But that doesn't mean it's a bad movie, particularly if you have an affinity for this type of drama, Aretha Franklin or gospel and soul music.
The movie begins with Franklin just before she turns 10 and ends with the recording of her "Amazing Grace" record and documentary in 1972. Franklin at 10 was just as precocious as she remained in adulthood, shyly investigating the guests of her father's Saturday night party before belting out a stunning rendition of "My Baby Likes to Bebop."
Tragedy strikes fast. Franklin was sexually assaulted by an older man at one of these Saturday night parties, and her gentle, gospel singer mother (played by Broadway star Audra McDonald) died suddenly. During their last conversation shown in the movie, she reminds her daughter of an important principle: "nobody [owns your voice] but God."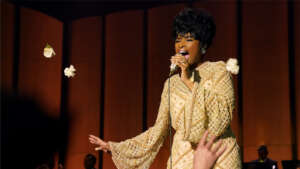 It's a principle that's almost instantly refuted, of course, as Franklin's father forced her to sing for his church on Sunday mornings. From that service, the documentary transitions several years in the future. Franklin, who was close to Martin Luther King Jr., is singing before his marches and becoming more determined to join the Civil Rights crusade until she signs her first studio contract.
Franklin was plagued with personal strife throughout her career. She escaped the harsh control of her father to run headfirst into a controlling, abusive marriage with her manager Ted White. Increasingly, she struggled with alcoholism — which her family called her "demons." It became debilitating (and recognizable to the public when she fell off the stage at a 1967 concert in Georgia). Franklin had pushed away her family and friends entirely.
In one scene, Franklin stumbles around with a mid-morning hangover in a house populated with empty bottles to find another drink. Her career is successful, but her pain has brought her to a realization. She clasps her hands together in prayer, begs "Please, please," and begins to drink again. A vision of her mother appears to her, cradles her close and sweetly croons "Amazing Grace" into Franklin's ear. It's then that she finally begins to pray.
"All I want to do is drink," she tells her producer, as she decides to mark the monument of her personal revival with her gospel album. But the Holy Spirit has saved her, and she knows it will save her again.
Thus began the creation of "Amazing Grace," which was the best-selling album of Franklin's entire career and the highest-selling live gospel music album of all time.
It's undeniable that gospel music heavily influenced Franklin from the very start. Her earliest records with Columbia, managed by her father, are admittedly more bland, produced with a precise orchestra for an audience that enjoyed crooners. Even then, Franklin's voice was the highlight of her records, full of soul.
But it was after she left Columbia that her gospel roots really had the chance to shine. The Muscle Shoals band had much more soul themselves, and Franklin was given small amounts of control over her own sound.
Her producer remarks in the movie that her first instincts singing sound "like a Sunday service." White later remarks that Franklin is to thank for the overall influence of gospel on the blues genre.
She undoubtedly had a mastery of the boisterous vocals, the genuine emotion and artful improvisation that characterize a powerful sermon or worship service. No matter what kind of music she was making, Franklin was a gospel singer through and through.
She, and the movie by extension, reflect a beautiful portrait of the Black Church as a community and important leader of the charismatic Christian movement.
After breaking down and crying during a rehearsal for "Amazing Grace," Franklin expresses her regret for the emotion to family friend and choir director Rev. James Cleveland.
"What do you want us to do," he jokes, "act like Episcopalians?"
As much as "Respect" is a celebration of the Queen of Soul, it's also a celebration of Blackness and the church, where passion fills worship and song. Each time we see Franklin singing for a church, they're led to dance and praise with her.
It only makes sense, then, that the climactic performance of "Respect" at Madison Square Garden in 1968 feels like a Sunday morning service. In an angelic white, floor-length dress, Franklin belts out what's arguably her most beloved song to an adoring audience.
Those on the floor dance, twirl each other in circles and smile with unbridled joy. Their movements are almost spiritual.
"Respect" is now playing in Australia
Jillian Cheney is Religion Unplugged's 2020-21 Poynter-Koch fellow who loves consuming good culture and writing about it. She also writes on American Protestantism and evangelical Christianity. You can find her on Twitter @_jilliancheney.
Email This Story
Why not send this to a friend?