The Jesus Revolution movie, which is in the top 10 movies in Australia and New Zealand since opening on April 20, has sparked a powerful movement of God in Hollywood, according to its director Jon Erwin.
The story of three people caught up in the Jesus Movement of the late 60s and 70s has created such a buzz in the US that it triggered a sense of FOMO (fearing of missing out) among American filmgoers, he says.
The "power of our unified voice as a faith community" has enabled the film to cross into the general market, earning $US52 million at the US box office since February and creating a Zeitgeist penetrating Hollywood.
"When something is popular in theatres [cinemas], Americans go see it," the Christian film director, screenwriter and producer explains during a Zoom call from Los Angeles.
"So when something opens in the top three movies in America, which we did – and does far more than it's expected to do – millions of people begin to say, 'What is this? I want to go see this.' And that's exactly what happened … there was a flood of people that would've never otherwise seen the film – just because we all made so much noise together, and that really is the way entertainment works."
"There was a flood of people that would've never otherwise seen the film."
Jon, who with his brother Andrew, is known for faith films such as Woodlawn, October Baby, Moms' Night Out and I Can Only Imagine, finds Hollywood "a very dark and tough deal to plough," but he sees God at work there as never before.
"There's an uprising on behalf of Christianity within the studio system in Hollywood at every level. It's like nothing I've ever experienced in my career," he says.
"And your movie ticket really is your vote. As these films do better, the momentum keeps building out here. And God is at work in people's lives."
"There's a lot of people who have all these things that the world would say would make you happy, and yet they're not happy."
John says making Jesus Revolution had a deep impact on the headline star, Kelsey Grammer, who plays Chuck Smith, the American pastor who took a risk by welcoming hippie street preacher Lonnie Frisbee and his followers into his Calvary Chapel, where they sparked a revival that spread throughout California and eventually across the world.
"Jim Carrey said it best: 'I wish everyone could be rich and famous and have everything they've ever wanted, to know it's not the answer.' [Los Angeles] is a unique town because there's a lot of people who have all these things that the world would say would make you happy, and yet they're not happy. And so there's a unique ministry out here, so pray that that would continue," he pleads.
"Like Caleb said in the Bible, 'God, give me this mountain!' A bunch of us are looking at the hill with the Hollywood sign on it, praying the same prayer – 'God, give us this. We want it back.'"
For Jon, the timing of the movie's release, though greatly delayed, has been perfect, coming amid campus revivals such as Asbury and a similar social climate to the 1970s.
He had been obsessed with the story since 2015 when he bought a copy of the 1971 TIME Magazine cover article on eBay that gave a "buoyant, optimistic, beautiful portrayal of a sweeping spiritual awakening in America."
"One of my takeaways from the film is that God's timing really is perfect. This is a film that I had been trying to get made for a very, very long time. And we were three weeks away from shooting before Covid. It was probably one of the more, if not the most, heart-wrenching and depressing days in my career because we had a movie called I Still Believe. The night it opened, it was the number-one movie in America.
"Five days later, all theatres across the world were closed, in a thing none of us could have predicted. We had two films. One was American Underdog that Andy, my brother, and I were directing. The other was Jesus Revolution which Jon Gunn, my co-writer, was directing, and they would happen simultaneously. And, of course, all productions worldwide were shut."
The Erwin brothers went on to make American Underdog during Covid because they could fake the crowd scenes in that movie. But with Jesus Revolution, they had to wait until they could have 200-300 people in a church together because it's a story about a spiritual awakening.
"So we had to wait a long time. And in waiting a long time, I got to rejoin the project as director. So I was available as co-director with Brent McCorkle, who's amazing, and Kelsey Grammer became available [to play Chuck Smith]. Jonathan Roumie from The Chosen became available [to play charismatic hippie preacher Lonnie Frisbee].
"So the movie that you see would not have been possible under the prior timeline. And then, the fact that it came out in America as these revivals were happening at college campuses, like Asbury, showed me that even when you're walking through a difficult time and don't understand God has a plan, his plan is better. Just keep going. That's the key. Just put one foot in front of the other because what he has in mind, even if you don't see it at the time, is better than what you had in mind. And the film we're all seeing now is the best version of the movie, and it's the best time for the movie to come out – and none of that would've happened under the previous plan."
"When Chuck Smith met Lonnie Frisbee, it was like nitro meeting glycerine."
In studying the origin story of the Jesus Movement, Jon said he became fascinated by the story of three unlikely characters caught up in "this perfect moment" in history.
"I wanted to meet someone that lived it, and that led to a great relationship with Greg and Cathe Laurie, who were teenagers in the course of this story. And I remember one of the first things Greg said to me was that when Chuck Smith met Lonnie Frisbee, it was like nitro meeting glycerine.
"And I really studied the Jesus Revolution back to its origin, and, in substance, it started in San Francisco and then took root in Southern California. And one of the great themes of the story that stood out to me was God using ordinary people to do extraordinary things together."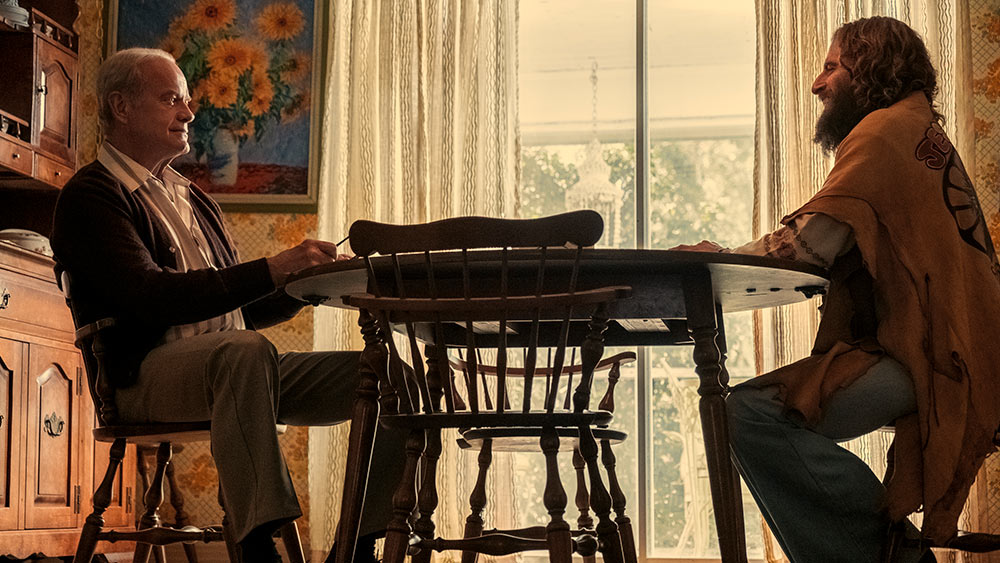 Asked if he'd had to gloss over any aspects of the story, such as the fact that Lonnie died of AIDS, Jon said he decided to take just a slice of the story.
"I decided to tell a story of a moment, not necessarily a story of a person or people. And I wanted to be as accurate to the story in that moment. So we handed [over] some things with Lonnie's story into the late 70s, into the birth of the Vineyard Movement, into his time in Rio where, in his words, it was sort of a falling away and then to his coming back and his redemption and the way he talked about dreaming of another Jesus Movement and the undeniable power that God's spirit had on his life," he says.
"It's an epic saga of a life lived. One of the things that I was most grateful for was I felt like Lonnie should be reinstated into the history of the Jesus Movement. Because of the circumstances of his death, he had been somewhat written out of the narrative, and that is not accurate to history, and that's not accurate to how God works. I think God uses, and I chief among them, broken, flawed, complex people to do his work, and Lonnie was an undeniable tool and vessel that sparked a nationwide and then worldwide awakening. And so, while I couldn't tell his whole story, I wish someone would … That would be amazing."
"I felt like Lonnie should be reinstated into the history of the Jesus Movement."
Jon sees the same desperation that characterised the 1970s in today's turbulent society.
"It was a very divided time around the world, and I think it is again today, and we're looking for answers. We need hope, and I was awestruck by the similarities of the time when I was researching the project. What's interesting about the film is it's a 1970s movie, but 20 minutes into the film, you forget that it's not a modern movie because we're dealing with so many of the same issues today, and we are asking, 'Where are the answers? Where's hope? Why are we so divided? Can we love each other again?'
"These are all issues that the movie deals with. I'm an entertainer first – I love to entertain audiences. The idea of putting these things onto a screen and making people laugh, cry, and have a great night is incredible to me. But in entertaining, if you tell the right story, lives can really be changed. And that's why we love true stories, you know? If it happened to someone for real, it can happen to you for real. And so I feel like the whole heartbeat of this movie has been if it happened, then it can happen now because we need it."
Jesus Revolution is showing at selected Hoyts cinemas nationwide. For locations, click here.
Email This Story
Why not send this to a friend?