"I wanted it to be a film that stood in their light and looked into the darkness," says Indigenous filmmaker Caden Pearson about his new film Wawu Divine Hope that premieres next Monday on NITV.
Screening at at 8.30pm, uplifting Wawu Divine Hope achieves Pearson's desire to "stand in the light" – an aim Christian viewers will appreciate most acutely. It shares the heartfelt story of the notable annual Easter tradition of the local Guugu Yimidhirr people of Hope Vale in Far North Queensland's Cape York Peninsula.
"This unique tradition began as a way to pay respect to the old people who first built Hope Vale in the 1950s after they were displaced during World War 2. And I think this tradition is when you can really see the wawu of our people on display," says Pearson (wawu means 'spirit,' 'soul,' or 'emotions' in Guugu Yimidhirr.)
"Easter is a deeply meaningful time for the community to be together. We come together at the cemetery and people go all out cleaning and decorating the graves of their loved ones. We help each other out, sharing paint, wheelbarrows, rakes, and hoes. Weeds are pulled, headstones polished, river sand spread around, and fresh flowers arranged on the graves. Then a dawn service is held at the cemetery on Easter Sunday."
Fuel your faith every Friday with our weekly newsletter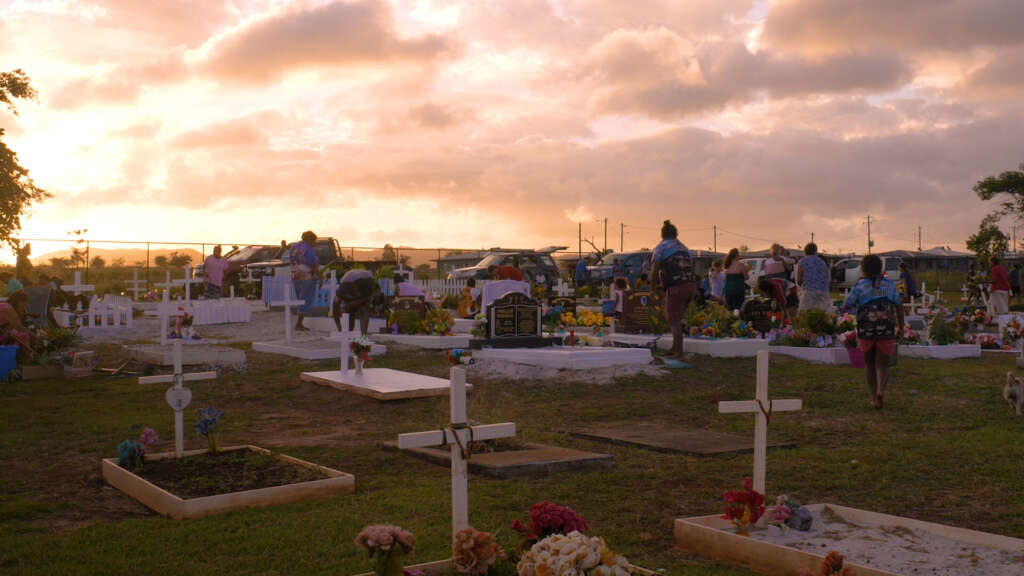 Pearson tells Eternity he had been on the lookout for stories that would not only focus viewers on their common humanity but would also tell the tale of Indigenous resilience which can be lacking from Australia's screens.
"I wanted my people to be able to watch the film and be inspired by their own story, not someone else's story like they usually would," he says.
Pearson found the story he was looking for in his own hometown. "A few years ago while on the way to my aunt's house, I saw fairy lights flashing in the dark as I passed by Hope Vale's cemetery. I was amazed to think electronic technology had made its way into this humble no-tech tradition."
"That's when I knew it was time to make a film about it."
The Guugu Yimidhirr people that viewers meet through Pearson's film are an inspiring group. They share the Christian traditions which have become local customs and explain why they are personally meaningful.
To a film score of familiar Christian hymns – sung in traditional language and island melodies – viewers discover the nuances of how these First Nations peoples balance deep respect for ancestors with worship for God.
"It's not the dead that we are going to worship," says Dorothy Rosendale. "We are worshipping God and thanking him for the time we had with them before they left us."
Rosendale is a church elder who does the gospel reading and leads the worship when the pastor is absent. She is one of the survivors of the Guugu Yimidhirr who were forcibly removed from Hope Vale – and later returned.
Though filmmaker Pearson was raised with a Christian upbringing as part of the local community, he doesn't identify as a Christian himself. So, did he feel conflicted about writing, producing and directing such a distinctly Christian tradition?
"Not at all," he says, recalling with a laugh when he asked some of the film's subjects whether they felt it was a problem, only to be told, in no uncertain terms, it was "stupid question".
Pearson sees the Guugu Yimidhirr community's decision to hold on to their Christian faith as an important expression of their agency and self-determination. It is also, in his view, testimony to how they have reconciled and overcome the injustices they experienced historically.
This is clearly "the darkness" that the film looks into, as Pearson describes it. Although Pearson's remit as filmmaker was clear – to create a 30-minute film that focused on the positivity of the Easter tradition, "the darkness" isn't something he shies away from.
As an Indigenous filmmaker, he says he knew it would be remiss not to also cover the dark moments of history that had led to the beautiful tradition. And those historical dark moments – even though the 30-minute film doesn't have much space to discuss them – are significant.
They include the nomadic Guugu Yimidhirr people being driven from their traditional lands by thousands of pastoralists and others who claimed it, during the gold rush era of the 1870-1880s. This displacement forced the Guugu Yimidhirr people to settle away from the saltwater that had been their food source for tens of thousands of years.
The Guugu Yimidhirr had to make their home in tea tree flats where very little food could be cultivated. This caused them to enter what Pearson describes as "a dark period of their history", when the community tried various ways to gain the food they needed at nearby Cooktown and "it wasn't a good situation".
But in 1887, Lutheran missionary Georg Heinrich Schwarz arrived in the area to work at Elim, a local mission. He began to build a unique relationship with the Guugu Yimidhirr. The community entered a period of relative peace upon the lands where they live today.
In a devastating turn of events, the Guugu Yimidhirr people's flourishing was cut short when, in 1942 during World War II, the German Lutheran priest became suspected of being a spy and was placed in prison. All the people living at the mission were loaded into trucks at gunpoint by American troops stationed in Australia and were taken to Woorabinda – 1500 kilometres south – where they stayed for eight years.
Finally, in the 1950s, the Guugu Yimidhirr were granted permission to return to Hope Vale, where the community remains today.
And, each year at Easter, the local community celebrates and gives thanks and remembers those Guugu Yimidhirr pioneers whose hope endures until this day. Now, thanks to the vision of Pearson, viewers of Wawu Divine Hope have the wonderful opportunity to do the same.
Wawu Divine Hope premieres on NITV on Monday, July 27, at 8.30pm as part of NITV's Karla Grant Presents – a series of documentaries hosted by prolific journalist and TV personality Karla Grant. She introduces the films, delving into them and offering personal insights, as well as contextualising each story. All of the documentaries have been created by Indigenous filmmakers, aimed at showcasing diverse stories from across Australia.