Culture
gaming
Will you join the resistance?
"We've got to stop telling stories that have no hope for the human race."
In Aethasia, my name is Laila Crinklespark and I'm asked to join the resistance.
"Lucky rules this land. Automatons rule our lives. The old Aethasia is gone, fog taints everything. But a resistance is beginning."
The Aetherlight: Chronicles of the Resistance is a new game for kids designed to engage them afresh with the biblical narrative. As Laila, I'm running around Aethasia completing missions for the resistance, which is working for "the Scarlet Man". Lucky, Aethasia's current ruler, has brought fog into the land. Fog corrodes the world and people's minds. He tells his citizens that the Great Engineer, who created Aethasia, has abandoned them. But the Scarlet Man seeks to restore the Great Engineer to his rightful place on the throne of Aethasia, to reinstate the land's former glory and to save its people from the fog.
The game has been created by Scarlet City Studios in New Zealand, a gaming studio spun off from a most unlikely place: an historic postal Sunday school ministry (PSSM). Eighty years ago, PSSM started delivering Sunday school lessons to rural children in New Zealand. Today, an elderly NZ couple who did the Sunday school lessons themselves during World War II and then volunteered to mark the PSSM lessons as young adults, have primarily funded the game for the last five years to make a new vision of connecting children to the gospel possible.
It's his story, not your story. But you have a place in his story. I think we can do that through a game in a really unique way.
The Aetherlight is for the Minecraft generation. In what is now officially my favourite job title, Tim Cleary is the "World-Builder" behind The Aetherlight. He tells me the game works in the same way a flannelgraph worked in Sunday school. "It's like the teachers using felt characters on a felt board to help illustrate the biblical story. This is that. A way of telling the biblical story to a new generation.
"We're trying to invite young people into the mission of God. It's his story, not your story. But you have a place in his story. I think we can do that through a game in a really unique way."
It's a tough ask, considering The Aetherlight is an RPG – a "role-playing game" – which are, in the world of gaming, made for users to build their own characters and shape that character to their choosing.
The Aetherlight is being released in episodes. Episode 1, launched earlier this year, is the story of a man named Alexander and his wife Selena, who are called from a faraway land to begin a resistance in a place called No Man's Landing. But they get it wrong. They misinterpret instructions from the resistance leader. Alexander tries to build himself a resistance, rather than a resistance for someone else – The Scarlet Man. He takes on an automaton boy instead of waiting for "the promised boy". It is, at its heart, the story of Abraham from the Bible.
It's a place in between that lets us imagine alternative futures.
The first episode is about 20 hours long, if you do everything in the game that the world builder has left there. The second episode was released in August and is all about the story of Jacob and Esau, but in the game, the characters are Juliana and Edmund, and they run an underground racing airship league. The third episode is in development; an allegory of the story of Joseph.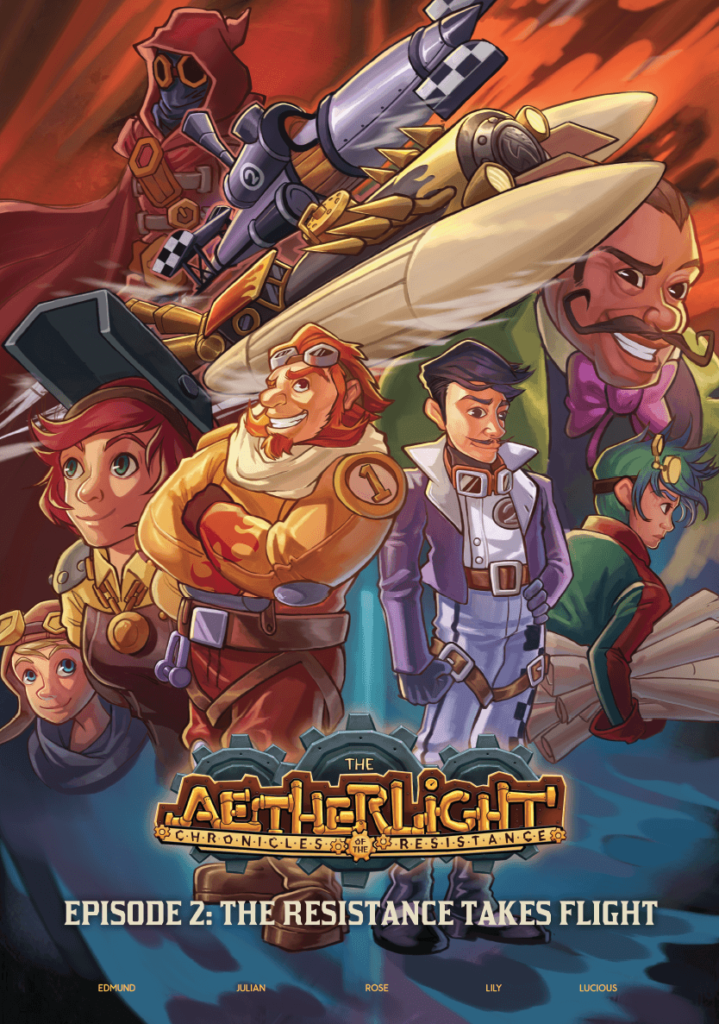 So far, the game has had over 15,000 downloads mainly from New Zealand, Australia and the United States. Game makers estimate over 30,000 hours have been played worldwide. "It's a social RPG environment," says Tim. "You can play alongside friends, no matter which episode they're in."
Aethasia is a steampunk world. Steampunk is a subgenre of science fiction, incorporating design inspired by 19th-century industrial steam-powered machinery. Think the fantastical machinery in Jules Verne's Around the World in 80 Days. Or the submarine, gadgets and imaginative weaponry in A League of Extraordinary Gentlemen.
"Steampunk is such a fascinating genre," says Tim. "It's not fantasy – fantasy is everywhere. It's not dystopia. I hate dystopia, actually. We've got to stop telling stories that have no hope for the human race. It's a place in between that lets us imagine alternative futures. And it's exciting because there's lots of crafting elements that work well for gaming."
As Laila, I can explore Aethasia and embark on side quests that seem never-ending. I can collect objects to make machines or tools, better weapons or funky outfits. Targeted at pre-teens, Tim says the game builders have subscribed to the "George Lucas school of violence" – like in much of Star Wars, the bad guys aren't humans; they're automatons. So there's no bloodshed, just leaking oil. "It's vandalism, not violence," says Tim.
For Tim, using allegory is a integral part of making the biblical narrative come alive. He grew up on C.S. Lewis' Narnia series and Lord of the Rings. "I love trying to unpack huge truths within simple stories."
If the kids aren't having fun in the game, they're not going to get anywhere near the Bible.
The game, says Tim, is pretty explicit in its aim to reengage young people with the story of God. But for someone who might never have been to Sunday school or never heard a Bible story – an ever-increasing number – the game builders have built in lots of different ways to get at the meaning, including a "Resistance Academy", where players can go to ask questions and explore the story behind the story. There's an app that offers in-game rewards like outfits and resistance points (to level up) for completing activities that connect The Aetherlight and the Bible at a deeper level. And there's a companion Bible to connect players to the Scriptures, in the same steampunk style and featuring some of the characters from the game, many of which are based on Bible characters themselves.
"We're focused on the fun. Because if the kids aren't having fun in the game, they're not going to get anywhere near the Bible," says Carl Becker, the CEO of Scarlet City Studios, the creators of The Aetherlight. "We've designed the game to bring the Scriptures alive."