Election 2019
An eternity perspective
Eternity's Election Guide Summary
What does each party say they'll do? Get Eternity's Election Guide Summary and be sure to scroll down for a topic-by-topic detailed guide.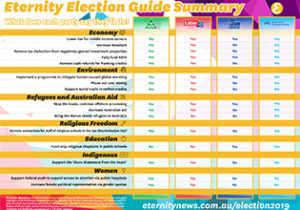 The Good Vote podcast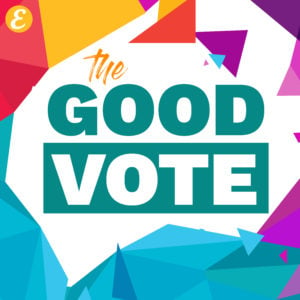 Feeling overwhelmed by the thought of voting for the future leaders of our nation? Take heart. Eternity News has just released The Good Vote podcast, with hosts Tim Costello and Mel Wade in honest conversation with prominent Australians about the issues that matter this election.
On the guest list: former Nationals Leader John Anderson; former Senator and Ambassador for Women and Girls Natasha Stott Despoja; scientist, explorer and conservationist Dr Tim Flannery; author of Hislamand Muslim spokesperson Dr Susan Carland; the Reserve Bank's Prof Ian Harper; and Aboriginal leader Mark Yettica-Paulson.
Listen to The Good Vote on itunes or Spotify today.
Share this guide
A word from our editor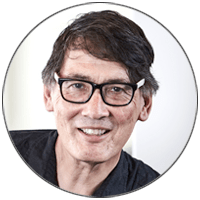 For the first time – in my living memory at least – this is a Federal Election that is explicitly religious. Religious freedom, whether in the form of which teachers a Christian school can hire, the future of school chaplaincy programmes, or issues of free speech has already emerged as a key issue. This is the election that Eternity as a Christian news service can't evade. There are also the old favourites which seem to impact each recent election, climate change, foreign aid, the Gonski reforms to education funding and the NDIS. Christians have been significant campaigners in all those areas. Not that we all agree. We don't. You may well see someone from a local church clutching the "wrong" how to votes on election day.
In this election guide Eternity aims to provide significant Christian commentary from a range of sources. It is not a summary of what we think. That is because Eternity is not trying to tell you how to vote, but wants to help you consider the issues as you make up your own mind.
Eternity has strong opinions about, for example, that God our father loves us and that creation makes his existence clear, that the Bible is an authoritative source to find out about Jesus, who died as "a ransom for many". We support a "generous orthodoxy". But unlike some other Christian media we don't have a political agenda alongside this, except to link you to what Christians are thinking and writing about issues that matter. Each time we do this we discover there's a wealth of Christian thinking in this country.
Have we a hidden agenda? Perhaps this half hidden one: that Christians can and should be able to discuss politics and other questions in a peaceful and civil way. That's one of the values Eternity will always cling on to.