"I grew up in a little town called Woodenbong. There were five of us kids and I was the eldest. My mother was a Christian, and she sent us to Sunday school.
But after school I drifted away from church. I got work as a laborer and later in banking, where I moved 84 times! Then I got out of the Bank and started truck driving. I was living in Dunedoo next to my sister and brother-in-law's property.
In 1985 I was driving a semi-trailer down a hill towards Caroona, west of Quirindi. Rounding a corner, the truck jumped out of gear, and then landed upside down in a ditch. The cabin caught on fire, and the flames covered my legs.
The cabin was crushed, and I was trapped inside. People arrived on the scene, but it took two hours to get me out. A passing truck driver had a fire extinguisher, and a local doctor hit me with morphine while I was still in the cabin.
"If they hadn't removed my legs, I would have been dead." – Allan
I made it to Tamworth Hospital, with a police escort. It was one of those God things. The best possible orthopaedic surgeon was nearby, and he came in. I had multiple fractures in my legs and arms, serious burns to my legs, back, arms and hands. They amputated both my legs below my hips. They were burnt beyond saving. If they hadn't removed my legs, I would have been dead.
I was in hospital for six months. At first, it was a 50/50 chance I'd survive.
But I'm stubborn. I was 31, and I was the fittest I'd ever been. My mother got three prayer chains going. The Anglican chaplain would visit me. I'd be lying there, legs missing, both arms broken, propped up on pillows. And he would sit beside me.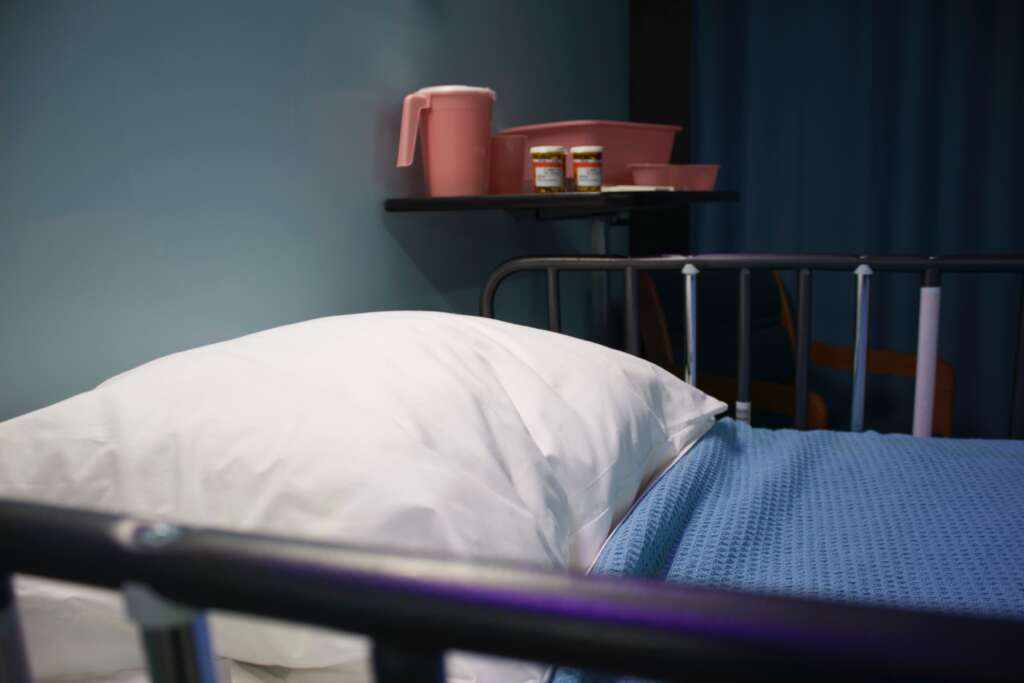 I could talk to him. He knew about trucks, so we'd talk about trucks. Then, we talked about other things. I knew if there was anything I needed, I could talk to him. The head nurse was also a Christian, and I had a lot of Christian visitors. That's how it started.
I started to see that God had kept me alive. I knew God was real. There were so many coincidences. He was right there at the accident. I know that God was with me, and he hadn't finished with me yet.
After rehab and some time with my parents, I went back home to Dunedoo, living by myself. I had two prosthetic legs by then and my arm still in plaster, but I worked around things, and found ways of solving problems. I pushed the Victa lawnmower around the yard; I managed the cooking and cleaning. I bought a car with hand controls. Then I went back to working on the farm – with two prosthetic legs and two sticks.
In the meantime, I became more and more involved with the local church. The minister was very good. I started a correspondence course through a Bible college, and I became a leader on 'Walk to Emmaus' retreat weekends. I was drawing closer to God and trusting Jesus with my decisions. Within three years, I was an Elder in the church.
In 2003, I was a 49-year-old bachelor with no legs. I wasn't necessarily looking for a partner. But then I met, and married, Anne! We've had 20 wonderful years together. I'm so grateful to God.
"If God was there at the time of the accident, then he'll be here today and in the future."
Every year since the accident, I've had a second birthday on the date of my accident – the 18th of June. I want to give thanks to God! I know that he saved me and he still has things for me to do. Nowadays, I'm a leader in the church; I preach when needed, lead communion and operate the computer at church. I help people out in our retirement village with their tech issues.
My favourite verse is Philippians 4:13, "I can do all things through him who gives me strength." I know it's God who gets me through. A sense of humour also helps! I also know that if God was there at the time of the accident, then he'll be here today and in the future. We can trust him!"
Allan's story is part of Eternity's Faith Stories series, compiled by Naomi Reed. Click here for more Faith Stories.