If you were struggling to keep warm during Adelaide's winter, what would help you?
About two tonnes of blankets, sleeping bags and cosy clothing would surely make a dent.
"We filled this truck with amazing amounts of gear and it got sent out right across South Australia, effectively," says Simon Jackson about the two-tonne response to the first time he organised 'Blanket Adelaide With Love'.
Three years ago, 'Blanket Adelaide With Love' blossomed out of Grace Anglican church, in the eastern Adelaide suburb of Norwood where Jackson was a minister. Based on a campaign he had been part of at Church by the Bridge in the Sydney harbour suburb of Kirribilli, Jackson's Adelaide appeal called for donations of winter items from blankets to beanies, new underwear and socks.
Local media attention helped 'Blanket Adelaide With Love' draw a big response, with Christian aid organisation Anglicare SA using its networks and programs to distribute the 2000 kilograms of goods to those in need.
This year, Jackson and Anglicare SA are partnering again, asking for useful and warming donations to be dropped off on Saturday, July 24, at CityLight Church North Adelaide.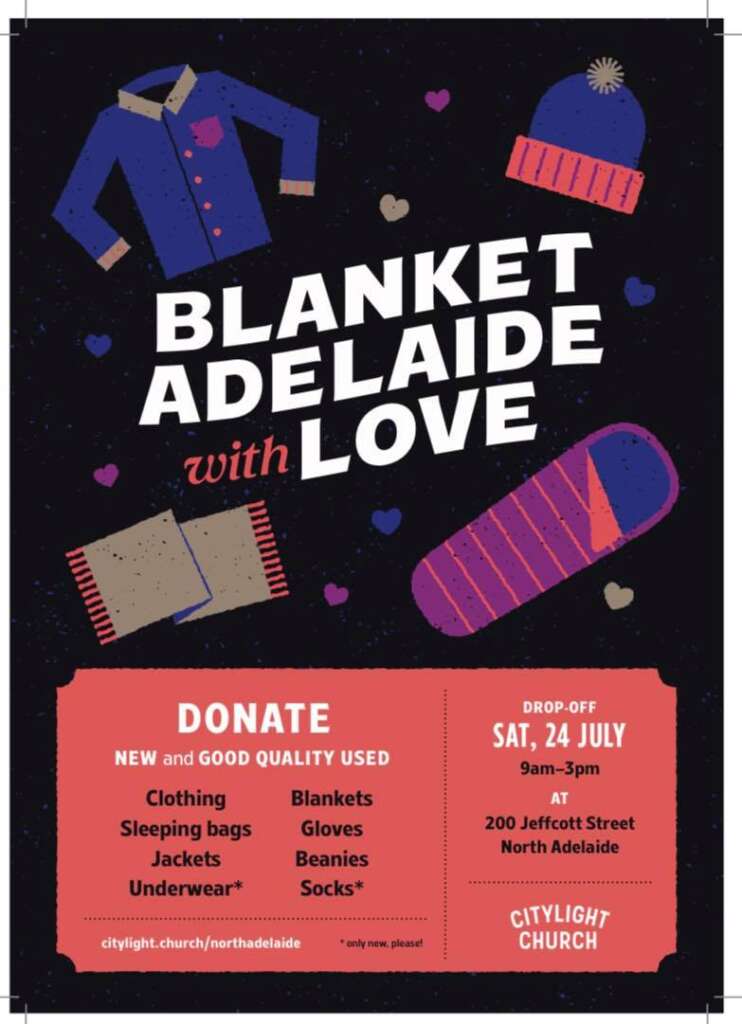 Jackson is lead pastor at the church – part of the Acts 29 church planting network – and he does not pretend to be an expert on homelessness, unemployment or other social issues in Adelaide. But he knows people are struggling in his city and he wants them to be helped with practical care.
We're not these nasty Christians; we're loving, good people.
"I was keen for us to be a church that didn't just preach the gospel in word only but sought to care for the welfare of the citizens of our local area and beyond," says Jackson.
"We are keen to positively impact our local area and also do a bit of that work of renewing people's impressions of the church in society."
"You know, we're not these nasty Christians; we're loving, good people."
Jackson encourages Christians to not "offload" the hand-on aspects of loving their neighbours and for their faith to motivate getting involved in practical support, such as 'Blanket Adelaide With Love'. But he also values partnering with Christian charities such as Anglicare SA because their scale and set up means greater impact.
Having met this week with Anglicare SA to discuss how 'Blanket Adelaide With Love' will be promoted across Anglican churches and CityLight churches, Jackson says the charity was grateful that he came forward with such a simple but compassionate idea.
"The sense from Anglicare is, great, this is what we need because we've got people who don't have sleeping bags to keep them warm at night. People who need clean, fresh, new underwear, and gloves and beanies, and things like that."
"There are people out there who need care and support."
"I'd love to see this as an annual thing but also the potential for it is to be broader than just one drop-off spot in Adelaide," continues Jackson. "Hubs where things can be dropped off – north, south, east and west – to make it easier for people to get involved."
Jackson also hopes other Christian churches and denominations will come to unite across Adelaide and get behind the 'Blanket' appeal.
But why stop there – what about 'Blanket Australia With Love'?
"Um, yeah, I hadn't really thought about a national approach … but why not?" Jackson simply says.