Divine guidance is not about learning which buttons to press in order to get God to tell you what you want to know. Divine guidance does not come from learning how to manipulate God. It has more to do with establishing a relationship with God.
God has given us free choice to accept or reject a loving relationship with himself. If we choose to have a relationship with God, it will necessarily be one that we can't appreciate, or understand fully in this life. That's why faith is required when we enter a relationship with him. Yet any relationship requires communication if it is to exist, and part of communication is 'guidance'.
God guides
God loves us and wants the best for us. Listen to the beautiful words he speaks to his people in the Old Testament book of Jeremiah: '"For I know the plans I have for you," declares the Lord, "plans to prosper you and not to harm you, plans to give you a future and a hope"' (Jeremiah 29:11). And here's another of God's promises in the Psalms, 'I will instruct you and teach you in the way you should go; I will counsel you and watch over you' (Psalm 32:8).
But do we want to be guided?
God may long to share our love, but do we really want to be loved and guided by God? Rather obviously, if we want guidance, we must first decide what objective in life we want to ultimately pursue. Let me illustrate with a quote:
'Cheshire Puss,' she began, rather timidly, … 'Would you tell me, please, which way I ought to walk from here?'
'That depends a good deal on where you want to get to,' said the cat.
'I don't much care where,' said Alice.
'Then it doesn't matter which way you walk,' said the cat.
(From Alice's Adventures in Wonderland, by Lewis Carroll)
I invite you to be wise and seek the guidance of God. The apostle Paul says bluntly: 'Therefore do not be foolish, but understand what the Lord's will is' (Ephesians 5:17).
How does God guide us?
Occasionally, God gives supernatural guidance, e.g. in Acts 8:26; 10:1-23; 16:6-10. Usually, however, we are guided by wise judgement made when:
We put God first (Proverbs 3:5-6)
We allow God to renew us (Romans 12:2)
We are obedient to God (Psalm 66:18; Isaiah 58:6-11)
We are humble (Psalm 25:9)
We fear (in the sense of respect) God (Psalm 25:12,14)
We worship (Acts 13:2-3)
Please don't consider these things as an impossible list of conditions. Rather, they indicate that the nearer you are to God, the clearer you will hear his voice. If you are already living a godly lifestyle, you are well placed to hear God's guidance. In many respects, it shows that you are already living under God's guidance (Psalm 16:7).
You can check the five key aspects of guidance on the fingers of one hand. Here they are:
1)  Does your intended action match consistent biblical principles?
The Bible provides a solid basis for guidance (Psalm 119:105; 2 Timothy 3:15-17). If our guidance does not agree with clear biblical principles, it will not be correct.
2)  Is your intended action encouraged by wise and spiritually mature people?
The Bible tells us to seek advice from those who are wise and mature (Proverbs 12:15). It is important, however that wisdom be God centred, as the wisdom of God is not the same as the wisdom of a godless world (1 Corinthians 1:20-30; James 3:17).
3)  Does the Holy Spirit give you an inner peace about a course of action?
Learn to recognise and be sensitive to the inspiration and insights that the Holy Spirit gives you. Remember to check out these insights first before you accept them as God's word to you, as you can sometimes muddle up your own ideas and ambitions with God's.
4)  Do circumstances suggest it is a wise course of action?
Make the most of the opportunities God presents you with, as the apostle Paul did (2 Corinthians 2:12). However, don't avoid the responsibility for making your own decisions by seeking to interpret signs that tell you what to do. God answered Gideon's request for a sign as a concession to his lack of understanding and his inability to discern God's will (Judges 6:36-40; Isaiah 7:10-13; Luke 4:12). Remember too, that signs may help or be deceptive (Matthew 24:24). On their own, they are not enough to base a decision on.
5)  Are you happy to take responsibility for your own decision?
It is important that your decision be your own and not someone else's (1 Kings 13:15-22). If you feel you lack wisdom, the Bible invites you to ask God for it (James 1:5-6).
So, seek it out (Proverbs 2:1-6; 4:5-9).
And finally remember: 'The Lord confides in those who fear him' (Psalm 25:14) – so confide in him.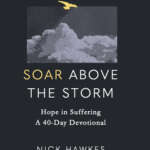 Dr Nick Hawkes is a scientist, pastor, apologist, writer and broadcaster. He also describes himself as an absent-minded, slightly obsessive man who is pathetically weak due to cancer and chemo, who has experienced, and needs to experience, the grace of God each day.
Nick has written a book Soar above the Storm in which he draws on his experience of cancer to encourage anyone walking through a storm in life to find rest and hope in God. It offers a 40-day retreat to be refreshed and strengthened and find deep peace in God. Order it at Koorong.
Email This Story
Why not send this to a friend?