Why did God send his son to be born in an obscure rural village in a country that was overrun by an occupying enemy force? What made God involve a peasant girl and a carpenter? What prompted the Son of God to be born in a place where animals feed?
The truth is: God had laid the plans for this event long ago. The Old Testament prophets had foretold it. The prophet Micah had spoken about a mother who was to give birth to a prince of ancient lineage, who would shepherd his people, and who would be born in Bethlehem (Micah 5:2-5).
God even worked through the Roman Emperor, Caesar Augustus, prompting him to have a census, which required Mary and Joseph to return to Bethlehem in time for Mary to give birth to Jesus, so fulfilling the ancient prophecy of Micah. This census was carried out typically every 14 years for the purposes of assessing who could be called up for military duty and to establish what taxes should be levied on each region. Let me read to you a similar decree that historians unearthed written by the Roman governor of Egypt:
Gaius Vibius Maximus, Prefect of Egypt orders: `Seeing that the time has come for the house to house census, it is necessary to compel all those, who for any cause whatsoever are residing outside their districts to return to their own homes, that they may both carry out the regular order of the census, and may also diligently attend to the cultivation of their allotments.'[i]
Fuel your faith every Friday with our weekly newsletter
Another prophecy foretelling the birth of Jesus occurs in Numbers 24:17. 'A star will come out of Jacob, a sceptre will rise out of Israel.' This speaks of a royal ruler who will come from the Jewish people. It echoes a prophecy given in Genesis: 'The sceptre will not depart from Judah, nor the ruler's staff from between his feet, until he comes to whom it belongs and the obedience of the nations is his' (Genesis 49:10). This prophecy teaches us that the eternal ruler will come from the tribe of Judah, the tribe from whom king David also came – which proved to be the case (see Luke 1:32).
The prophecy in Numbers 24:17 was written about 1,400 BC, and the one in Micah 5:2 about 700 years BC. That means there was a lot of waiting before the event prophesied came to pass! It is a powerful reminder that God has ultimate control of history.
These Old Testament prophecies about Jesus first coming two thousand years ago are extraordinary. God has written his name large upon the canvas of history because he's got something big in mind.
Here's another remarkable prophecy. As Daniel was praying for his people, the angel Gabriel visited him and told him that the time between the issuing of the Persian decree to rebuild Jerusalem, and the coming of the Messiah would be 483 years. 'Know and understand this: From the time the word goes out to restore and rebuild Jerusalem until the Anointed One, the ruler, comes, there will be seven "sevens", and sixty-two "sevens"' (Daniel 9:25). It is most probable that the decree referred to by Daniel was that of Artaxerxes in 445 BC (Nehemiah 2:1-6) as that's the one that specifically speaks of rebuilding the city of Jerusalem. If the edict to rebuild Jerusalem was that of Artaxerxes, this predicts that the Messiah (the 'anointed one') will come as 'ruler' in 38 AD. If this is so, then this is a pretty accurate prophecy about Jesus. Note: Jesus was hailed as 'ruler' on his entry to Jerusalem (Luke 19:37-38).
Note also that Jesus was crucified, i.e. 'cut off' (as prophesied in Daniel 9:26) from the land of the living a week later, quite possibly in 38 AD – or thereabouts.
Here's another intriguing prophecy concerning the birth of the Messiah. It is found in Isaiah 7:14: 'The virgin will be with child and will give birth to a son, and will call him Immanuel'. Immanuel literally means 'God with us.' This prophecy occurs in the middle of an account of Isaiah reprimanding Ahaz, king of Judah, for not accepting God's offer to give him a sign that he would be victorious over the armies of Aram and Ephraim (who were invading from the north). In effect, Isaiah says: 'If you won't ask for a sign, God will give you a sign…' and then follows this prophecy, which is obviously a lot more to do with the future coming of a Messiah than defeating invading armies from the north.
A few chapters later, another prophesy about the coming of the Messiah follows: 'For to us a child is born, to us a son is given, and the government will be on his shoulders. And he will be called Wonderful Counsellor, Mighty God, Everlasting Father, Prince of Peace' (Isaiah 9:6).
These Old Testament prophecies about Jesus first coming two thousand years ago are extraordinary. God has written his name large upon the canvas of history because he's got something big in mind. God's plan is to come to us and draw us back to himself. He has come to seek us – as a lover seeks his bride.
[i]    Recorded in: William Barclay, The Gospel of Luke "The Daily Study Bible" series, (The Saint Andrew Press, Edinburgh), p.15.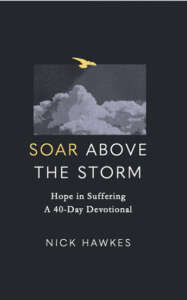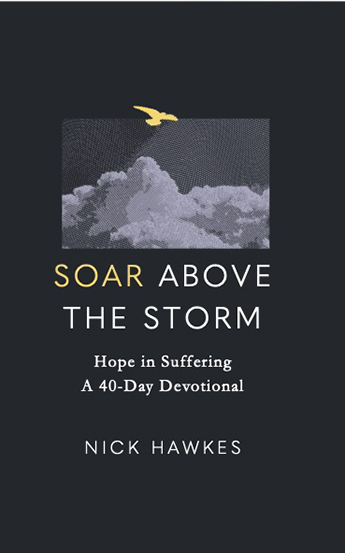 Dr Nick Hawkes is a scientist, pastor, apologist, writer and broadcaster. He also describes himself as an absent-minded, slightly obsessive man who is pathetically weak due to cancer and chemo, who has experienced, and needs to experience, the grace of God each day.
Nick has written a book Soar above the Storm in which he draws on his experience of cancer to encourage anyone walking through a storm in life to find rest and hope in God. It offers a 40-day retreat to be refreshed and strengthened and find deep peace in God. Order it at Koorong.
He blogs and records podcasts at nickhawkes.net. Nick told his life story to Eternity, which you can read here.
Email This Story
Why not send this to a friend?