Describing herself as a "lamb that wrestled rather than nestled," Elizabeth Robertson overcame many obstacles in her career as a nursing missionary in Sudan, a social worker and a nonagenarian author of a sparkling memoir, Into the Light.
Born in Adelaide in 1926 to a half-Jamaican father and English mother, Beth suffered hurt, rejection and shame from her racial heritage during the era of the White Australia policy, along with financial hardship from the Great Depression.
Her mother Lily had become trapped in Australia by the outbreak of World War I. And from her viewpoint, Beth's birth was a tragedy because of the problems for someone of mixed race.
"You poor little thing, you should never have been born," said Lily when Beth came home from school sobbing after being attacked with stones and taunts of "nigger."
Fuel your faith every Friday with our weekly newsletter
As a result, Beth would lie, steal and cheat to escape trouble, which caused her to hate herself and strengthened her belief that her life was an unfortunate mistake.
With each blotted new start, religion became yet another arena for failure.
A prolific but lukewarm churchgoer, Beth cried out to be good and to know the "gentle shepherd" to whom she prayed nightly. Yet, with each blotted new start, religion became yet another arena for failure.
During a Christian camp at the age of 16, a fearful and confused Beth finally discovered that God really loved her, and she gave her life to God.
"The joy that came to me then is still with me, more than 70 years later," she writes in her memoir, adding that she now celebrates two birthdays – her earthly birth and her spiritual rebirth.
Immediately, she felt God's call on her life. After being hospitalised with appendicitis, she quizzed the nurses who looked after her and decided to train as a nurse and go to Africa as a missionary. Providentially, her application to train at the Royal Adelaide Hospital was approved only months before a new matron decided not to accept any "not-white " trainees. For Beth, this was an example of God's timing behind various "lucky" events in her life. Another was topping the state in her registered nurse exams, thanks to being asked about everything she had learnt.
After completing a midwifery course in Melbourne, Beth studied for two years at a Bible college in Adelaide, and then joined the Sudan Interior Mission in Africa (SIM) and went to Sudan as a missionary nurse. It was 1954; she was aged 28 and took with her 28 boxes, barrels and crates on an ocean liner bound for Aden.
"I stood at the rail of the ocean liner, clutching a handful of multi-coloured streamers. Excitement warred with the sadness of separation from home and loved ones. Above all, I could never forget the wounded look in my mother's deep blue eyes," she writes.
After three months spent learning the "gorgeous language" of Arabic from sheiks in Khartoum, Beth impatiently set off to work at the mission station at Chali El Fil in southern Sudan. Her journey took her by air over the Blue and White Niles, with the remaining several hundred miles crossed by jeep.
"I was startled by the bright glory of the night sky. The radiant pageant of the constellations wheeled through the blackness of the night with a brilliance I had never before seen," she writes.
For the next year, Beth lived and worked among the Uduk people, many of whom had turned from fear of evil spirits and become Christians. "Their language was soft and beautiful. I couldn't tell if they were talking or singing," she notes.
The Uduks believed that twins were possessed by evil spirits so that just one look from them could kill or curse. Until the government banned the practice, it had been their custom to bury the mother and twins alive. Once they became Christians, however, the people lost their fear. When missionaries were banned from the country in 1961, Christian Uduks adopted twins who had been abandoned by their parents.
Beth learned to deal with hazards such as bats that fell from thatched roofs and scorpions that hid in shoes. Her many adventures included travelling 50km by donkey through countryside she describes as "a cageless zoo" to attend a medical crisis for which she would normally phone the doctor. Despite being thrown off several times by Abe the donkey, Beth's enduring memory of that trip was of entrancing sunlight flowing through translucent elephant grass that had overgrown the road.
"It was as though I was parting the waves of a delicately green, luminous sea, so entrancing that the euphoria remains with me after more than 60 years," she enthuses.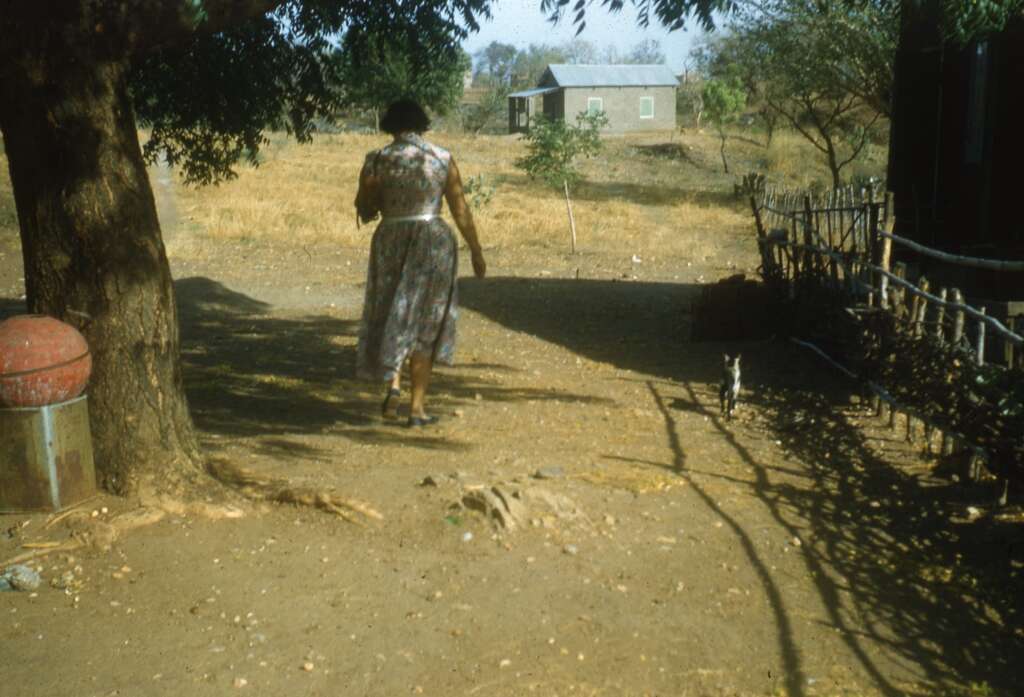 After a year at Chali, Beth was sent to work with the Dinkas at another remote village, Abaiyat, where she had many adventures in the darkness with a lamp and medical supplies. During only one of the six years she spent among the Dinkas, she had a doctor on call, so she mostly had no medical support and was working blind much of the time.
In 1961, Beth succumbed to hepatitis and had to return to Australia for treatment. Soon after her departure, SIM missionaries were expelled from southern Sudan and Beth was never able to return to Africa.
While recuperating from hepatitis and wondering what to do in a culture she no longer felt at home in, Beth started studying for a diploma in social work. After graduating, she worked as a senior social worker at Queen Elizabeth Hospital in Adelaide for the next 20 years.
Personal happiness came when she met a handsome widower, Albert, while ballroom dancing, becoming a wife and stepmother at age 46. In the late 1970s, while on a camping holiday in the Flinders Ranges, Beth became fascinated by Maria von Trapp's autobiography which described how her life had been transformed by "the baptism of the Holy Spirit."
"Although the Bible had become the template for my life, something was lacking. Where was my joy and peace?" As she knelt to pray that God would put her in touch with some charismatic Christians, the atmosphere in the tent "took on a holiness one might experience in a sacred place."
She then experienced an encounter with the Holy Spirit at a charismatic conference and began quietly to speak in tongues. "I felt so much freer," she writes.
This was the beginning of a season of refreshment, renewal, and increased ability to witness. From then on, Beth found "boring" any conversation that didn't involve God.
In 2014, she hesitantly embarked on a postgraduate course in creative writing at Tabor Christian College, completing it a couple of months before her 90th birthday. Patiently assisted by former students Jo Wurst and Belinda Pollard, Beth then worked up her biographical fragments into a memoir, published last year, that sparkles like a polished gem.
The college's head of creative writing, James Cooper, cheekily said at the book launch that Beth had left many exhausted editors in her wake.
"Where she and I really connected was we just love words, we love putting words down and coining a phrase, and a lot of her early pieces had that very strong voice of hers, but like a lot of students she had a propensity to tell the facts rather than to show them and bring to life; over the course of her study that's what she learnt – the importance of setting a scene, with the kinds of details you can see and sense and imagine. She's managed to combine her voice, her natural way of coming across on the page and you get both those elements in what she's put together."
Email This Story
Why not send this to a friend?