God is relational. He wants to enjoy our love and do things with us (Genesis 1:26). This means that we have the privilege of being able to share with God what's going on in our hearts. And the way we do that is through prayer. Prayer is simply talking with God, either silently or out loud.
No relationship will develop unless there is communication. Throughout the Old Testament, God's complaint about his people was that they did not seek him (Isaiah 9:13; 31:1). So, let's make sure we do.
One of the most radical things Jesus modelled was his intimacy with God. He particularly demonstrated this in his prayers, calling God "Abba", an intimate Hebrew word for "Father" (Mark 14:36). The Bible records Jesus getting up early to pray and choosing to do so in places where he wouldn't be disturbed (Mark 1:35; Luke 5:16).
Prayer invites you into God's agenda, and it involves God in your agenda. This doesn't necessarily mean that every prayer is answered as you would like. As the American pastor, Robert Schuller, said:
If the request isn't right, His answer is "No".
If the timing isn't right, His answer is "Slow".
If you aren't yet ready, His answer is "Grow".
And when everything's right, His answer is "Go".[i]
What makes some prayers effective and others not?
It's worth pausing at this point to ask what it is that makes some prayers effective and others not?
We get a big clue from Jesus who taught us how to pray. He gave us a model that has a fabulous balance of praise, confession and petition (Matthew 6:9-13). Each section of the Lord's Prayer gives us successive subjects about which to pray.
Our father (Ponder your relationship with God.)
Hallowed be your name. (Spend time picturing God's holiness – and worship.)
Your kingdom come. (Make yourself open to doing all you can to faithfully represent the things of God's kingdom.)
Your will be done. (Bend your will to fit God's will.)
Give us this day. (Ask God for what you need to achieve your purposes.)
Forgive us…as we forgive. (Examine yourself before God. Confess and forgive. Unless you forgive, you cannot receive God's forgiveness.)
Lead us not into temptation. (Ask God to guide you into the right decisions and away from overpowering temptations.)
Deliver us from evil. (Pray for protection against Satan.)
Begin prayer time by focussing on the character and holiness of God
Please note: The start of the Lord's Prayer is very significant. It teaches us not to rush into God's presence with a shopping list of requests. Rather, it invites us to begin our time of prayer by focussing on the character and holiness of God… and then consciously aligning ourselves with his 'kingdom' agenda. If we do this, we will be well placed to pray according to God's will (1 John 5:14).
Here's a summary of those factors that make for effective prayer – as taught in Scripture:
1)   Be confident that prayer changes things (James 4:2; 5:14-16).
2)   Seek God's agenda (Matthew 6:10).
3)   Fix issues that arise through being careless of God and others e.g. Disobeying God (Zechariah 7:13); Not being honest to God about your sins (Psalm 66:18; James 5:16); Not forgiving others (Mark 11:25); Having divided or selfish motives (James 4:2-3); Being inconsiderate to your spouse (1 Peter 3:7); Not caring about those who need help (Proverbs 21:13).
4)   Pray as often as you can (1 Thessalonians 5:15).
5)   Be bold and wholehearted in prayer (Luke 11:5-8; Deuteronomy 4:29; Jeremiah 29:13; Hebrews 11:6).
6)   Persist in prayer. Don't give up (Luke 18:1-8). Believe that God will answer (Mark 11:24).
7)   Have faith, even if that faith is as small as a mustard seed (Matthew 17:20-21). Don't doubt (James 1:5-8).
8)   Follow the pattern taught by Jesus regarding prayer (Matthew 6:5-15).
This is not a list of factors that are impossible to fulfil. God is not a cranky old man who needs to be coerced. God is for you. These things are simply indicators that you come to God with a humble heart and a degree of integrity… and that your prayer is real.
When you pray, allow silence and listen for insights the Holy Spirit will give you. Give yourself time to hear from God and enjoy his company (Psalm 46:10). Francis Collins, the distinguished scientist who led the international team that mapped the human genome, says: "Prayer for me is not a way to manipulate God into doing what we want Him to do. Prayer for me is much more a sense of trying to get into fellowship with God. I'm trying to figure out what I should be doing rather than telling Almighty God what He should be doing."
He makes a lot of sense.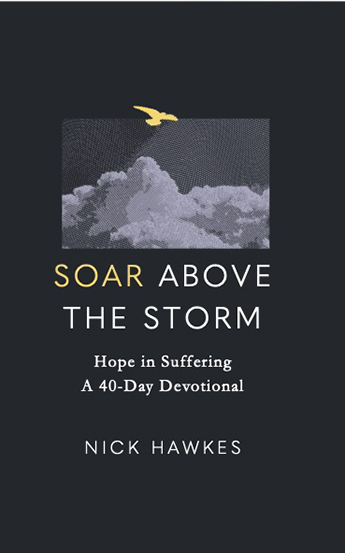 Dr Nick Hawkes is a scientist, pastor, apologist, writer and broadcaster. He also describes himself as an absent-minded, slightly obsessive man who is pathetically weak due to cancer and chemo, who has experienced, and needs to experience, the grace of God each day.
Nick has written a book Soar above the Storm in which he draws on his experience of cancer to encourage anyone walking through a storm in life to find rest and hope in God. It offers a 40-day retreat to be refreshed and strengthened and find deep peace in God. Order it at Koorong.
He blogs and records podcasts at nickhawkes.net
Nick told his life story to Eternity here: Deadly storms, heroin addicts, cancer and my faith.
Email This Story
Why not send this to a friend?