This may be the age of friending, but is it an age of friendship?
Turning "friend" into a doing word doesn't mean that friendship is something we actually do that much, or that well.
Well before the isolation of lockdown, well before the pandemic of this year, experts have been sounding the alarm on what they call a loneliness epidemic.
It's a struggle often associated with the elderly, but an American survey last year found that "27 percent of millennials have no close friends, 25 percent have no 'acquaintances' and 22 percent — or 1 in 5 — have no buddies at all" (I can't comment on where any one of these categories ends and another begins).
In the mortality stakes, [loneliness] is the equivalent of smoking 15 cigarettes a day.
Similarly, a study from 2018 found that 1 in 4 Australians feels lonely at least one day a week, and 30 percent don't feel like they are part of a group of friends.
As the meme has it – there's always a meme – "Nobody talks about Jesus' miracle of having 12 close friends in his 30s".
The health consequences of our relative friendlessness are dire. Loneliness affects us both mentally and physically. It contributes to depression, anxiety, low self-worth, and poorer psychological well-being. In the mortality stakes, it's the equivalent of smoking 15 cigarettes a day. It's twice as deadly as obesity.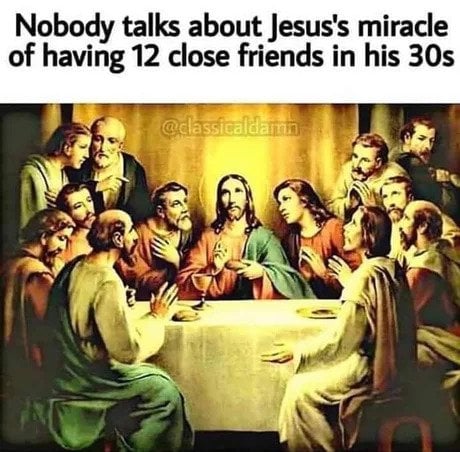 No doubt there are lots of contributing factors to why we as 21st-century humans are not doing so well on the friendship front. Here are two that stand out for me:
Rom-com culture: I mean this as a shorthand way of referring to the elevation in Western societies, over the last couple of centuries, of that one (romantic) (sexual) relationship as not only the central commitment of many people's lives but actually the thing that will fulfil and satisfy you. One relationship to rule them all! It's a lot of pressure to put on romance and marriage – and it's also had the effect of devaluing friendship by comparison, as if finding the "right" person means they can be all in all for you, the best and only necessary friend.
No strings attached: we value sex and romance highly, but we also value our autonomy. There is an aloofness, a rootlessness, particularly to urban culture in our time. We are less entangled with our neighbours than we once were, with our friends or extended families. We are more independent and more transient – we move more often, and are more likely to base those decisions on things like property prices than the web of relationships we're part of. (These are generalisations, of course!) Friendships are all well and good, but most of us don't orient our life choices around them. Outside of the nuclear family, we are very loosely committed to one another.
Various currents in contemporary life could be summed up this way: if it's "just" friendship, it's not that important; and if it's important, it probably isn't just friendship (there must be some sexual element to it).
Friendship is not that common a category in the Bible, but it does feature. I have found the sketch of human aloneness – or not – in Ecclesiastes compelling:
Two are better than one,
    because they have a good return for their labour:
if either of them falls down,
    one can help the other up.
But pity anyone who falls
    and has no one to help them up.
Also, if two lie down together, they will keep warm.
    But how can one keep warm alone?
Though one may be overpowered,
    two can defend themselves.
A cord of three strands is not quickly broken. (Ecclesiastes 4:9-11)
This passage is often read at weddings, though there's little in the text that is likely to refer specifically to marriage. Though it is about binding our lives together – and the picture it paints of human 'alongsideness' very much backs up those statistics on loneliness. It confirms that friendship is intimately linked to our sense of meaning in life, and that it's also bound up with our need, our fragility, our vulnerability. We need each other.
My own "cord of three strands" has been woven over more than 20 years. For the last 10 of those, my two besties and I have sat down pretty much every Wednesday night to pray together – to pray for each other, about all the big and little things happening in our lives. At times we've been in three cities in two time zones; we're usually reliant on the whims of Skype, FaceTime, or our respective internet connections. Some weeks we laugh a lot and relax into each other's company and discuss trifles in great depth and squeeze some prayer in at the end. Some weeks are hard work; sometimes there are apologies we make to one another afterwards. We lead different lives and think differently on quite a few things. But all three of us would say that this friendship is one of the best blessings God has given us.
Friendship will not be all road trips and margaritas; it will be a call to desolation (to mourn with those who mourn) as much as consolation (rejoicing with those who rejoice).
One of the girls forwarded a Tweet to our group chat recently that read: "Female friendship is just taking turns having mental breakdowns." In our daily well-being, but also in our faith, we have signed up to bear one another's burdens. It generally works out, actually, that we take turns to fall apart. We take turns to doubt God's goodness or faithfulness. We take turns celebrating each other's wins, even the smallest ones, and holding each other up through the worst patches. A cord of three strands is not quickly broken.
C. S. Lewis, in his classic book The Four Loves, speaks of friendship as the form of love that is entirely voluntary, based on shared interests, imposing no obligations on us. But while we do choose our friends, once that choice has been made – and consolidated over years, forged in the crucible of shared experience – there's something about it that's much more like a de facto marriage than, say, a phone contract. It doesn't come up for review; it's for good.
Here are some of Jesus' words to his own friends the night before his death:
My command is this: love each other as I have loved you. Greater love has no one than this: to lay down one's life for one's friends. You are my friends if you do what I command. (John 15:12-14)
Jesus' words outline the shape of friendship: friendship is cruciform. It is cross-shaped. Jesus' love is cruciform; he lays down his life for us. And tells his people that, if we are to be his friends, our love for each other will look like that too. Friendship will not be all road trips and margaritas; it will be a call to desolation (to mourn with those who mourn) as much as consolation (rejoicing with those who rejoice).
To celebrate the goodness and gladness of friendship is not to gloss over its burdens and tangles: the feeling of lack where it has not developed, or has not met our expectations; the sense of guilt over friendships that have wilted from neglect or somehow ruptured; the challenges of distance, or boundaries, or forgiveness. In my experience, the formation or repair of friendships are prayers God loves to answer. A blessing, then: may you have the friends you need in this season, and also be the friend others need in this season.