World
Syrian crisis
Caring for Syria's children in Lebanon
Eight years on (when the world has lost interest)
"I'd like to begin by telling you about World Vision in Lebanon because the context is a bit different from how things go in other countries," Josephine Haddad tells me, when I ask what projects she's working on in Lebanon at the moment.
She knows there's a context that can't be separated from her work and isn't about to outline what she does without explaining it. She's also correctly ascertained within a couple of sentences that I am ignorant of that context.
Beirut port explosion devastates Lebanon, amid food and financial crisis
He moved his family to a war zone
Caring for Syria's children in Lebanon
"The [World Vision] office in Lebanon was established in 1975. 1975 was the year the Civil War started in Lebanon. It was a huge war – between Christians and Muslims, between Muslims themselves, between Christians themselves – and it lasted until 1990."
Haddad's putting it in bite-sized chunks for me and doing so without a hint of condescension. I'm grateful.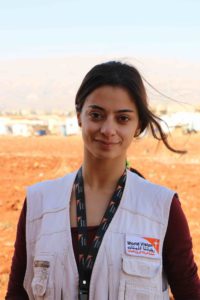 "So during these years, World Vision was doing relief interventions – as in, providing medicine, providing food. After that, they started giving vocational trainings and life skills. And in the 1990s World Vision started shifting its work to development work. Right now, we have a few development programmes all across Lebanon, in the Bekaa Valley in the South, in the north in Akkar, and in Beirut, and Mount Lebanon.
"In 2011, with the influx of Syrian refugees in Lebanon, we did not pause our development work – it still continued. But we had to focus on our relief interventions with the Syrian refugees because there were so many children with so little resources. Their wellbeing was at stake – their futures are still at stake – and we had to do something there."
I get it. She's telling me that her country was already struggling before the 10,000 square kilometre sized country became the landing place for 1.5 million Syrian refugees. That's the context.
Haddad began her career as a journalist straight out of university, working for Sawt El Mada, a local radio station in Lebanon, covering politics for three and a half years. But she says "at the end of the day, I wanted to be on the other side."
"I was covering everything related to the refugee crisis from the perspective of the government and how the government was dealing with it and how the government was setting plans," she says.
"But as a radio reporter, I had limited access to the important content settlements and I wanted to hear the human part of the story."
She became World Vision Lebanon's Communications Coordinator and her role became gathering stories from World Vision's programmes in Lebanon, many of them from Syrian refugees.
"This one time ­- it was actually the second story I wrote with World Vision – they told me 'we need you to interview two young boys.' One of them was Kheir, who was four, and the other was Mhamad, who was five. They were attending our ECE sessions – the early childhood education programming sessions.
"Kheir reminded me of my nephew. He had this look like my nephew and he looked at me in a way that reminded me of Anthony. And whereas Anthony is at home playing with his iPad and his phone, here is Kheir and he goes on the streets in the Bekaa Valley and he collects plastics and nylon and he sells them for money."
How does she process that kind of thing? I ask her. Doesn't she need to see a psychologist every day to make sense of that kind of injustice?
"Actually, I learned to separate myself from what happens because my first year with World Vision was … it really impacted me," Haddad admits, her guard down for a moment but still in her signature matter-of-fact way.
"Especially with Kheir and Mhamad because, that night, I came home and I was having dinner with my husband [he was my fiancé back then], and I was completely disconnected from everything he was saying because, at the back of my mind, I was comparing Kheir with my nephew."
"And he [Haddad's husband] was like 'what's wrong with you?' And I burst out into tears because, as an individual, you're not able to do anything. You're not able to … like, if you and I were able to adopt all of these children we would. We would never say no."
So it becomes kind of normal?
"Yeah, everything becomes normal. But it's not normal," she says, explaining how even the worst situations can be used as a motivation for her work.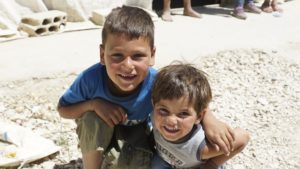 "For instance, we met this young boy … We did a huge video about him. He was born with, um, I don't know what the scientific term for it is but it's like having water in your brain. He was barely hospitalised because he was a refugee and he just wasn't given the attention."
One of Haddad's colleagues found out about the situation and did everything he could to get the boy treatment, contacting other organisations and colleagues in the area, begging them to follow up. And they did. But in the end, the young boy died.
"It struck us real hard because, no matter what you want to do, at the end of the day some things just don't turn out the way you want them to turn out. It was too late when we decided to help, and when other people decided to help, because we didn't know [about the situation] from day one and he died."
Despite the tragedy that is a daily reality for her, Haddad is clearly energised by her work and particularly so by those programmes that do preventative work.
"There was this one girl, Aryam; I met her in the north of Lebanon in an area called Akkar. Aryam is beautiful. She has long brown hair, green eyes and I was asking her about the psychosocial support sessions and told me 'I learned to say no.'
"I asked her 'Aryam, what did you learn to say no to?' She said 'All these men stopping their cars to talk to me. I learned to say 'no' and I learned that I should not answer any of them because they are not nice people.'
"She's a 12-year-old girl. She's living in an informal tent settlement by the side of the main road. Imagine the number of things that she is at risk of.
"And World Vision is teaching her what to do, because the psychosocial sessions are open sessions where the children talk and talk and open up," Haddad says, rightly proud.