James B.* is an unusual young man. The third-year Sydney University student has just returned from a short-term mission to a megacity in West Asia, full of inspiration about the opportunity to share the good news of Jesus with people long unreached with the gospel.
* I can't tell you James's real name or where he went to in one of the least reached areas of the world because of the danger he might face if he were to go on mission there. But he has returned to Sydney so excited by the potential gospel harvest in Central and West Asia, having seen lives transformed, that he is considering making changes to his degree to be better prepared to leap into mission.
"I've been looking at possibilities in the last few days, how to go on exchange, how it would work if I were to drop one of my components," James tells Eternity after his first class on his first day back at university.
James has had an experience very few young Australian Christians have had – witnessing a unique opportunity to open doors long kept shut as refugees from countries in Central Asia are flooding into this former imperial city in West Asia in search of work and safety. After a few years of work, many return home. So there is an opportunity not only to create new believers but also build strong disciples, "who can return to their home country much more easily than you could go there," says James.
James is unusual among his peers, according to People International Australia Director Steve E, who arranged his month-long mission to Central Asia. Since 2015, when Steve revived the Australian operations of People International – a mission agency that exists to "unveil God's glory to Central Asian Muslims by establishing and enabling his church" – Steve has recruited only a handful of people willing to go on short-term missions.
"She said to her family, 'the needs are so great we need to move over as a whole family.'" – Steve E.
"You can talk to Millennials – or anyone for that matter – until you're blue in the face about the great need and the statistics and everyone says 'oh, that's terrible,' but you take them on a short-term mission and it's like …
"I led a short-term team in December 2017 and at the beginning during orientation I said 'as a result of this some of you may consider going on long-term mission.' At the time, one of the girls said to herself, 'yeah, Steve, you're not getting me,' but during the debrief at the end she said 'now that I have seen the need I am seriously considering what I should do.'
"One of the girls came back – a second-year uni student – and she said to her family, 'the needs are so great we need to move over as a whole family.' Now she's continuing on with her studies, but her parents are now going on an internship next month."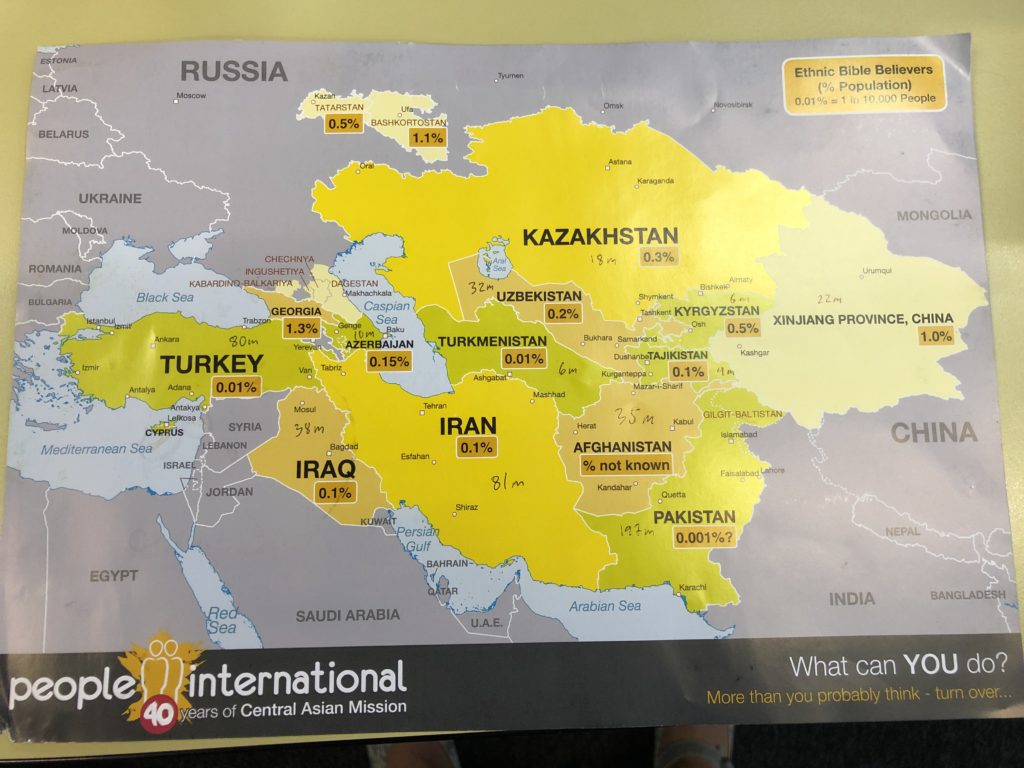 Steve is launching this interim internship program after discovering that even after going on short-term mission, Millennials were reluctant to commit to long-term mission.
"So I realised that if we could have a year-long internship program where we could recruit a bunch of people to go, then they are committing for just a year and they go as a group. As part of the internship there's some meeting with a long-term missionary for some training and equipping, there's time set aside for language learning and some time working with one of the ministry teams there."
"One of the best ways that we can encourage people is just to say 'go short-term for a month and see the need yourself." – James B.
Having felt the call of God on his life, James is now dedicating the next six months to encouraging his friends to give up their comfortable lives and embark on a life of faith led by God's calling.
"One of the best ways that we can encourage people is just to say 'go short-term for a month and see the need yourself and see whether you could be a part of that' because to lose your life for the gospel you will receive a hundred times more in heaven, it says in Matthew 19," says James.
"Personally, I think I'm maybe more outgoing than other people and so it might be easier for me to make a decision like that. For those who are not it's maybe a challenge to consider are you willing to lose your life for the gospel.
"To me it's like an exciting sort of adventure, having faith but also just going and not really knowing what's going to be tomorrow, but for some people that's really scary. But there are a lot of different roles that might not involve going up to strangers and sharing with them the message of the gospel – they need help in so many different aspects of Christian work over there."
Steve, who spent ten years in West Asia on mission with his family, said they didn't do a risk assessment before going, but they felt safer there than in some parts of Sydney. He believes one factor that attracted young people into mission in the 1990s was that it was still relatively novel to travel overseas whereas today young Christians tend to travel overseas regularly. Moreover, parents also tend to be risk-averse on behalf of their children.
"So whereas in the 90s if you talked to uni students about going on a short-term mission part of the appeal was going overseas. I was at a home group the other days and someone had a spare week off work so he went and saw some friends in new York … and so if you've got the ability to do that and you're a bit risk averse who's going to want to go to a country that might be deemed a little bit risky?
"We have the capacity to lead more short-term missions; it is just getting them to come in the first place. Again, people have got lots of other options and sometimes parents say things like 'I'm not sure you really ought to be going to a place like that.'"
"They see there's just a huge need and it's something they could contribute to." – Steve E.
Another barrier is ambivalence among Christian Millennials about evangelism. Among the major findings in a recent Barna report in the US is the revelation that Christian Millennials feel especially conflicted about evangelism – and, in fact, almost half believe it is wrong to share their faith. However, Steve has witnessed seen how any reluctance to evangelise evaporates when people go on short-term missions.
"The great value of that is it opens people's eyes to the need, and so when people go and they meet people who have no hope and are in desperate circumstances and they realise what they have, then those feelings of 'oh, is it imperialistic?' disappear because they see there's just a huge need and it's something they could contribute to."
In April, Steve will lead a group of young people on a short-term mission to Central Asia in partnership with a missions college in Sydney's inner west. People International plans to lead a team September 1-14 and in December or January which is open to everyone.  For inquiries contact Steve on [email protected]
Email This Story
Why not send this to a friend?