World
environment
One million species face extinction
But there is hope to turn things around
One million species are threatened with extinction according to a landmark report from the United Nations, and humans are already feeling the effects.
The report from the Intergovernmental Science-Policy Platform on Biodiversity and Ecosystem Services (IPBES, a UN body) is being heralded as the most comprehensive assessment of its kind. Compiled by 145 expert authors from 50 countries over three years, it assesses changes in the past five decades to show the relationship between economic development and its impact on nature. A 40-page summary of the 1500+ page full report was delivered to policymakers around the world today.
"The health of ecosystems on which we and all other species depend is deteriorating more rapidly than ever." – Sir Robert Watson
It paints an ominous picture. One million animal and plant species are now threatened with extinction, many within decades – "more than ever before in human history," the report reads.
"The health of ecosystems on which we and all other species depend is deteriorating more rapidly than ever. We are eroding the very foundations of our economies, livelihoods, food security, health and quality of life worldwide," said IPBES Chair Sir Robert Watson.
Co-chair of the report, Professor Josef Settele from Germany said, "Ecosystems, species, wild populations, local varieties and breeds of domesticated plants and animals are shrinking, deteriorating or vanishing. The essential, interconnected web of life on Earth is getting smaller and increasingly frayed.
"This loss is a direct result of human activity and constitutes a direct threat to human well-being in all regions of the world."
The report found that three-quarters of the land-based environment and about 66 per cent of the marine environment have been "significantly altered by human actions". On average, these trends have been less severe or avoided in areas held or managed by Indigenous Peoples and local communities.
Meanwhile, more than a third of the world's land surface and nearly 75 per cent of freshwater resources are now devoted to crop or livestock production.
Other findings from the report:
Urban areas have more than doubled since 1992.
Plastic pollution has increased tenfold since 1980.
33 per cent of marine fish stocks were being harvested at unsustainable levels in 2015.
US$577 billion in annual global crops are at risk from pollinator loss.
100-300 million people are at increased risk of floods and hurricanes because of a loss of coastal habitats and protection.
Raw timber harvest has risen by 45 per cent.
60 billion tonnes of renewable and non-renewable resources are extracted globally every year – that's nearly doubled since 1980.
But Sir Robert Watson says it is not too late to implement "transformative change" and make a difference.
The 40-page summary says urgent and concerted efforts must be made for nature to be conserved, stressing a need to enlist "individual and collective action".
" … to turn it around is going to require re-evaluation of our values. And that's something people of faith should be speaking to." – Mike Clarke
Mike Clarke is Professor of Zoology at La Trobe University in Melbourne and a fellow of ISCAST – Christians in Science and Technology. He told Eternity that, as a scientist and as a Christian, the findings of the report are "very disturbing." He has a particular research interest in endangered and threatened species.
"The scale and pace of the degradation comes as a shock. That's really disturbing. I think to turn it around is going to require re-evaluation of our values. And that's something people of faith should be speaking to," Clarke said.
For Clarke, those who dismiss such "comprehensive and overwhelming evidence" that nature is going downhill rapidly have "their heads in the sand."
"What I'm seeing is that people's attitudes change when they're confronted with an environment that is unpredictable – so extreme weather events like cyclones in Mozambique or extreme bushfires or the fish killed in the Murray Darling Basin, people start to say, 'something isn't right', and that's when the penny begins to drop."
But, says Clarke, the penny is dropping faster for young people than for older generations.
"Young people are starting to speak up to say, 'This is our world and we'll have to live here.' They're rightly worried. And we all have an obligation to care for the earth we've been given, and not to steal it from future generations."
"It's not a Christian response to say this isn't our responsibility." – Mike Clarke
The UN report called for "integrated action", and Clarke says this means ordinary people changing the way they think about resource use.
"We need to rethink our consumption and what we can and can't live without. We should also be looking at how we use and generate our energy  – what impact will my personal actions have locally, and also globally?"
Thinking about sustainable and ethical investments, particularly around superannuation investment, is also a way Clarke says an individual can respond to the report.
Clarke believes the Christian community has been missing in action on environmental issues.
"This is a moral question. I think we get caught up looking for the big solutions, but so much of this comes down to what we value: do we value things above people? Things above creation?"
For Clarke, the environment is something all Christians should be concerned about.
"There's a small part of the Christian community with a misguided view that we don't have to care for the planet because the second coming is coming, so this isn't a concern for us. I think that's an untenable, unfaithful position that disregards the gift we've been given. I'd hope we won't hear that in response to this report," Clarke says.
"It's not a Christian response to say this isn't our responsibility. We're meant to be people of hope and modelling belief in a God who is capable of turning things around. He is the great turner-arounder!"
Pssst. Have you listened to our special 6-part election podcast? There's a whole episode on the environment, with Tim Costello and Mel Wade speaking with Tim Flannery, one of Australia's best-known scientists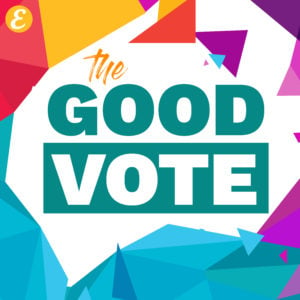 Email This Story
Why not send this to a friend?