World
natural disasters
Pastor tells congregation to wear work clothes to church
Called to action against Hurricane Florence in North Carolina
"Come to church in your work clothes," said the pastor. He wasn't talking about suits and ties.
At 10.30am on a usual Sunday morning, Senior Pastor Jim Pennington's Temple Baptist Church in North Carolina is filled with around 1200 congregation members. Last week, though, with Hurricane Florence lingering, there were just 80 brave souls at Temple Church, who had responded to the Pastor's call to show up dressed in their work clothes and ready to help.
"Put some boots on. Get your hands dirty. Express your love for God by loving your neighbour." – Jim Pennington
Plus one reporter – Michael Barbaro, the familiar news-journalist voice of The New York Times' podcast 'The Daily'.
Fuel your faith every Friday with our weekly newsletter
Moments before the service, the pastor had told Barbaro he didn't know whether 5 people or 500 people would turn up when he'd put out the call.
"I really believe that we express our love for God most tangibly when we love our neighbour," the pastor explained to Barbaro.
"I mean, it's easy to say, 'I love God'. Put some boots on. Get your hands dirty. Express your love for God by loving your neighbour."
"I mean, it's easy to say, 'I love God'. Put some boots on. Get your hands dirty. Express your love for God by loving your neighbour."
They met in the church auditorium which Barbaro described as a "massive, contemporary worship hall, state of the art, stadium seating, the whole deal, if you've been in a megachurch, it was just, you know, kinda textbook". The meeting began with a female worship leader guiding congregation members in a cappella worship, singing Kari Jobe lyrics: "Holy Spirit you are welcome here, come flood this place and fill the atmosphere'.
Then Pastor Pennington encouraged them, "We're gonna shine bright in a dark night. We're gonna let folks know that they matter to God."
Obviously Barbaro must have found himself in some interesting places while 'on location' for the Times. In the days prior to his Temple Church visit, for example, Barbaro spent hours banging out a story on his laptop in a rental car, with Hurricane Florence's tropical rains pounding on the roof. Yet despite being a seasoned reporter, Barbaro was clearly not immune to the fear that was permeating the state.
On Saturday, North Carolina Governor Roy Cooper held a press conference at the Emergency Operations Centre. "Powerful torrents of water are flooding homes, wiping out roads and sweeping away cars in North Carolina. These cruel floodwaters are life threatening and destructive," he told the gathered media.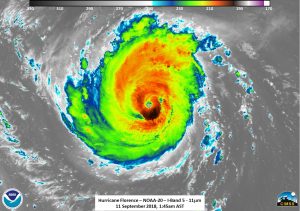 The weekend was a pivotal stage in the disaster's denouement – a literal lull in the storm. With Florence still churning above central North Carolina, residents knew a second attack was imminent and the worst of the storm was yet to come. But rainfalls had already reached record level and the storm surge had caused rivers to rise and threaten flash-flooding. As the swollen rivers flowed back out towards the Atlantic, they headed towards the town of New Bern. For residents, being cut off was a very real risk.
Outside the megachurch auditorium, in Temple Church's carpark, Barbaro found a makeshift command centre that had been established by the North Carolina Baptist Men, the regional disaster relief arm of the denomination. Teams of workers in yellow t-shirts and hard-hats worked to assemble a feeding station that they said could feed 30,000 people per day.
Jimmy Lawrence, a retired garage mechanic in his 60s, was bent over a waterproof map, planning out the day with other volunteers.
"You two guys are going out doing assessments today in New Bern?" Barbaro asked. "You're going to find out where there's problems, where there's trees down and then ask… people if you can come back and fix their problems, if you can?"
"Don't use that word 'fix'," Lawrence corrected him. "We'll come back and help" he said, going on to explain the most likely specifics would be gutting houses and chainsawing through fallen trees.
"They couldn't make any guarantees," Barbaro reported. "But the one thing they could guarantee them [residents needing their help]- and I thought this was really lovely, whether you're a religious person or not – was that they're not alone."
"… the Baptists mean, 'We're here with you and by extension, God is here with you," – Michael Barbaro
The mechanic spoke to the heart of the matter, telling Barbaro: "I think sometimes it can make people wonder 'Where is God? And we're here to let them know they're not alone. And we'll pray with them and we'll do anything we can to help them."
"And by that, of course, the Baptists mean, 'We're here with you and by extension, God is here with you," Barbaro interpreted for his podcast listeners.
"But of course, incontrovertibly, what it means is they're there and they're there to help.
"And this is the kind of fusion of works and faith that really permeated the whole day. People were not just relying on their faith to get them through the storm but were also really putting faith into action."
It seems the New York reporter tasked with "trying to find what Sunday looked like" amid Hurricane Florence, found it in the people of Temple Church, who came dressed in their work clothes.