Calvary Christian Church in Queensland was established back in 1924, but today it is a multi-site church spread over five locations, with around 3500 people meeting together each Sunday.
James McPherson is the lead pastor, and is based in Townsville, the original location of Calvary Christian Church. After taking over leadership of the Townsville church in 2007, James took on the leadership of a church on the Sunshine Coast, then planted a campus in Cairns, acquired an existing church in Emerald, and most recently planted another campus in Yeppoon. He hopes to plant another campus next year in Rockhampton.
"In Cairns we started with four people two and a half years ago, now we get five hundred on a Sunday. Well over one hundred and fifty of those are people who came to Christ at church in Cairns.
"On the Sunshine Coast the council get us to run their carols by candlelight for the whole city, which draws around 15,000 people. They [the council] decided they wanted more Christian input, so they opened up a tender and we won it."
The church also runs a school in Townsville, and has its own college aimed at training more people for leadership and Christian ministry.
Originally from Victoria, James admits that the decision to plant churches all over Queensland hasn't been a strategic one, "it's just that we had the opportunity and the fit has been right.
"I think that most people don't have a problem with God or Jesus; most people have a problem with church. Our passion is to establish churches that they [people] want to go to. Churches where they can find the message of Jesus in a relevant, dynamic way they can relate to and get involved in."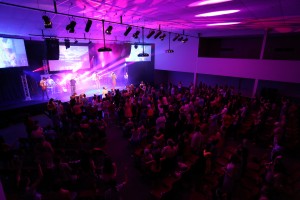 More