A book that is not aimed at Christians has won the Australian Christian Book of the Year for 2014. The Great Bible Swindle is a book designed for Christians to give to "Uncle Fred", a relative or friend who expresses curiosity about the Bible.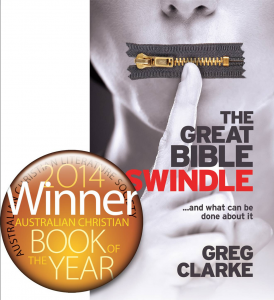 It leads the reader gently into an understanding of the wonder of the Bible. It was written by Greg Clarke, CEO of Bible Society Australia, who in the wake of a long love affair with the Bible, has a passion to share his love of the book, and the big story within it.
The "Swindle" in the title is the loss caused to a rising generation whose ignorance of the Bible cuts them off from a full understanding of our culture.
"I am delighted and extremely honoured to receive this award," Clarke told Eternity. "I do so on behalf of those who are labouring to ensure that the Bible has its proper place in our society. For believers, this means the front-and-centre of our faith, guiding our knowledge of God and his world. But for absolutely everyone living in a culture touched by Judaism and Christianity, it means being properly educated about the numerous ways in which the Bible has shape our world. As songwriter Paul Kelly once said, "the Bible has it all—Fellini and Tarantino don't come close".
Clarke's prize money will go to promoting Bible literacy in Australia.
The runner up was a second Bible Society title, In God They Trust? by Roy Williams, who provides a guide to the religious beliefs of our Prime Ministers. As the award judges noted, this is a group of celebrated Australians who in a majority of cases have taken religion much more seriously than the voters.
This book is an attempt to speak to Australians about how the Bible has been taken seriously in our culture—a concept hard to get across. "We wanted to find a subject that many Australians are interested in, to get that point across; and we found it in politics", Williams told the awards ceremony.
An innovative detective story by Kel Richards won third prize. C. S. Lewis and the Body in the Basement (Strand Publishing) places the well-known apologist into a stylish whodunnit. The mix of detection and philosophical discussion along the way works, with more important mysteries than how a body came to be in a sealed bank basement being solved.
The Australian Christian Book of the Year Awards are organised by Sparklit which nourishes Christian writers across the world, supports local publishing in majority world countries, and provides books where Christian resources are hard to get. The awards night encourage local talent too, with a big emphasis on young writers.
The award for a teen writer went to Annie-Jo Vogler for her novella, Ellesmere Road.
Winner of the first prize for an unpublished manuscript for a writer under 30, Heidi Waddell is a musician-turned-writer. "I feel like I am new to writing… I love the way C. S. Lewis can take an allegory and make it believable." The judges found she had done that with her entry The Bridge.
Former Eternity staffer Joshua Maule won second prize with his biography of African Christian leader, Bishop Isesomo of North Kivu in the Congo, combining a lot of detailed research into an exciting story of Christian leadership in tough situations. "I asked Isesomo 'do you ever lose hope for your country?'" Maule told the awards night. Maule was thinking of the worst war since WWII, the killings, the thieves. "His answer sums up his mission. He quoted Paul. 'I don't lose hope because of the power of the gospel.'"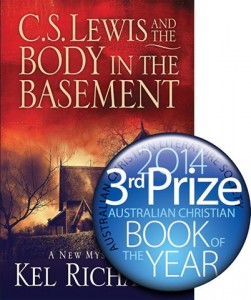 Writing about the death of her son, third prize winner Chantelle Pitt said " Floyd would have been three [tonight]. But we had to trust our little boy to God's arms instead of our own."
Simon Smart, director of the Centre For Public Christianity told the story of launching the book For God's Sake which he wrote with a Muslim and two atheists. It was launched at Glebebooks, in the inner west of Sydney, he explained—the most secular suburb in Australia. Sydney Morning Herald columnist Peter FitzSimons was the speaker at the launch.
"I bumped into Peter at the start of the evening. He said 'Simon, from my memory of Christian studies, Christianity means if you are good you go to Heaven, if you are bad you go to Hell'," said Simon. "I replied, 'You could not be more wrong, maybe you should have paid more attention in religious studies'. Peter said, 'I got 49 per cent and I have been taking revenge ever since'."
Smart encouraged Christians, and Christian writers especially, to take up real opportunities in our current situation despite opposition.
"I get excited. There are more platforms for writers than ever before. The Christian message still speaks into the deepest needs of the human heart. We need authenticity. Christians have been afraid to be real, especially in writing."
He contrasted the gritty reality found in the Bible to syrupy Christian writing. But he encouraged Christians to do better. "This is slow important work."
For more, see sparklit.org
To buy the top three Christian Books of the Year, go to shop.biblesociety.org.au, or click their images above.
Email This Story
Why not send this to a friend?