As news continues to unfold about a major police operation in Sydney's Martin Place, in the CBD, we're compiling immediate responses from Christians around the country.
11pm: In the middle of horror a beautiful hashtag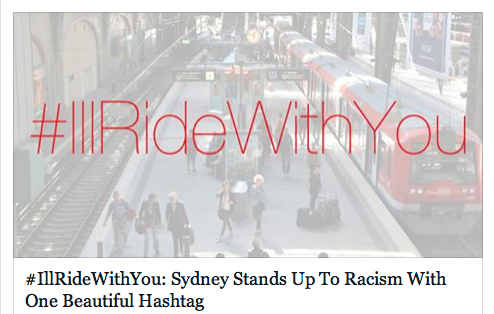 http://www.gizmodo.com.au/2014/12/illridewithyou-sydney-stands-up-to-racism-with-one-beautiful-hashtag/
8.30pm: Premier Mike Baird asks for Prayer (and the SMH leads with it).

6pm: From Hillsong Church: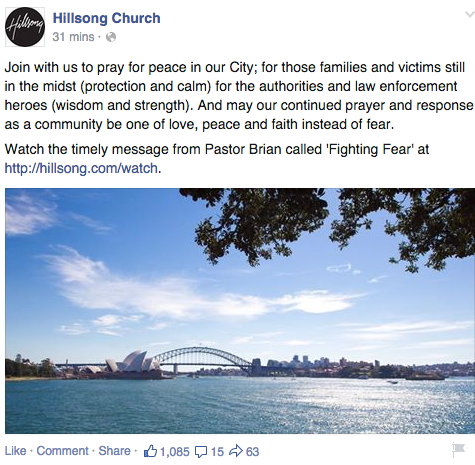 5:14pm: From Sydney Anglicans

5:13pm: From Thinking of God

5:00pm: From Village Church Annandale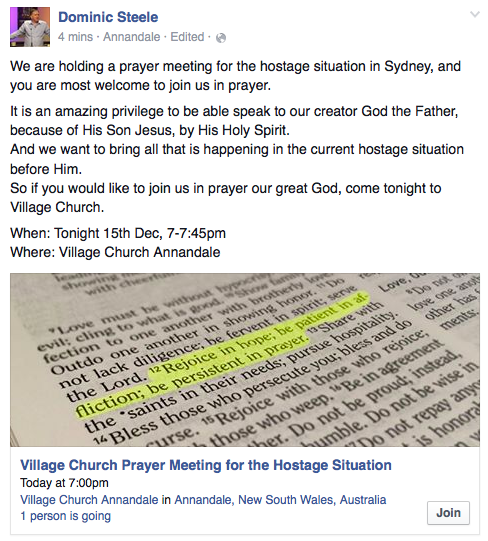 4:32pm: From Common Grace Australia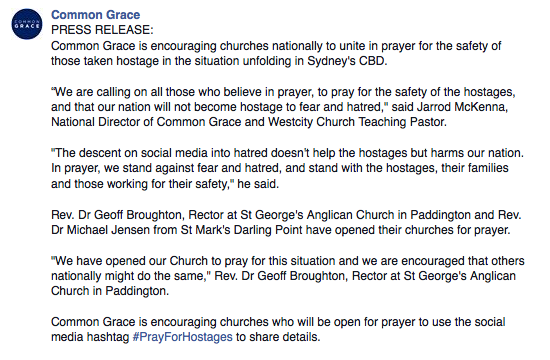 4:24pm: From Moore College Lecturer George Athas.

4:21pm: From radio program Open House Community.
4:02pm: three hostages have either been released or escaped.

3:25pm: another invitation to pray for the hostages in Sydney's East.

3.20pm: from the Salvation Army.

2:10pm: #prayforhostages is trending on Twitter.


2:05pm: From SPARC, an organisation working to support the Christian creative community.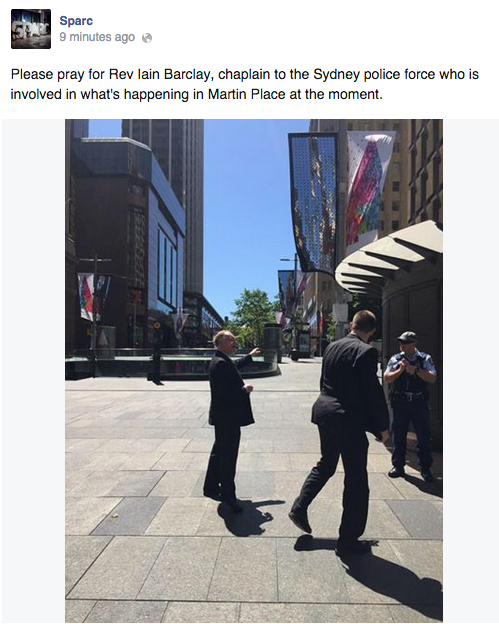 2pm: NSW Premier Mike Baird is also a committed Christian. He is addressing the media with the NSW Police Commissioner right now. Here's a quote from him:


1.50pm: Prayers from more Christian leaders including pastor of New Hope Church in Brisbane, Matt Prater.

1.20pm: From Hillsong youth pastor and director Youth Alive NSW, Sam Sangways: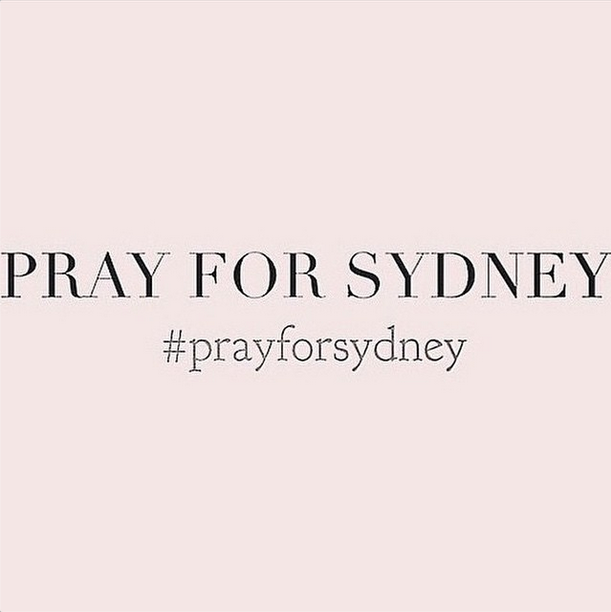 1:12pm: Melbourne's St Paul's Anglican Cathedral open for prayer.

The Catholic Archbishop of Sydney Anthony Fisher calls for prayer.

Anglicare Sydney:

From Open Doors Australia: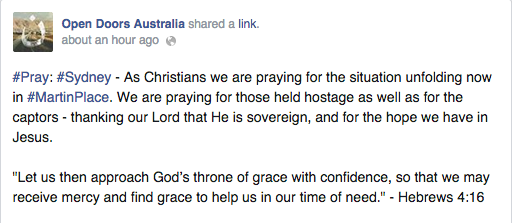 12:55pm: Churches around Sydney are opening their doors for prayer this afternoon.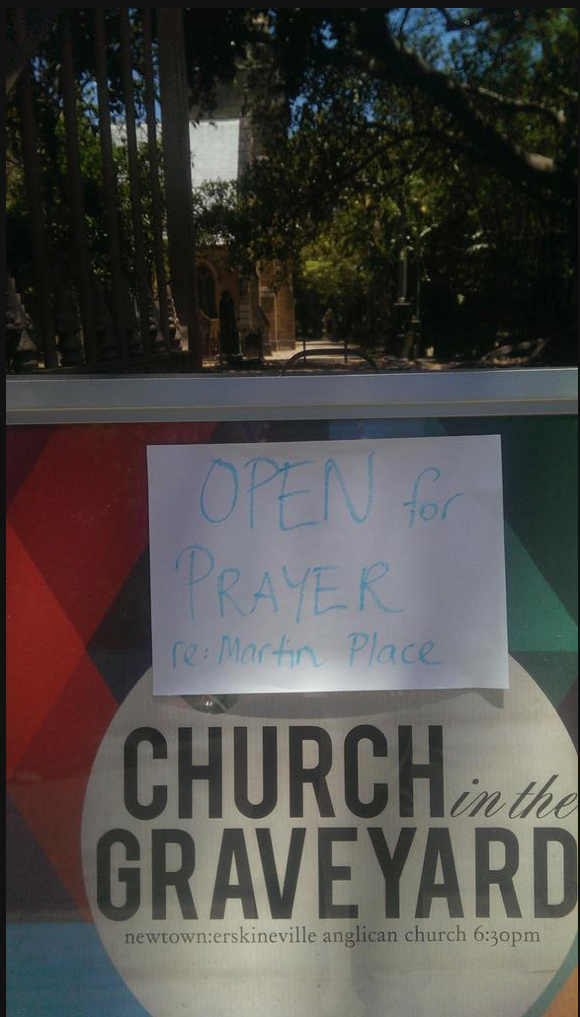 12.45pm: Adelaide pastor Brad Chilcott from pentecostal Activate Church and head of the Welcome To Australia movement: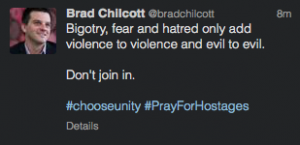 From Operation Mobilisation (OM Australia):

12.40pm: St Philip's Church in the Sydney CBD will be open for prayer from 1-5pm today, says minister Justin Moffatt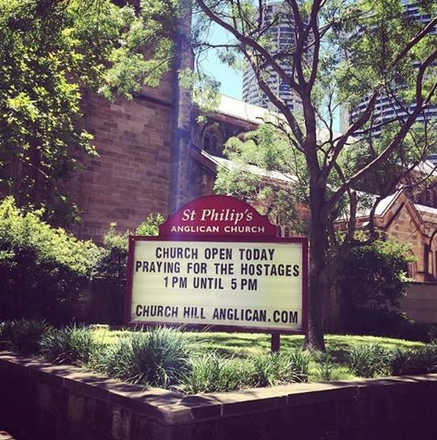 12:30pm: St Stephen's Anglican Church in Newtown will hold a prayer meeting from 1pm today for a peaceful resolution. All welcome.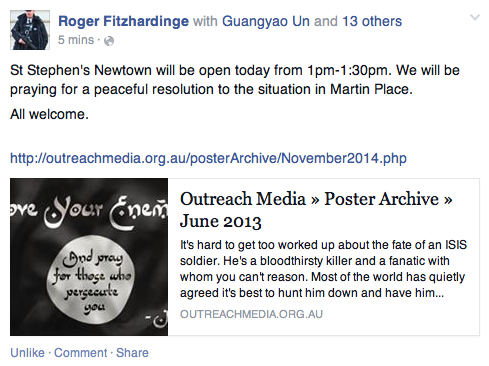 Posts from Christian activist group, Common Grace.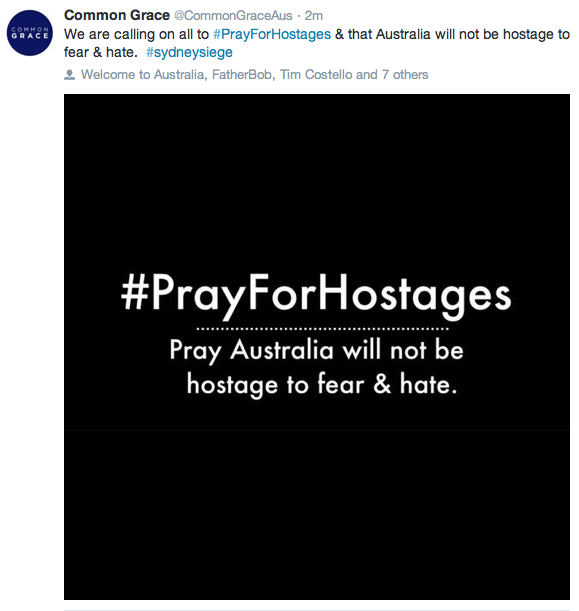 Commentator, historian and co-founder of Centre For Public Christianity, John Dickson offers a prayer from the Book of Common Prayer:
We beseech thee to hear us, good Lord.
That it may please thee to preserve all that travel by land or by water, all women labouring of child, all sick persons, and young children; and to shew thy pity upon all prisoners and captives.
We beseech thee to hear us, good Lord.
That is may please thee to defend, and provide for, the father-less children, and widows, and all that are desolate and oppressed,
We beseech thee to hear us, good Lord.
That is may please thee to have mercy upon all men,
We beseech thee to hear us, good Lord.
That it may please thee to forgive our enemies, persecutors, and slanderers, and to turn their hearts,
We beseech thee to hear us, good Lord.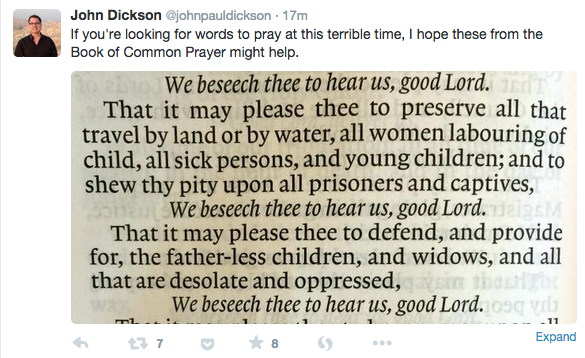 Sydney blogger and Macquarie Fields minister David Ould:
Sydney inner west minister, Roger Fitzhardinge from Erskineville Anglican:

Vision Radio: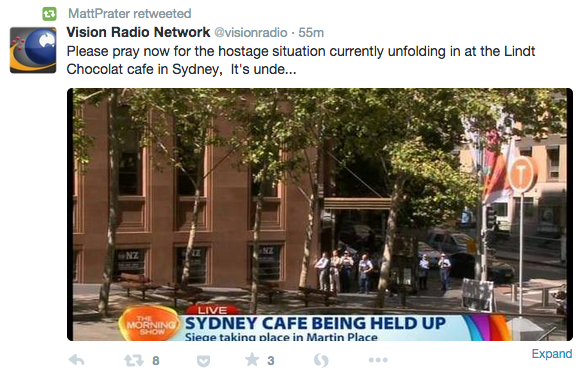 11.30am: Sydney inner west minister, Dominic Steele from Village Church in Annandale has posted a prayer:
Lord God,
You are in control over everything… even the hearts of wicked people.
I pray for these men who are holding people hostage at the moment in central Sydney.
I pray that they would in the panic of the moment have a moment of clarity – that their actions are wrong.
I pray that they would give themselves up to the authorities quickly.
I pray that whatever bizzare form of Islamic extremism has have led them to the conclusion that this is an appropriate way to behave you would soften their hearts and they would turn from those thoughts.
I pray for the hostages in the cafe and ask that they might be safe – that no one would be injured or killed.
I pray for those family members of the hostages who are probably in significant distress as well that you might comfort them.
I pray that you would help the police, army and other experts to have cool and wise heads in this situation, to remember their training and act with wisdom and precision.
I pray that justice might be done.
I pray for our political leaders for wisdom of them in this difficult moment.
I pray that somehow though this terrible incident the Lord Jesus Christ – the Prince of Peace – might be honoured…. and that people might turn to him. I pray this in his powerful name.
Amen.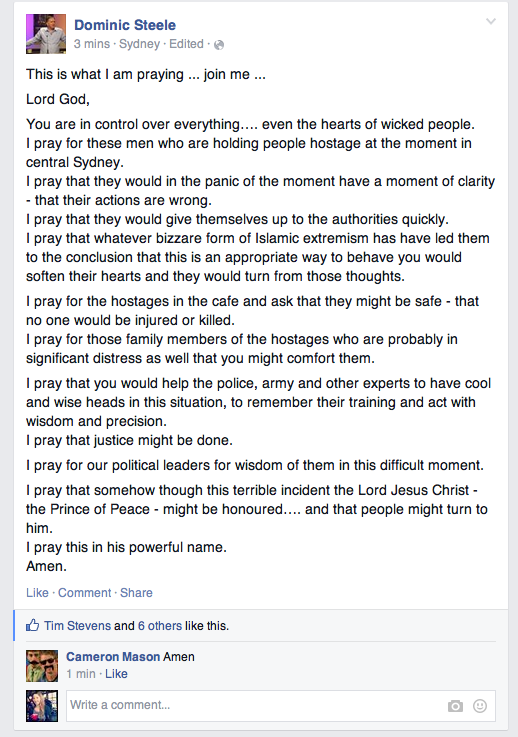 Newtown resident, Eternity contributor, Moore College student, Richard Glover: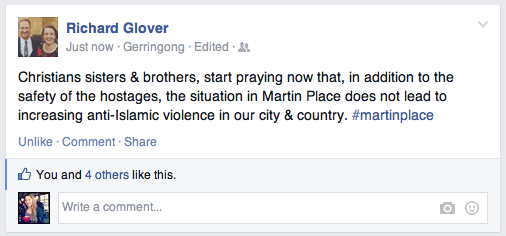 Sydney baptist pastor and creator of Towards Belief DVD series, Karl Faase:

Western Australian minister, Rory Shiner:

Radio programme, Open House:

Director of newly formed Christian activist group, Jarrod McKenna, and one of the founders of the #LoveMakesAWay movement:

From Fred Nile, Member of Legislative Council, NSW: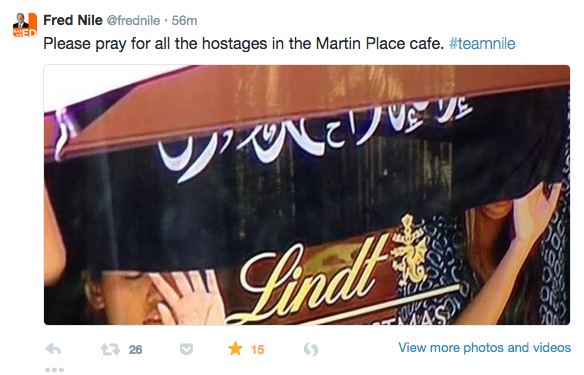 From Bible Society Australia's CEO:

Email This Story
Why not send this to a friend?