It's "Scripture 4 millennials" in a new adaptation of the King James Bible, where "Lord" becomes 😇 , "king" becomes 👑 and "spirit" becomes 👻.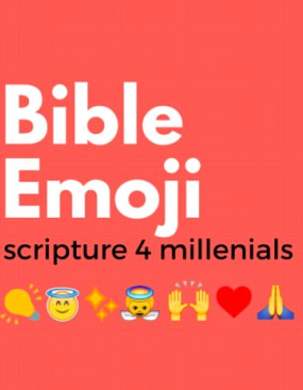 That's right. It's a Bible full of emojis. There are about 80 emojis in total with 200 corresponding words. Unicode emojis (that is, emojis generally available on most smartphones) such as 😇 are translated to "Lord" as well as "God", for example. Shorthand is used to round out the social-friendly translation. "And" becomes &, "first" becomes 1st, "to" becomes 2, "be" becomes b. You get the picture.
For those of us who perhaps don't get the picture, an "emoji" is one of those cute little digital icons your friends use to express an emotion in the digital world. They're not happy, they're 😊 . They're not sad, they're 😢 .
So, the emoji version of "In the beginning, God created the heavens and the earth," translates to, "In the beginning 😇 made the ✨✨✨ & the 🌎." in emoji land.
Here are a few other examples:
"4 😇 so 😍 the 🌎 that he gave his only begotten son, that whosoever believeth in him should not perish, but have ∞ life." John 3:16
"😇 then 💬 2 noah, "go into the ark, u & ur whole family, cuz i have found u righteous in this generation. take with u 7 pairs of every kind of clean animal, a male & its mate, & 1 pair of every kind of unclean animal, a male & its mate, & also 7 pairs of every kind of bird, male & female, 2 keep their various kinds alive throughout the 🌎 . 7 🌅 s from now i will send 💦 on the 🌎 4 40 🌅 s & 40 🌌 s, & i will wipe from the face of the 🌎 every living creature i have made." (Genesis 7:1-4)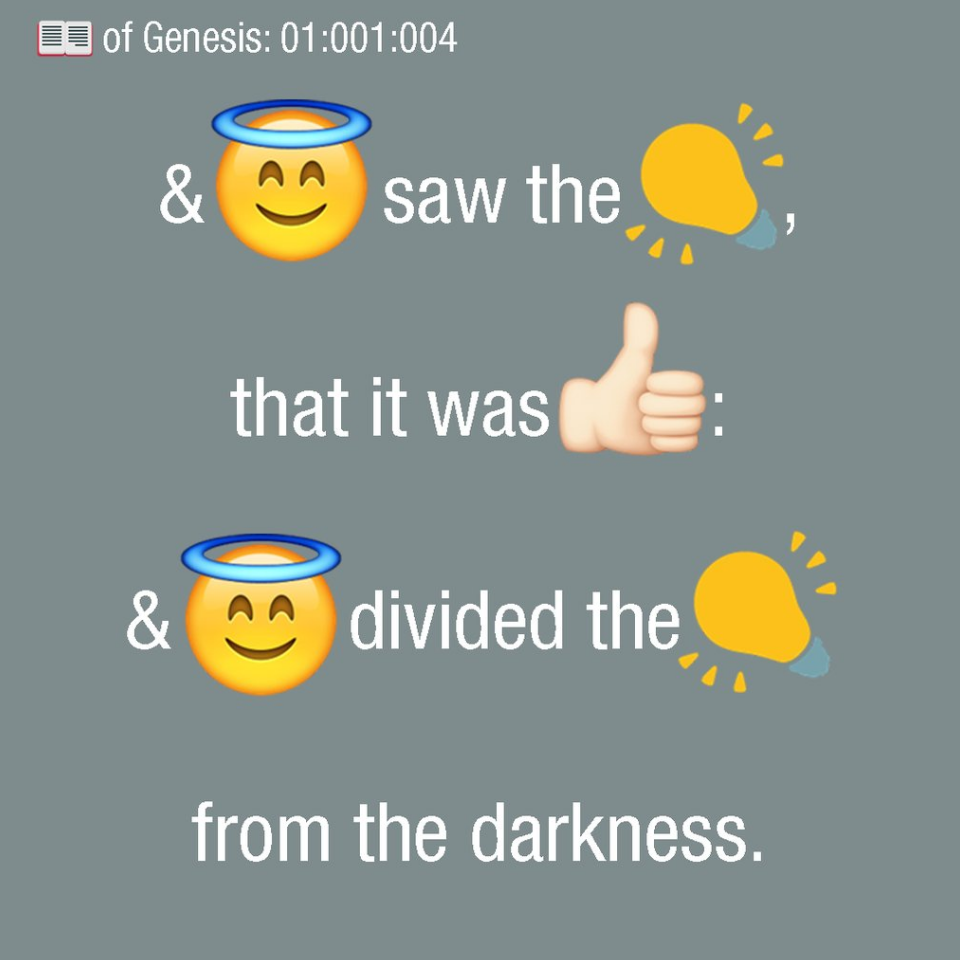 You can create your own Bible emojis at bibleemoji.com. Just type in your favourite Bible verse on the right and the translator will spit out that verse in emoji-speak on the right. If you spot an error, or a word you think could be emoji-fied, you can tweet the creator of the Bible Emoji translation at @BibleEmoji and let them know.
Eternity spoke to Bible Emoji's creator over Twitter, who identifies themselves as 😎 . They prefer to remain anonymous "to keep the focus on the translation and the idea of adapting with our language." Though, they told Eternity they'd consider identifying themselves if the Pope said nice things about the translation. "That would make my grandma happy," 😎 said.
"I'm an emoji… no race, no gender, no angle,"😎 tells me when I press them as to whether they are, perhaps, of the same millennial generation that the new translation is trying to reach.
"I think if we fast forward 100 years, an "emoji" Bible would exist, so we thought it would be fun to try and make it," 😎 says.
Reaction to the emoji Bible has been mixed: "Some very nice tweets, some very not nice, lol," the creator says.
😎 says they hope Bible Emoji is a fun way to enter the Bible.
"It's not a replacement for the Bible, but just another way to look at it and experience [it]."
If Jesus were alive today, says 😎 , he would have had a "great social media game" and would use it "2 spread [heart eyes emoji] not [fear emoji].
"I think Jesus' parables are a good example of how he was willing to spread [peace emoji] in unconventional ways that didn't necessarily mesh with the strict religious orthodoxy."
Bible Emoji launched on Sunday and is available to download on Apple iBooks for $2.99. A free sample is also available to download, which gives you the book of Genesis and Exodus.
Email This Story
Why not send this to a friend?