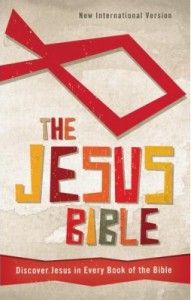 A review of The Jesus Bible (NIV). Published by Zonderkidz.
Available at the Bible Society online store.
It might seem a strange thing to say at first, but what makes this Bible stand out, is that it puts Jesus at the centre. While aimed at the 9-12 age group (as clear by the striking design), it would benefit any reader who wants to see more clearly how Jesus is the focus of the entire message of Scripture.
One of the things that stands out about this Bible is that it is more than a devotional Bible. There are a year's worth of devotions throughout the Bible (with a checklist at the back to keep track of which devotions you've completed). These devotions are contextual to the book, but also contain an explicit link to Jesus, relating the truth from the passage to a truth revealed by Jesus' life, death and resurrection. The link to Jesus is often also the point at which Scripture is applied. Additional life application notes are also found in the 'Live like Jesus' inserts, which take verses from the context they appear in and contain a teaching relevant to daily life.
Yet the devotional material is not the only additional content in this Bible, being only one part of many useful features which makes this Bible more of a study Bible. Each book of the Bible has an introduction which, along with the usual information—Who wrote this book? Why was it written? When? Where?—gives the answer to the question, 'Where is Jesus in this book?'.
Although there are no footnotes with commentary or references, throughout the Old Testament books are scattered 'Hints of the Savior' inserts, which act as clues highlighting the promises and prophecies made about Jesus. In the New Testament, these inserts turn into 'Jesus Revealed' notes, which take a New Testament reference and point back to the Old Testament. These notes are also indexed in the back, for quick reference.
Combined with the colour page inserts, which highlight Jesus and his life (Jesus' family tree, Jesus in the Psalms, Timeline of Jesus' life, Lists of Jesus' miracles and parables, Evidence of Jesus' resurrection) this Bible is an extremely thorough study tool to teach young people (or indeed, anyone who is interested) how the focus of the Bible is Jesus, God's Saviour, sent to save us and draw us back into a relationship with God.
I should note that, as a youth Bible, this edition lacks the focus on topics youth may be focused on – relationships, popularity, school, and social issues. Rather, this Bible takes an internal focus of the Bible – Jesus – and thoroughly informs the reader about his life, death and resurrection. In doing so, I hope that the young readers of this Bible will discover the eternal relevance of Jesus to their lives, no matter where they are at.
Karen Mudge works with the Bookshop team at Bible Society Australia.
More