If you're travelling as you read this, reach into the bedside table of your motel and see if there's a Bible. Chances are, there is. And if there is, chances are it'll be a Gideon's Bible. But is it a New King James Version (NKJV) or the English Standard Version (ESV)?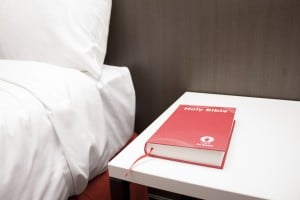 Gideons have distributed almost 16 million Bibles in Australia since they were established here in 1956. There are Gideons Bibles in hotels and motels, prisons, and hospitals. But this year, they've changed translations, switching from the NKJV to the ESV.
It's a change that has been welcomed from most quarters, with the new translation accompanied by an updated Bible cover design.
"This is the Gideons in the 21st Century," said Lincoln Hawkins, executive director of Gideons International Australia.
For the last 18 months, the new Bibles have been gradually rolled out. The Bibles are meant to be given away, and Hawkins says the translation change and new design is having a big impact on acceptance of the Bibles in their ministry fields. The "helps" at the front of the Bible, which offer biblical encouragement to help deal with life issues like doubt and grief, have also been updated for a modern context.
"There's excitement from our members about giving away these new Bibles. They're putting out more in their personal ministries and witnessing," says Hawkins.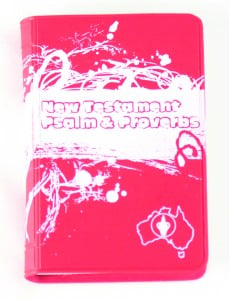 Hawkins says the Gideons organisation around the world has been patiently, prayerfully and methodically working through the translation change to come to a "considered decision" on a modern translation that would work across their varied ministry areas.
The Gideon's new ESV translation is a unique edition produced with permission from Crossway Publishing. It includes over 50 alternate readings consistent with the Textus Receptus, the Greek text that formed the basis of the translations for the King James Bible.
The Gideons don't like to make a fuss. Hawkins says they "quietly go about their business" of witnessing to non-believers. But the translation change has been a long time coming, and represents a significant move for the long-running organisation.
"I think it's a generational change. We'll be with the ESV for a long time. It's proving to be a wise decision and it's opening many doors for our ministry," Hawkins told Eternity.
Email This Story
Why not send this to a friend?