Sex a sweetener for the soul, says Christian sexologist

A sign on the wall of the chocolate café reads 'Sweeten thy soul'. As we sit down for a hot chocolate and a chat, Patricia Weerakoon, a Christian sexologist living in Sydney, says "what better place to talk about sex than where we can 'sweeten our souls'.
"Even better than sweet chocolate is chilli chocolate," she says. "That's an aphrodisiac, you know."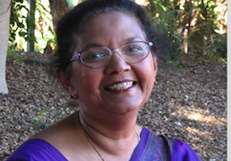 Patricia Weerakoon is 65. She's retired from a weighty academic career in sexual health, running a graduate program for University of Sydney for the past eight years. And she loves talking about sex.
"I have a double passion," says Patricia. "I'm passionate about sex. And I'm passionate about God. It's what brought me to where I am now."
Almost everything Patricia says could be included in a romance novel. In fact, she has penned several such novels already, published in Sri Lanka. She talks of growing up on a tea plantation in Sri Lanka in the end days of the British Raj as if there was still mist on the hills.
"My father was a factory tea maker, a native Sri Lankan. And there were layers of society which still existed around that time of independence. The British weren't allowed to mix with the natives. And the natives weren't allowed to mix with the indentured Indian workers."
A bright student, Patricia was accepted in medical school, despite an upbringing which groomed her to become a Sri Lankan housewife, and plans for an arranged marriage. At the same time that Patricia met her husband, Vasantha, at a camp for Christian university students, divisions among the native Sri Lankans, between Tamils and Sinhalese, were rife.
"My husband is Sinhalese, and I am Tamil, which were the two groups trying to kill each other. It was a bit of a Romeo and Juliet thing."
Ultimately, the fact that Vasantha was a Christian resulted in her parents' consent.
Patricia says God has been in her life for as long as she can remember.
After her marriage, Patricia and her new family moved to Hawaii, where she undertook postgraduate studies in sexual health.
"It's where I got into sex, where I got my sex passion."
"It's amazing, really. I was already five years married with a two year old son at that time. But apart from 'it doesn't go in the belly button', I didn't know very much about sex at all. Nobody ever talked about it. And, you know, things aren't that much different now."
Patricia worked under a professor and sexologist in Hawaii who specialised in gender. She says the professor encouraged 'desensitisation' to gender issues by taking them out on the town.
"I've basically seen everything," she says with a shrug. "From gender bending, partial and full gender transitions and surgeries, live shows, pornography. I've seen it all."
Patricia says she's often asked how she managed to keep hold of her faith and values amongst the things she saw.
"It was actually my husband who kept me grounded. And to all of the places I went, he would say, 'I'm coming along if you're going'. Half the time he'd just have his eyes closed. 'Oh no', he'd say 'Not another sex show!'"
"When we came home, he would always say 'we must read the Bible and pray together'. He pulled me back, grounded me in the faith. And we had a wonderful church too."
During her time in Hawaii, Patricia says her eyes were opened to the beauty of the human body. She talks freely about the penis as an "engineering marvel" and the clitoris as "the only organ created solely for pleasure."
"How can we take something so beautiful and make it so ugly?" she questions.
Patricia went back to Sri Lanka in the 1980s, to a region bursting at the seams with 18 million people. She felt like she was the only sex therapist in the country. But ethnic problems in the country moved them on to Australia, where Patricia began teaching sexual health to graduate students in Sydney.
"Other sexologists would ask how I can be a Christian and do the work I do, speak about the things I speak about. And I would say, we all research sex, but as a Christian, I know the creator.
"I look at the Bible and seek the Biblical truth about our sexuality. And now, the more I learn about the brain science around sexual desire, there is a beautiful fit with God's purpose. If desire is used as intended, it's a wonderful urge."
Patricia says bringing all the thoughts on the mechanics of sex within a Biblical framework is what she has worked towards in her career.
"After 30 years of studying sex and retiring from university life, I'm able to talk about how God's purpose and the biology and research actually come together. The world can pick at it and distort, but that doesn't take away how the Bible presents sex, how your brain and body have been formed."
Talking about sex for so long, and to so many, does come with its fair share of challenges. But her family have been her constant support.
"Oh, my poor darling husband. He's always been my greatest supporter. We're friends and lovers, but of course we have our own ups and downs."
Patricia says her husband Vasantha has had to have a great sense of humour, being married to a sexologist and also being a "subcontinental", from the home of the kama sutra. Perhaps more so, as he works as an engineer for the fire department – with a lot of other men.
"They say to him often – here comes the sex therapist's husband' and 'no wonder you've always got a smile on your face!'", Patricia laughs cheekily.
Their son, Kamal, a 37 year old Presbyterian minister also supports Patricia in her work, often accompanying her when she talks at schools on sex education.
Looking back, Patricia says she was crazy to even think about coming to Australia – an entirely different culture – and say "I want to talk about sex." But God has guided her, and she says prays constantly that everything she says and does will be to His glory.
"I constantly take things to the Lord. 'To live is Christ and to die is gain' – especially now that I'm 65. Every time I've done a crazy thing, I've asked God before, during and after."
Being so audacious about sex also means there are times of potential embarrassment. Though, after speaking with Patricia for almost two hours, it's clear that when it comes to sex, nothing fazes her. Giggling, she recounts one such incident:
"We had a new minister at our church a little while ago now, and we walked out after church to greet him. He asked me whether I worked, and I said 'Yes, I work in sex.
"My husband said later, do you realise that poor minister could barely greet the next person after what you said? To this day, that minister says I told him I was a sex worker! I know I wouldn't have said that, but I guess 'I work in sex' was stunning enough."
Patricia talks about sex like it's the most natural thing in the world. Which, in her view, it is.
"Look at Genesis – we are created in the image of God, we are created with gender, given a command to procreate. And God made it fun!
"Imagine if sex was like doing your tax return – who would bother? We would have died out a long time ago. It's because it's fun – and God has made it that way – that we actually do it."
Patricia is looking for a student to train up to help her in her work as a Christian sexologist and speaker.
Patricia says that while she believes many more people speak to her now as she gets older, as a Christian woman with experience, the research says that Australian teenagers love to have peer education: "someone just a little older than them, who can talk to their world."
She says she's been overwhelmed, as she moves further into sex therapy and counselling, by the number of Christian couples who want to talk to her.
"The cross is a good place to start when you're hurt as a couple. Forgiveness, repentance, grace. These are the things underpinning my sex counselling for couples. No wonder we can't live with someone, because we're not willing to make the sacrifices like Christ made on the cross."
Eternity will run a series on Christians and sex over the next few weeks. Look out for more of Patricia's tips on Christian marriage in that series.
Patricia Weerakoon's Teen Sex By The Book (published by Fervr) is now available. Written for teenagers 15 to 19, it's a frank and honest exploration about sexuality and relationships, exploring the topics of sexual desire and arousal, falling in love and dating. An important read for parents of teenagers and those who lead them. For more information, click here.
More