Maybe 'I do' – Modern marriage & the pursuit of happiness
by Kevin Andrews
Published by Freedom Publishing

Ambivalence about marriage is taking its toll on society, says Kevin Andrews MP in his new book, Maybe 'I do'. In it, he looks at the individual and social cost of people deferring or putting marriage off altogether.
Andrews, the Opposition Shadow Minister for Families, Housing and Human Services says he wrote the book to prompt serious debate about the purpose of marriage.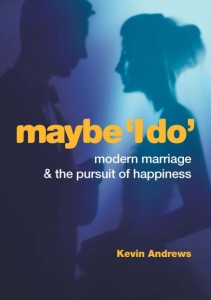 "There is a reluctance to talk about marriage in society, and a tendency to equate all relationships as having the same benefits. If we are concerned about poverty and social justice,'' he declares, "we must be concerned about marriage and family."
The 500-page book distills hundreds of social science studies, and Andrew's own discussions with leading scholars, researchers, practitioners and policy-makers.
Columnist Andrew Bolt describes it as "impeccably researched" while Christian blogger and theologian Bill Muehlenberg points to the book's 1,500 footnotes. "He's already a good writer, but the documentation takes it further."
Andrews explains: "People are quick to say 'That's just one study', or 'For every study saying one thing, there's another study with an opposite finding'. I wanted to provide an overwhelmingly conclusive view that marriage works".
While Andrews' aim is to contribute to the national debate, he says the book also helps the individual on a practical level. "The first chapter sets out that people still aspire to a happy life; the middle shows how marriage contributes to that; and the last chapter has advice on how to make a marriage happy."
More