Anglican Deaconess Ministries (ADM) has announced an $80,000 grant to implement an innovative idea that would equip churches to provide the kind of sanctuary sought by victims of domestic violence.
ADM's Mercy and Justice program announced the one-off grant – one of the largest ADM offers to the public – on International Day for the Elimination of Violence against Women, November 25.
"When you're trying to recover … you do need churches to be nuanced in the way that they teach." – Libby Sanders
ADM's Program Manager of Mercy and Justice, Libby Sanders, says the aim of the Restoring Sanctuary: Creating Safety for Domestic Violence Survivors grant is to develop programs which would cause structural and cultural change within churches.
Fuel your faith every Friday with our weekly newsletter
Applicants for the grant need to be an individual or group led by an Australian-based Christian woman. They will need to propose a three-pronged strategy – to improve the experience of victims, address the role of theology in abuse and understand how trauma affects victims.
Initiatives might include biblical training programs, new partnerships, research-based projects or any work that addresses domestic violence and provides recovery opportunities for victims.
"There's been a lot of publicity about the number of domestic violence victims in the church just like there is outside, but not necessarily always the ideal response from ministers," says Sanders.
"So it's trying to spur people on to create something new that can address that kind of mismatch between need and the capability to provide that type of safety."
Sanders says the way the grant has been framed – around responses to victim experiences, along with theology and trauma – requires applicants to have skill and expertise in those areas.
"We want to improve the experience of victims; this is not just an education thing but something that changes the interaction with the victim," she says.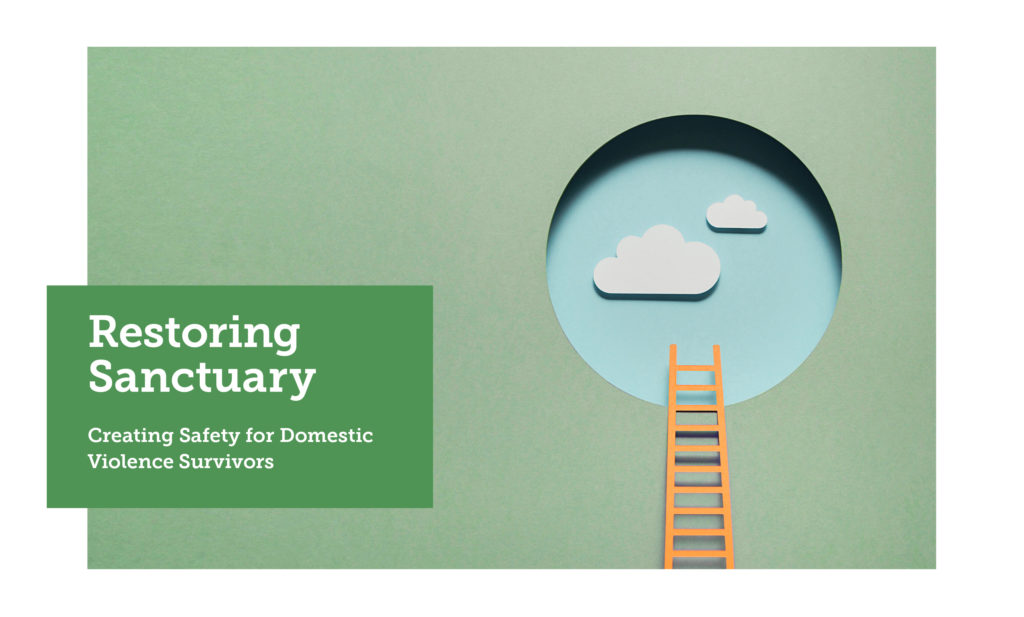 The proposal will also need to understand the interaction of theology with domestic violence.
"In some instances, theology has been used as a weapon but, obviously, Christian victims have an experience of faith that is intertwined in many instances in the way they have experienced violence. Un-meshing yourself from that can be very hard.
"So when you're trying to recover from something, you do need churches to be nuanced in the way that they teach.
"Some victims even have trouble going to church because they may have had an abuser who was very religious …" – Libby Sanders
"You need them to be particularly aware of the types of trigger points that happen to victims when certain topics are brought up – but even the simplest thing can be a weapon for someone who has experienced violence.
"The third facet is understanding how experiencing violence, particularly in a Christian context, can leave you [traumatised] – some victims even have trouble going to church because they may have had an abuser who was very religious and used that as a tool."
Sanders hopes to see a diverse array of applicants from across the church and from across the country that meet these critical points.
"We expect that the strongest applications will come from groups, bringing together the strengths that are needed for this sort of program for use across churches and Christian communities."
Applications open today with an expression of interest stage, meaning ideas can be partially formed when submitted. The successful idea can be then developed gradually into a fully established program.
ADM's Domestic Violence Specialist, Amelia Schwarze, quoted 2016 figures from the Australian Bureau of Statistics which show one in six (or 17 per cent) of Australian women have experienced physical or sexual violence from their current or previous partner, since the age of 15.
One in four women have experienced emotional abuse from their current or previous partner since the age of 15.
The equivalent figures for men are one in 16 who experienced physical or sexual abuse, while one in six men experienced emotional abuse.
"We want churches to be able to make victims feel truly loved, cherished, supported …" – Amelia Schwarze
"The unique opportunity of churches is around restoring sanctuary," says Schwarze. "I think Christians would understand that Jesus's call to the church is about creating a space of sanctuary and safety in so many ways and for people who are vulnerable particularly."
"We want churches to be able to make victims feel truly loved, cherished, supported and that's an expression of the outworking of Christ's love for them."
Sanders points out that this grant is just one of many responses coming forward from different churches and denominations, including research commissioned by the General Synod of the Anglican Church of Australian NCLS Research to understand the impact of domestic violence within churches.
"Unfortunately, it's somewhat murky to understand what the stats are within churches, but what we know suggests that it's not dissimilar to what's happening outside the church across Australia," she says.
"We're excited and hopeful about what it looks like to be putting this forward at a time when many in the church are drawing out new solutions."
"If you are interested in making an application, you may attend an in-person Information Session at ADM on Thursday 12 December 2019 or participate in a webinar information session on Monday 16 December 2019."
For more information visit deaconessministries.org.au/restoring-sanctuary.
Email This Story
Why not send this to a friend?