Australia
churches
Aussies are feeling a little bit better about religion
NCLS community survey 2019 insights
Australians' attitudes towards religion as a force for good have recovered a little in the latest Australian Community Survey released today by NCLS Research.
As of November 2019, four in ten Australians surveyed say religion is good for society. In 2018, this question slumped to three in ten Australians.
That was the year when attitudes were being slammed by the same-sex marriage campaign, which churches opposed, along with the distressing outcomes of the Royal Commission into Institutional Responses to Child Sexual Abuse.
This month's rebound to former recent levels shows the heat may have come out of those contentious issues, says, Ruth Powell, director of NCLS Research, an organisation she describes as "mission researchers for the church".
However, she cautions: "This also means there's another four in ten who say 'I'm not sure' and then the remaining two in ten who say 'religion is not good for society,' so that's a challenge, but there's that big messy middle."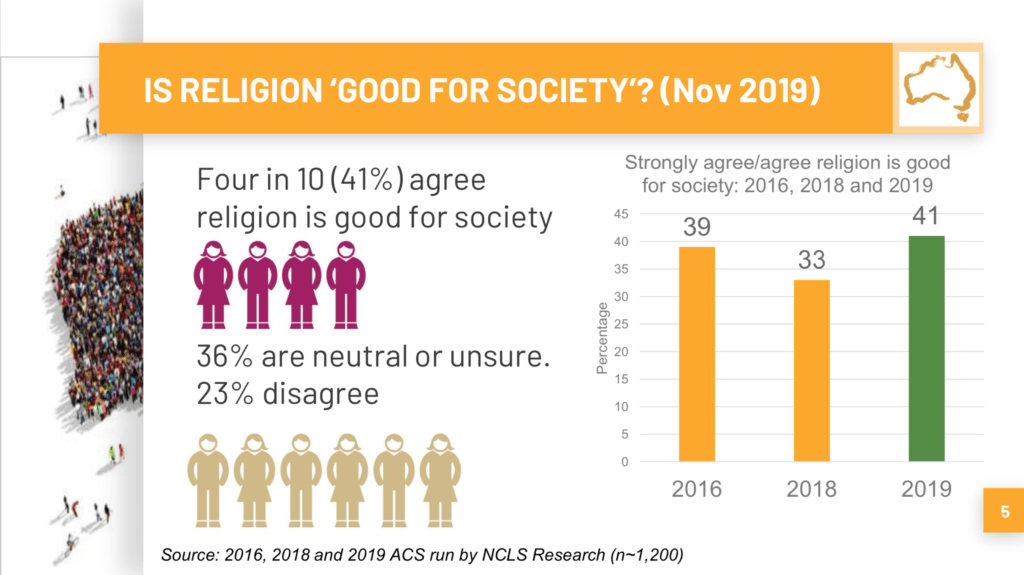 NCLS research is most known for its National Church Life Survey, which has been conducted among 20 denominations every five years since 1991. Powell says NCLS Research has started conducting its Australian Community Survey annually because attitudes are "so volatile and changing."
"We think if we keep coming back year after year, we can check in on some of these things that are very sensitive to the current climate and contexts. That's why we've just done this most recent 2019 Australian community survey, so it's hot off the press."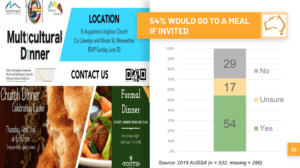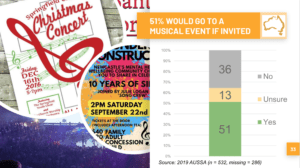 As well as asking people about their attitudes to the institutional church or religion, the survey also asked people about their spiritual practices and beliefs. But this year, building on 2016 National Church Life Survey data that shows inviting people is key to attracting newcomers to church, the community survey asked people if they had been to church in the past 12 months and, if so, how and why?
"That was a feature focus for 2019. So, we asked questions around things like 'have you been to church in the last 12 months?' 'Does your mother go, your father, your spouse, your children?' You know, 'who are your relationships, where are your connections to church?' 'Have you tried and failed, if you like – tried it and backed out?' 'If you went, what would help you go? What are the things that would attract you? What would stop you going?' That whole likelihood of inviting and what would you come to?"
What came through loud and clear was that music and food were the enticements most likely to attract people to church, along with a close personal relationship with someone who goes to church and a history of church going.
"So you need the relationship connection, you need a history – which actually mostly can be a positive thing, so you know what it's like or have an imagination, it's not totally foreign. So people who have a history and then based on a relationship go 'yep, invite me to something, food and music, and I'm more likely to come.'"
Powell says the survey reveals the scale of the challenge facing churches in that they are at the bottom of the list of public confidence in institutions, behind education, the law and parliament.
"So there's a long way to go. There's still a sense that religious leaders shouldn't speak in public – it's a strong position: 'don't tell us how to vote, etc.' So there still is this wall of opposition. But at the same time the message always is 'if you have a good relationship, that's a totally different story. Personal relationship is totally different to a vibe about the institution."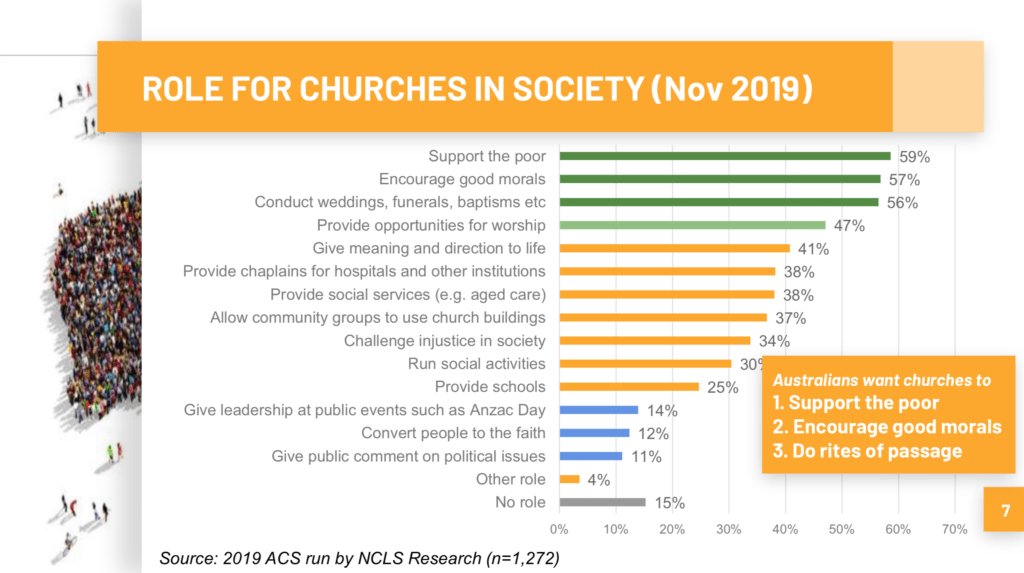 Email This Story
Why not send this to a friend?