The Uniting Church at Milingimbi in Eastern Arnhem Land is experiencing strong growth following COVID lockdowns and travel restrictions, sparking a revival of faith, especially among the young people.
Peter Garrawurra and Melissa Marrkula lead a cohesive pastoral team of four couples and a number of senior Aunties and Grandmothers at the church and are one of the youngest Aboriginal ministry couples in the Top End.
The current leadership has benefited over many years from the faithful nurturing and mentoring of the elders, both men and women, who have gone before them. Some of the old men continue to challenge and help people to hone their faith and their leadership abilities.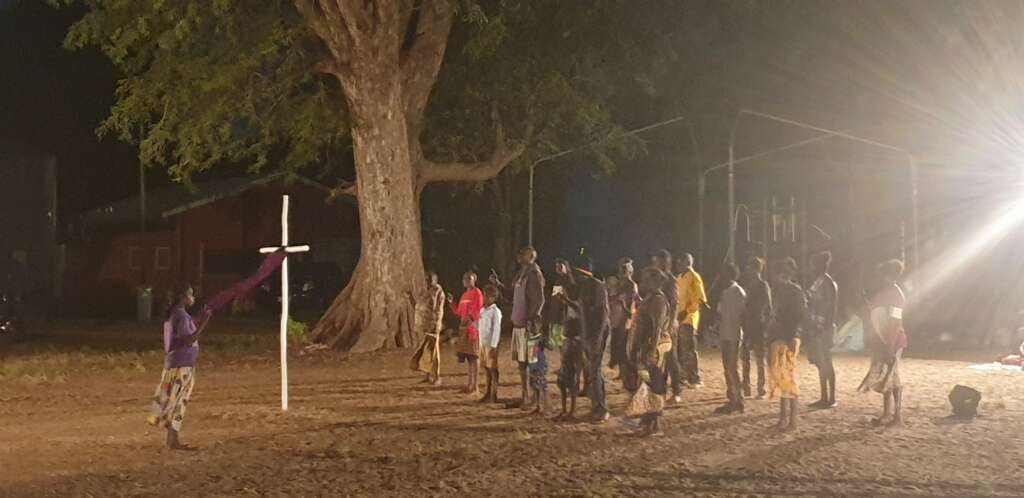 Fuel your faith every Friday with our weekly newsletter
During initial COVID lockdowns in 2020 and 2021, there was a movement of the Spirit at Milingimbi with hundreds of people meeting for fellowship and worship every night. During the biosecurity lockdowns earlier this year, the Spirit of God swept across Yurrwi on Milingimbi Island and there is a strong sense that a new chapter of God's good work has begun.
Under the current Spirit-filled leadership, the church has been leading outreach into surrounding communities which has sparked enthusiastic nightly praise and fellowship among young people, not only at Milingimbi but at Ramingining, Elcho Island and at Yirrkala on the Gove Peninsula.
Some believe it is reminiscent of the revival that began in Elcho Island in 1979 and spread across outback Australia, lasting for several decades, while others prefer to wait until they see lasting benefits in reduced crime and so on.
For the past few years, Easter has become a community-wide celebration in Milingimbi as the church re-enacts the story from Palm Sunday to Good Friday and Easter Sunday, with full-size, homemade crosses, a tomb (full and empty as per the story) and a young man playing the role of Jesus.
Eternity caught up with the pastoral group over morning tea this week at Nungalinya College in Darwin, where they are studying a Faith and Wellbeing Course, and asked them about how the church ministry has grown.
"It started back in 2017 and nobody was there in the church," says Robert Gaykamangu.
"And these four couples were sitting around and making a fire on the church lawn and sharing stories about Jesus and planning all those things, then that's where it happened. A bright thing happened to these guys, these couples. It grew up just like that, just like fire when we light it up. It goes bigger and bigger.
"Lots of people used to just walk past the church and these couples, they're just sitting there making fire, telling stories."
Back then, Robert and his wife Helen Garrawurra were just curious about what was going on in the park.
"I used to be around there, just in the grass, and when I met these guys, they were walking around and sitting in the park and I thought, 'Oh, I might join in.' And that's when God came in suddenly and our lives changed. The Lord Jesus came. God's glory came."
Robert and Helen have experienced healing and grace in their lives and are now elders in the church leadership.
"We started following Jesus," Helen explains simply when asked how she changed.
"I mean, these guys were ahead of me and I came in and met Jesus," says Robert, who is a fabulous song-leader, guitarist, and singer.
"So I joined these couples and in 2017 there were a lot of people coming in and the church grew and these guys prepared everything for Easter and Christmas. Every Easter and Christmas we invited all the people to come, the whole community."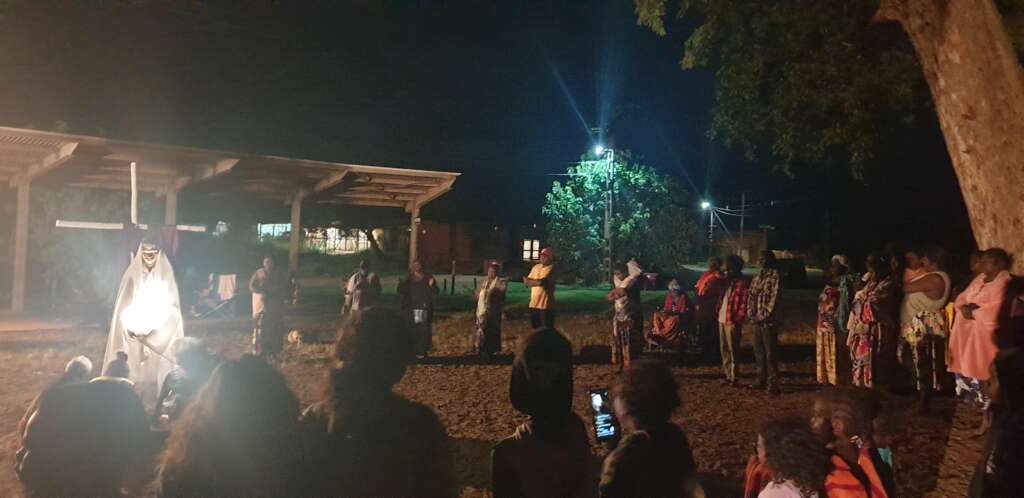 Robert explains that every year they go around the community and ask every young boy with long hair if he wants to play Jesus in the re-enactment.
"Sometimes It's serious for the young people because it's a great responsibility and the young people say 'I can't do it because he's real,' but we say 'it's okay, we'll tell you what to do.'"
This year Melissa's cousin-brother played the role of Jesus, with the crosses made by carpenter Tommy Nipaway, who is on the leadership team with his wife, Susan Dikarr.
Tony Goodluck, Moderator of the Uniting Church Northern Synod, was there for the four days of Easter celebrations this year. He says gentle worship music started about 4.30am on Easter Sunday, waking people who had camped out in the Park near the cross, waiting in anticipation for the arrival of the risen Jesus.
As he describes it, there is an empty tomb – a small tent – with cloths lying on the ground. As about 200 people line the beach waiting, it's still dark as a figure comes walking along the beach, taking about 15 or 20 minutes to arrive at the open tomb. People take photographs of the risen Jesus as he goes into the middle of the worship area and stands by the cross in the ground.
"The remarkable thing is that people are not watching a pantomime. They're not hearing a story or watching a story. They're in the story; they are part of the story."
Women come out and kneel before him and put their hands out. "And the whole story is alive," says Tony. "The remarkable thing is that people are not watching a pantomime. They're not hearing a story or watching a story. They're in the story; they are part of the story."
It's still only 6am when Jesus wanders off, and everyone goes home, only to come back to church at 10.30am for communion and again at 8pm for worship through till midnight or 1am.
"I sat there on Easter Sunday evening with the children playing on the playground, the dogs lying in the sand and people singing and dancing around the cross; and after an hour-and-a-half of songs, the 'beginning song' comes on, and people go, 'Oh, we're going to start now'," Tony says.
"We came into a big circle around the cross for the starting prayer. And I'm not kidding it's usually about an hour and a half in – now we're going to start!
"We're used to going to church and we'll have one or two praise songs, and then one to bring the mood down and then we'd have a prayer and we've begun – no, [for the Milingimbi mob] it's an hour-and-a-half – now we start. And it'll be about another hour-and-a-half of Scripture readings, reflections and prayers.
"If someone needs prayer, there's always a time in the service where they go forward to the cross. The cross is in the middle of the gathering and so if someone needs prayer, they come out and kneel before the cross or they lie on the ground with their hand out towards the cross or touching the cross. And one of the elders, who might be connected with that person in some way – they'll know what they're wanting prayer for, because people know what's going on – and they will go over slowly, casually, comfortably, and pray with that person."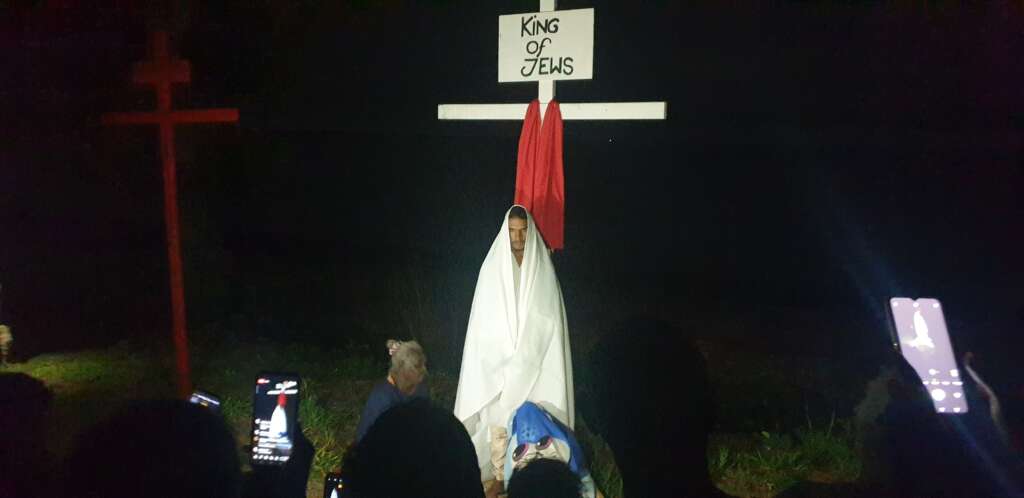 Peter's younger age and acceptance by the community have attracted a remarkable proportion of young people to this wonderful community church over the past six months or so.
"Young people change their lives when they come into fellowship and worship," Peter explains.
"We all teach them and pray for them and they know Jesus and follow him."
Melissa adds: "They change from sniffing, breaking [stealing] – Jesus changes them. They have love, fellowship. Now they love to worship – every night they're dancing, praising, sharing. The young people are caring … even the kids are dancing, rejoicing, praising."
Peter and Melissa are pastors for two churches, one in Milingimbi and one for their homeland, about half an hour away by boat, or 10 minutes by plane.
"Our first mission as new ministers was from Milingimbi to Ramingining community and people," Melissa explains.
"We're doing outreach to Ramingining first, and then Elcho and then we went to Yirrkala. And after this, back to Milingimbi and then to Maningrida. There are lots of calls from every community."
She said at Yirrkala, lots of people came to their outreach event, even from the outstations – "people needing healing, and Jesus blessed them."
According to Uniting Church Support Worker Margaret Miller, a group from Milingimbi visited Elcho Island in March to celebrate the anniversary of the 1979 revival.
"They came early to that event on Elcho and that has had a really positive impact on Elcho with the young people," she says.
"Then in April, we had the dedication of the reprinted Gumatj New Testament at Yirrkala. We'd been waiting for the dedication for months, but the timing was absolutely amazing because of this growing encouragement and enthusiasm in the Lord and in God's work and in his spirit. There's a lot of talk about the Holy Spirit and revival again, and there's this movement going from west to east that has been developing in the last couple of months with the young people, particularly the new generation."
Email This Story
Why not send this to a friend?