Trigger warning: This story contains graphic depictions of domestic violence and discusses suicidal feelings.
The night before she planned to take her own life, Xenia Schembri went to bed resolved and peaceful about what she was going to do, having arranged things so that her husband would find her body rather than their four children.
But God had other ideas. He woke her up in the middle of the night with the line of a hymn going through her head.
"I recognised the tune, but I didn't recognise the words, but it got louder and louder and it was just one line of a hymn – I am not my own, I have been bought with a price. And I realised at that stage I could not take my life because my life was not my own – and I was, like, 'okay God,' and I surrendered. 'I don't care what happens to me; I want to be in your will and I want you to deal with this. I don't know how that's going to look; I just have to leave it with you.'"
Xenia (her name is pronounced Xena like the warrior princess in the 1990s TV series) had wanted to die to escape the hold her husband of 15 years had over her mind and body. From the beginning of their relationship, he had abused her physically, sexually and spiritually until she feared that he was going to kill her.
"He controlled every area of my life," she says of the RAF man she married at 18 in Weston-Super-Mare, England. Both were church-going Christians, but there was nothing godly about the way he forced her to live during the week.
"He controlled the way I thought – even going to the toilet, I had to tell him how many pieces of toilet paper I used, three or four? How I showered – he would have to know which part of my body I washed first. It was just ridiculous.
"The abuse was physical, sexual, financial, spiritual and verbal. The physical wasn't too bad. There was some, especially when it came to the sexual violence, but it was more the fear. For instance, we could be lying in bed and he would say 'Oh my gosh, I've got the urge to slice your throat and watch you bleed out.'  (It's all about power!) 'Just know that I am able to do it.' It wasn't that he regularly physically hurt me, but I knew that he had the power to do so and that he had the mind warped enough to do it."
The crunch came when her husband – who had 15 affairs in the 15 years of their marriage – took her out for dinner the night before their 15th wedding anniversary, and gave her a new wedding ring, saying "I want you to know that you'll always be married to me." The next day – their anniversary – he left for the weekend with the new girlfriend.
I couldn't see that there was any future for me.
"I wanted the pain to stop. I couldn't see that there was any future for me. I wanted to die and I knew that if I didn't take my life, he was going to, and I just felt this overwhelming sense that I needed this pain to stop," she says.
After surrendering to God's will and abandoning her suicide attempt, Xenia was relieved when her husband came home on Monday and told her that he wanted to split up – he still wanted her to be his wife; he just didn't want her living in their house.
Until then she had been paralysed by fear of what he might do if she moved out – fear kept her under his control until the fear of the unknown became less frightening than staying with him.
"There's lots of reasons why somebody who's going through domestic violence stays with the perpetrator," she explains. "There is the financial issue – he's controlling all your money, you have no money of your own, you can't get out financially. What will happen to the children?
"The most dangerous time for you is when you leave an abuser because that is the time when he can kill you. He's losing control, and when somebody's losing control they fight back, they begin to panic and so … you don't know whether you're even going to survive beyond the actual initial leaving."
Xenia says most domestic violence victims become isolated from their family and friends, and so feel they have no one to rely on and help them survive if they leave their marriage. And because most leave with nothing but their personal possessions she believes churches could help victims by providing second-hand furniture so that they can make a new start in life.
In Xenia's case, as well feeling trapped by fear of what her husband might do if she tried to leave, was an abiding sense of being weak and unworthy.
"I always felt unworthy," says Xenia, who felt broken after being sexually abused at age 13 and never felt good enough for her father to love her after he gave her up for adoption.
Xenia has written a raw and powerful account of all the humiliating ways in which her ex-husband dominated and abused her in a new book, Broken to Be Beautiful, which she hopes will be a beacon of light in the darkness of domestic violence and abuse.
The book took her six years to complete and she describes it as the hardest thing she has ever done because every time she went back to it, she felt broken again.
Xenia, an author, speaker, charity founder and pastor based on the Gold Coast, rebuilt her life after developing an online friendship with a Christian man who lived on the Gold Coast with his three children while she was in England with her four.
"From then, God just moved in our lives incredibly. About a year-and-a-half later, God woke me up in the middle of the night … and I literally heard the voice of God say, 'I've brought you together from the opposite ends of the earth to be a couple I created you to be, one in me and one in each other.'"
Eventually, Xenia came over to Australia for a visit, met Simon and married him on December 29, 2006.
But six months later, in June 2007, after they landed back in England, they faced a bombshell – Xenia's oldest daughter, Gemma, told her that her father was sexually abusing her.
"They spent hours and hours and hours being quizzed … and he was found guilty on all charges."
"It turns out after investigation that he had sexually abused all four of them – I have three girls and one boy … My kids were an absolute mess, as you can imagine.
"Anyway, the first court case he was found guilty of rape and there was a hung jury on the rest of the charges …  My daughter wasn't going to let him get away with that – she's a firecracker – and she decided that she wanted to do another court case. At that stage he was remanded on bail and so we had another court case.
"They spent hours and hours and hours being quizzed … and he was found guilty on all charges. He got nine years per offence to be served concurrently, but he was out on licence within 4½ years."
As the court case came to an end, Simon adopted Xenia's four children and they applied to migrate to Australia, arriving in January 2010, creating a blended family with Simon's three children.
In a chrysalis, a caterpillar literally turns to mush in a hard place and then the colour of a butterfly's wings is the crystallised waste!
Immediately, Xenia and Simon set up At the Ark, a charity to support families of children who have been sexually abused and families affected by domestic violence. The aim is to provide a listening ear and a practical helping hand when in crisis. It also runs workshops and seminars to equip people how to protect children.
As she began to speak publicly about her life story, people would often suggest she write her autobiography. When she started it in 2012, she felt God give her the title, Broken to Be Beautiful.
"I didn't understand the significance of it at the time because I didn't feel beautiful. God gave me the image of a butterfly, how a caterpillar has to be broken to become a butterfly – in a chrysalis, a caterpillar literally turns to mush in a hard place and then the colour of a butterfly's wings is the crystallised waste!
"And so the beauty of the butterfly is because of the rubbish, the waste that you've been in … and God showed me very clearly that – you know what? – you're beautiful in spite of what's happened to you … I was in that hard place where I was mush and I've come out and have wings and they are beautiful and God has given me a new life, a new lease of life, to be born again into something completely different."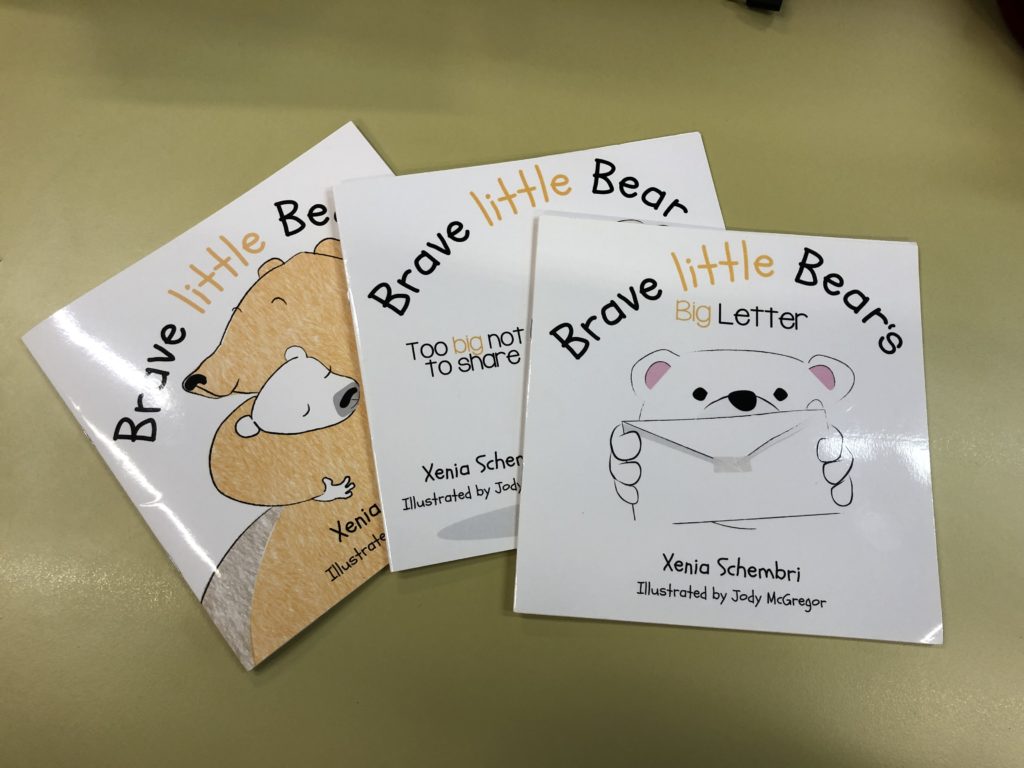 Getting to that point, however, took a long time. In 2016, God gave Xenia another vision to write what became her Brave Little Bear series of books which teach children how to protect themselves from sexual abuse – what is safe and what isn't.
"We went to Fiji and I saw in my kids' eyes the pain they had gone through, I recognised it. When I came home, I just had this passion in me to do something and God put writing a children's book in my heart … I am not a children's book writer.
"Eventually after two or three months, I said to him, 'God, you write the book. I will be a pen; you write the book.' That afternoon my youngest daughter had a Headspace appointment and I literally wrote the book in one hour while I was waiting for her. And that then became book two and book three.
The very first song that came on was Write your Story by Francesca Battistelli and I was like 'this is not funny, God.'
Last August, when Xenia launched the three Brave Little Bear books, she told everyone she had given up writing her autobiography.
"God is so funny. I'd told everybody I'd laid it down and I wasn't going to write this book anymore. And that night the MC said 'and Xenia is writing her own book, it's called Broken to be Beautiful – tell us about it.'
"I said to Simon I am so sick of people wanting me to write this book – I cannot write it. I went to bed … and I had a nightmare and so I immediately put my worship music on and was listening through my headphones. The very first song that came on was Write your Story by Francesca Battistelli and I was like 'this is not funny, God.'
"So when Simon woke up in the middle of the night and saw me with my laptop on my lap, he said 'what are you doing?' I said, 'apparently I'm writing my story.' He said 'you only laid it down yesterday.'"
All four of Xenia's children have contributed a paragraph to Broken to Be Beautiful, which was published in February this year.
"All my four are completely head over heels about God. My son is at Bible college doing his master's of theology – they're all doing really well. One's just got married earlier this year. God is creating this out of ashes. If you'd seen my kids in 2007, and how broken they were and what a mess they were, to the powerhouses they are now, you'd just go 'wow, God can do amazing things.'"
If you have been impacted by sexual assault, domestic or family violence and abuse, a 24 hour, confidential information, counselling and support service is available in Australia by telephoning 1800 RESPECT (i.e. 1800 737 732), along with an online chat service. Please call 000 if you are in danger.