More than four out of five Australians (81 percent) agree with a vaccine passport should be needed to attend public gatherings and venues such as cinemas.
But despite calls for  an exemption for attending religious services, only 18 per cent (out of that 81 per cent) support giving an exemptions to vaccine passports for that reason.
The remaining fifth of Australians (19 percent) oppose vaccine passports.
These results were recorded in a survey of 1000 Australians aged 18 and over by McCrindle, a social research, demographics and data analytics company. The survey was in field from September 10 to 13.
"Christians show higher compliance to vaccination passports, being less likely to oppose vaccination passports (17% protestants, compared to 19% national sample)" Mark McCrindle, founder of the research company tells Eternity. "Opposition to vaccination passports is modest though not insignificant (19%) and the idea of exemptions for religious services is similarly modest (18%)."
Younger people are more likely to agree that religious services should be exemptions for vaccine passports.
A third (33 percent) of Gen Zs (18 to 24 in this poll as teenagers were not surveyed) agreed with vaccination passports but wanted an exemption for church services. Only ten per cent of Baby Boomers (57 to 75 years old) wanted the exemption.
Whether Australians are religious made little difference to their attitude to religious exemptions. 63 percent of Australians in general support vaccine passports for public venues with no exemptions for religious services.  64 percent of Australians identifying as Christians want the same. 56 percent of regular churchgoers – at least monthly – also want the same. This indicates there is division among the churchgoer group.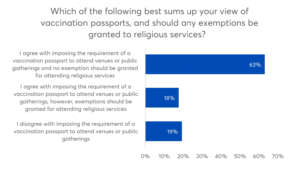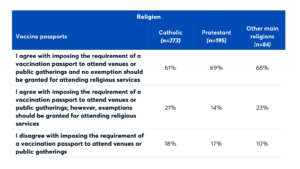 Some details of the survey :
Overall: 3% margin of error, 95% confidence level
People who identify with Christianity: 5% margin of error, 95% confidence level
Regular Churchgoers (At least monthly): 7.3% margin of error, with a 95% confidence level
Pray
Some prayer points to help
Pray for your church leaders – and church leaders throughout Australia as we deal with the vaccine passport issue.