Australia
history
Mother of Pearl Church celebrates 100 years
Make a stunning discovery at the top of Western Australia
This year marks the centenary of one of Australia's most stunning church buildings – the Sacred Heart Church at Beagle Bay. Or, as it's more affectionately known, the 'Mother-of-Pearl Church'
Found an hour's drive from Broome, along a rough dirt track on Western Australia's remote Dampier Peninsula, the church structure is an unexpected sight in the remote Australian landscape, with a stark white, traditional Germanic exterior. But it's the church's interior that has made it a favourite among tourists, with a stunning fusion of traditional Christian and local Aboriginal symbols displayed through European artistic techniques and local materials.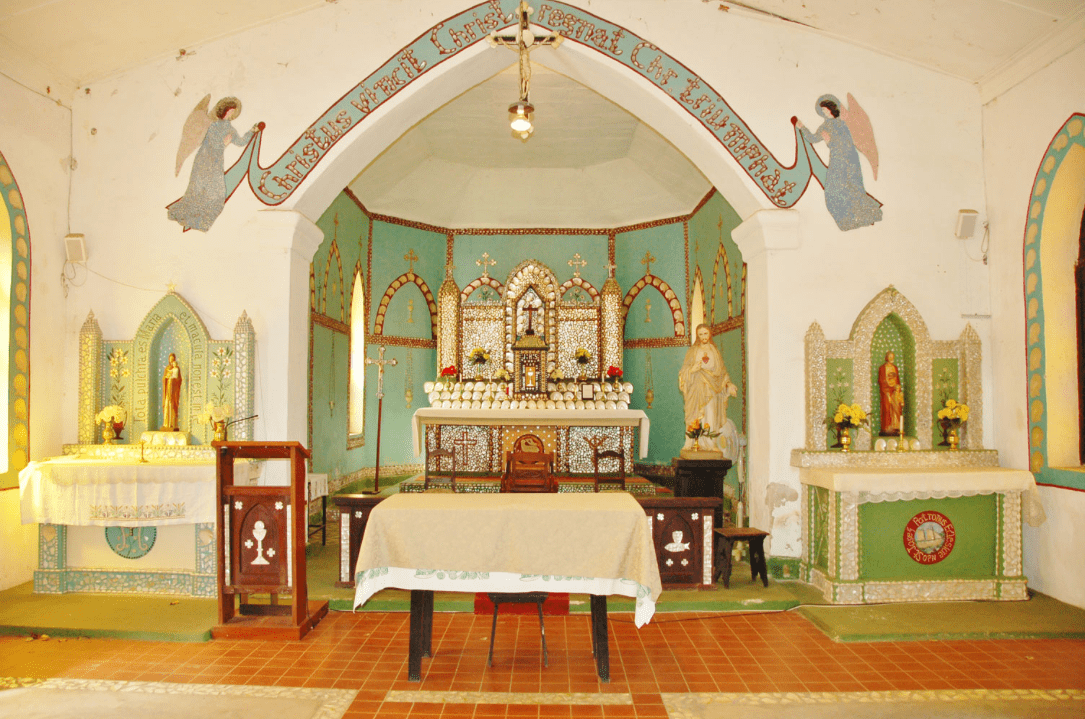 The Church was established in 1890 by French Trappist monks, who were soon replaced by Pallottine missionaries from Germany and the Sisters of St John of God from Ireland. When World War I broke out in 1914, Germans in Australia in the region were arrested and interned at Beagle Bay.
The Germans decided to spend their internment constructing a more durable building for the church than the previous wooden ones that had been destroyed by cyclones, white ants and bush fires. They took their design from a country parish church in their homeland, and handmade and fired 90,000 bricks. Mortar was made from the ashes of burnt shells.
Once the building was completed in 1917, a team of Aboriginal women worked under the direction of a German priest to decorate the interior with mother of pearl, cowrie, volute and olive snail shells. The result was a breathtaking display of Christian symbols and local Aboriginal "saltwater people" totems: dingos, snakes, emus, fish, shields and spears.
The result was a breathtaking display of Christian symbols and local Aboriginal "saltwater people" totems.
The church was officially opened on August 15, 1918, but after World War II, 14 Stations of the Cross were added to the building, painted on aluminium sheets by a German nun. Framed by shells, many of the panels feature Aboriginal figures as witnesses to the Holy Story.
Yet if the walls of this beautiful church could talk, they'd tell a complex, multicultural tale that begins long before John Clements Wickham, captain of HMS Beagle, named Beagle Bay after his ship in 1838.
To the Nyul Nyul people, the traditional custodians of the area, Beagle Bay had been known for centuries as Ngariun Burr which means "surrounded by springs".
It is reported that when Sacred Heart Church was first established, the missionaries stationed there made a significant attempt to be sensitive to this Nyul Nyul local culture, and even translated various texts into the locals' native language.
Yet from 1901, the church at Beagle Bay became a mission for Aboriginal and Torres Strait Islander children, along with children of mixed Aboriginal and Asian descent. The official reason for removing children from their families in Australia at that time was to remove them from surroundings that were likely to cause children to "lead vicious lives".
But it was more than that. The children were also removed from their families, and kept to a strict regime of study, developing education and vocational skills, and of physical labour in the mission's market garden. Some children's parents and siblings were also living at Beagle Bay, however boys and girls were segregated into separate dormitories that were locked at night and were allowed to see their parents only 'once a month, although they could see them across a fence every day,' according to a WA State Solicitor's Office report from 2005.
The WA State Solicitor's Office report also mentioned that the conditions at Beagle Bay Mission were described as having a profound and lasting impact on inhabitants: "Generations of Aboriginal women who lived on Beagle Bay Mission have spoken about their deep sense of loss, and their attempts as children to maintain contact with the older people in order to obtain information about the old ways. These attempts were frustrated by the missionaries. Children were not allowed to talk about their parents or enquire about them. They were forbidden from speaking their own languages, among themselves or with the older people in the colony."
Some children who did not have parents living at the mission "recalled 'with great fondness the love and care given to them by the adults in the mission colony.'"
But the report also notes that there were some children who did not have parents living at the mission who "recalled with great fondness" the love and care given to them by the adults in the mission colony, who were allocated to them as "adoptive parents", and "by older girls who were given the responsibility of looking after younger girls 'as a means of maintaining some order in the dormitory'."
Beagle Bay Mission was mentioned in the Bringing Them Home Report (1997) as an institution that housed Indigenous children removed from their families.
In 2009, the Mother of Pearl Church gained national attention when featured in the musical Bran Nue Dae starring Rocky McKenzie, Geoffrey Rush, Magda Szubanksi, Jessica Mauboy, Missy Higgins and Ernie Dingo.
Originally created for stage, Bran Nue Dae is the work of late Australian composer, musician and playwright, Jimmy Chi, who himself had a diverse and complex heritage with a Chinese/Japanese/Anglo-Australian father and a Scottish/Baada Aboriginal mother. The musical famously features the lyric, "There's nothing I would rather be/than to be an Aborigine".
Now, as the community at Beagle Bay marks its centenary, Chi's lyrical expression of celebration and resilience seems to be an especially fitting one for this stunningly beautiful Mother of Pearl Church, as it grapples with a complex history of heartache and happiness.