Only half of all Australians understand Jesus to be a real person who lived at a time and place in history, according to the latest Australian Community Survey released by NCLS Research this week.
Two in 10 Australians said Jesus was a mythical or fictional character while three out of 10 didn't know.
Their doubts stand in contrast to those of ancient historians, classicists and New Testament scholars, who universally accept that Jesus was a real person in time and place in history, noted NCLS Research director Ruth Powell in a webinar on Thursday.
The ACS is a separate survey from the five-yearly National Church Life Survey, and its findings are drawn from a sample of 1300 people in an online research panel. The ACS has been conducted since 1998 and, in recent years, has been done annually to monitor views of Australians, particularly in a changing context.
Fuel your faith every Friday with our weekly newsletter
This latest ACS also focused on the community's understanding of orthodox Christian beliefs. Only two in 10 currently accept Jesus was divine or God in human form but 44 per cent believe in the resurrection of Jesus from the dead in some way.
"In both cases for those questions, more than a quarter of Australians, rather than rejecting those beliefs, say 'I don't know,'" said Powell.
"What are we learning? First, there is a knowledge gap about Jesus and the Christian faith, especially among young Australians. Secondly, there's a low acceptance of orthodox Christian beliefs."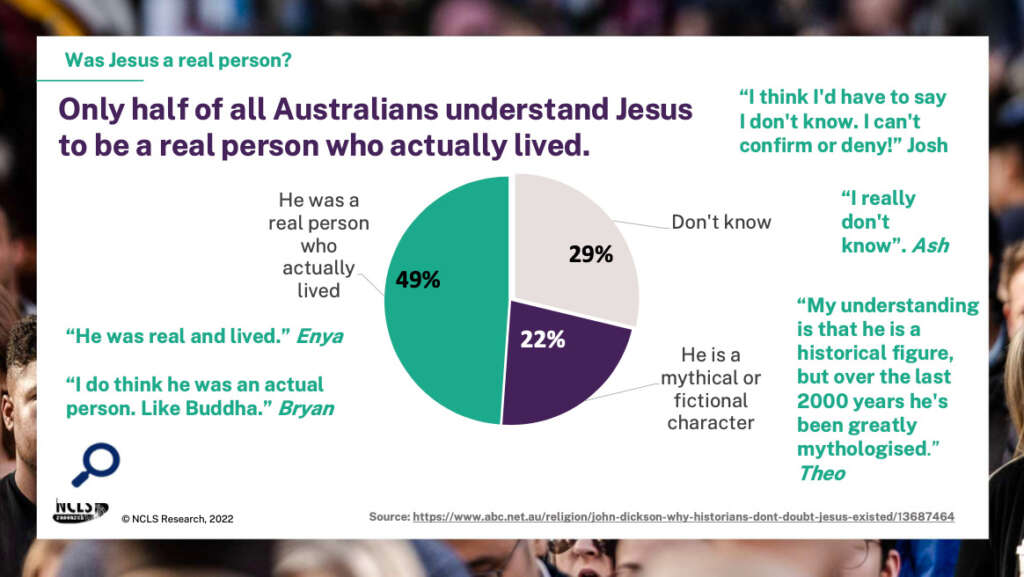 But this latest annual research into the attitudes of Australians to Jesus and the church also revealed some positive findings.
Strikingly, one in three young adults – aged 18 to 24 – reported attending a religious service regularly, by which they meant once a month.
This figure was the highest of any age group and compared to 21 per cent for all Australians, a proportion that has recovered from a slump to 16 per cent during the COVID-19 pandemic.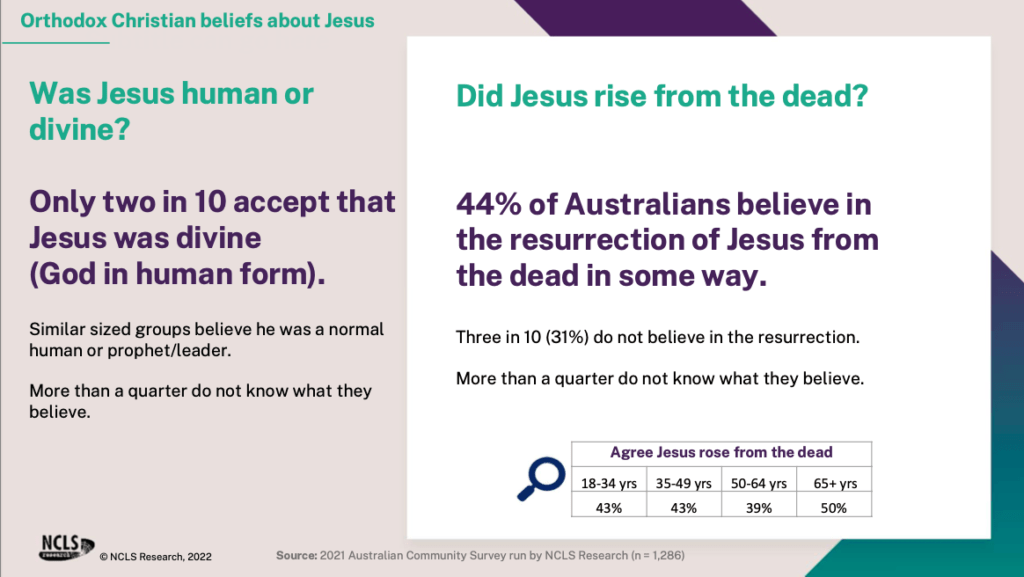 Powell said she wondered if the figure for the young adults was a quirk of this sample of 1300 across ages, genders and locations. But after checking the 2019 and 2020 results, she found the patterns were consistent.
She found that the group with the lowest church attendance was the 50-64-year-olds, whom she called the Gen X group. And this was cause for concern given their standing in public life.
"Are we seeing here something to do with their stage of life? Or is this a generational effect? What is the impact of this period of history?" she said.
While the voices of Gen X had been considered muted compared to the Baby Boomer generation, she pointed out that this is the group who are currently the CEOs in core leadership, perhaps at the peak of their professions.
"You know what? We have the microphone, and you see from the results in this Australian Community Survey that the 50-64-year-olds are the ones who least attend, least believe, least practise, are least positive about Christianity – are they controlling the public narrative? Is this something we need to be aware of – who has the microphone? And what is happening to the story because of these people?"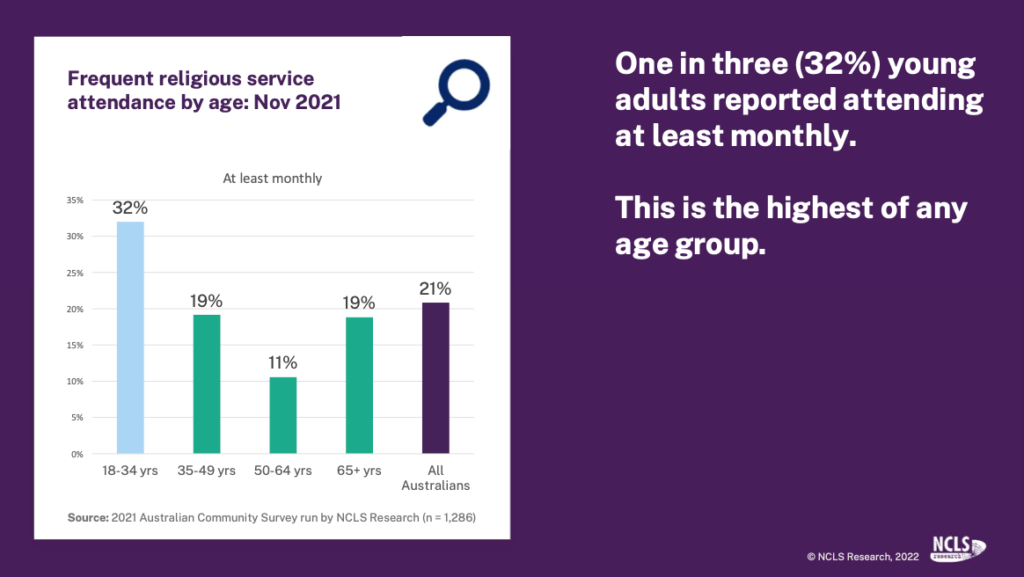 But focusing mainly on young adults, Powell noted that they have very high levels of involvement in church – similar to the over 65s.
However, there was a key difference between these two groups. Both age groups have similar proportions, 17 per cent, who claim to attend weekly or more often; however, young adults are much more likely to attend one to three times a month, 15 per cent, compared to 2 per cent of over 65s.
Powell said she checked the results with another scenario.
"We asked within the last five years, have you ever gone to a Christian church and been open to getting involved but decided not to get involved? What we hear from Australians is two in 10 have tried to lean in, have had a posture of leaning towards getting involved in a Christian church and then decided against it.
"That result was even higher for young adults – three in 10 may have tried to get involved in the last five years … is this a missed opportunity? How are they being overlooked? Perhaps they're being missed in the busyness and priorities of business-as-usual church."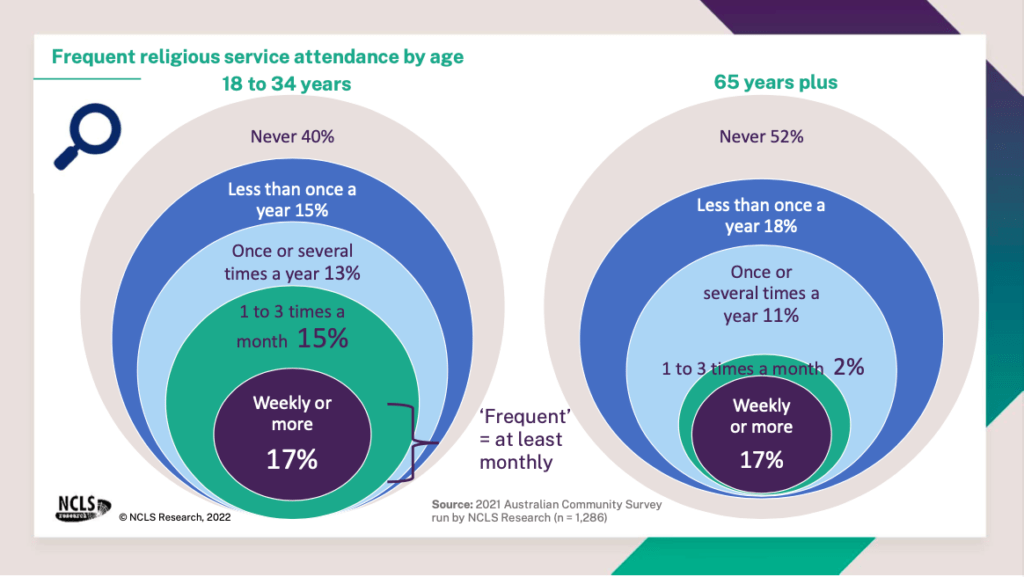 Other encouraging findings related to Australians' openness to being invited to church.
Three in 10 Australians said they were likely to go to church if invited by a close friend or family member. Another 16 per cent were not sure, while about a quarter said no, probably not.
"We focused in on this a bit further – what would help someone to accept an invitation to church? We posed a range of scenarios for them. What do you think would help them say yes? What we learned time and again in our research is that relationship matters much more than anything else. Australians say, 'I will go if I felt it was important for my friend or family member that I accept' – and this was true in every age group."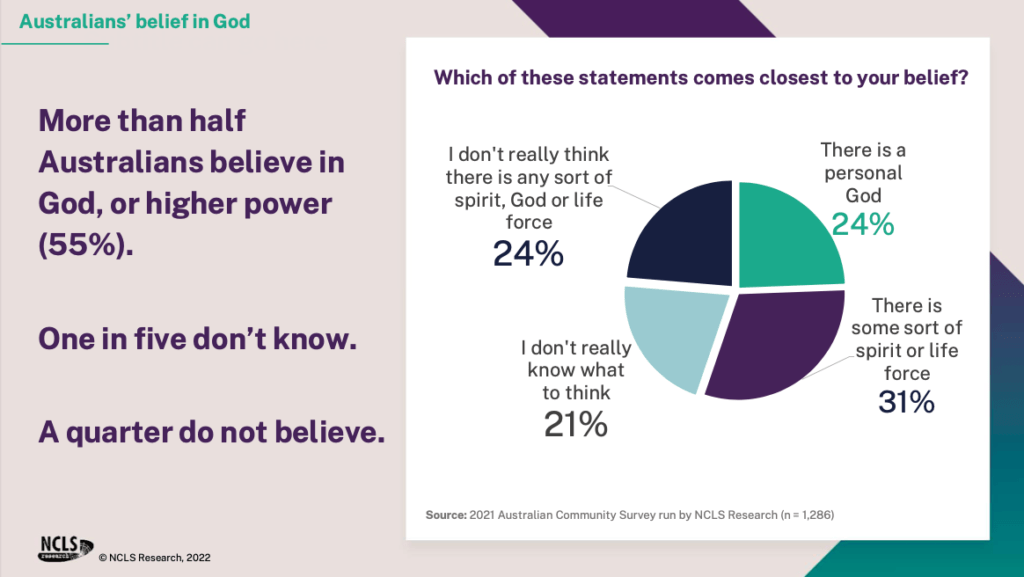 But here was the rub – 56 per cent of Australians do not think they have any close contacts who attend church.
"And we know from our previous research that there are positive links between having one close contact with a churchgoer and being attracted rather than repelled by actions of Christians, being open to an invitation and actually attending," said Powell.
She summarised: "Australians are less Christian than previously, but they are not all closed. There is a knowledge gap about Jesus and the Christian faith. Relationships are critical, yet there is a relationship gap between churchgoers and other Australians. There are more young adults connected to church and open to faith than older age groups, but too many have tried to get more involved and failed. Yes, there are challenges, and yet there are also significant opportunities for greater connection between church and community."
Email This Story
Why not send this to a friend?