Local Darwin identity "Uncle" Vic Ludwig greets me cheerily at the door of the St Mary's Football Club and sits me down in the clubhouse, which is festooned with premiership flags, honour boards, and trophy cabinets.
Started by the Catholic Church to give players from the Tiwi Islands a chance to play Aussie Rules on the mainland, St Mary's is the NT Football League's most storied football club. And it has just celebrated its 70th birthday.
And Vic, 94 – its president from 1962-2004 – along with Ted Egan, 91, the club's first captain, are the keepers of all of its legendary stories over the 70 years of its existence.
Ted, now based in Alice Springs, was the one who was instructed by the Bishop of Darwin, John O'Loughlin, to organise a new team to give the Tiwi Island community an opportunity to play organised Aussie Rules – in defiance of the racist backlash and criticism at the time.
In 1952, there were dozens of men from the Tiwi Islands working for the Australian Navy and Army in Darwin. During that racist era, it was against the law for Indigenous Australians to drink or go into town after 6pm, so many of the men spent their leisure time playing Aussie Rules, basketball and hockey.
The Tiwi Islands, 80km north of Darwin, have a large Catholic community and, as Uncle Vic relates, many of their men were tall and athletic.
But prejudice against Aboriginal players was intense. Members of the Darwin football community scoffed that they "wouldn't even know how to play" and "wouldn't even know how to run in shoes."
St Mary's became arguably the most successful senior team in any football competition in Australia.
However, thanks to the persuasions of burly Police Sergeant Greg Ryall (who went on to disarm the guards of Soviet spy Evdokia Petrova in Darwin two years later) the motion to set up St Mary's Football Club passed at a community meeting – by one vote!
"The funny thing about all these other clubs who were saying the Bathurst [Island] boys wouldn't know how to play didn't realise that during the war a lot of Bathurst Island people working in the services were playing for the Army teams and were really well versed in Aussie Rules," recalls Vic with a laugh.
St Mary's became arguably the most successful senior team in any football competition in Australia, winning a record 34 premierships in Northern Territory Football League grand finals. In 1978-79, the club had five teams in the grand finals. The club has only missed out on the finals twice in its 70-year history and is on track to feature again in the finals this year.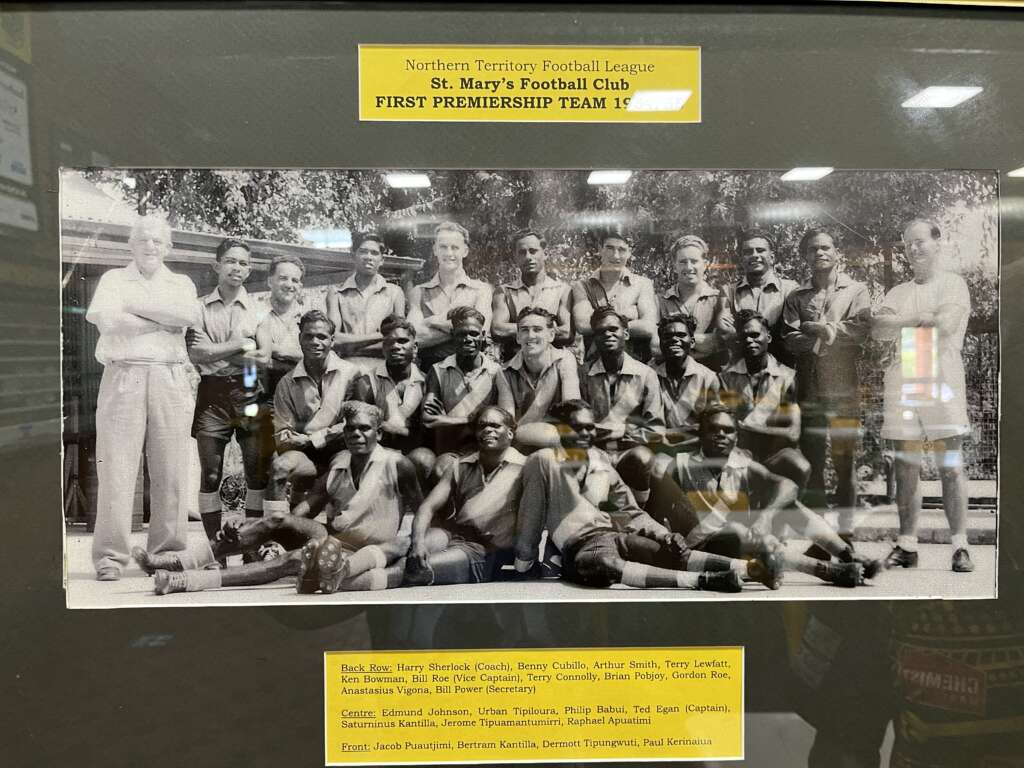 While they played only for the jersey – none of the players have ever been paid – many were drafted to play in the Australian Football League, becoming some of its best-performing players. These include Billy Roe, David Kantilla, Maurice Rioli, Michael Long and Ronnie Burns.
"What's the secret? Good players, for starters; you can't win premierships if you haven't got those. We had 50 consecutive winning games in the 90s. In fact, it went up to 53 or 54 before we got beaten. That's an Australian record. North Melbourne won 49 in a row … We cleaned them up."
Vic, who came to the Territory in 1948 from Queensland, had a rugby background and had no idea what he was up against when he tried out for the club in 1952.
"In 1952, when Saints started, I thought, 'Well, here's my chance – and I'm a Catholic.' So I went and trained the very first night that St Mary's went to training.
"A few of the Aboriginal kids were running around. I thought, 'Geez, I'm in here with a show. They haven't got many people.' Anyway, we did the normal laps and there was only about ten of us, I suppose. Well, that's when all the Aboriginal players started tearing around and kicking barefoot and kicking a hundred miles an hour. I thought, 'Geez, I'm buggered here' – and that was the case."
"My theory is that keeping Aboriginal players out and thinking they weren't good enough prompted them to set out to prove that they were equal or better." – Vic Ludwig
Vic has a theory about why the club was so successful from the outset, winning its first premiership in its third year, which Vic says is unheard of.
"My theory is that keeping Aboriginal players out and thinking they weren't good enough prompted them to set out to prove that they were equal or better, and they played with a lot more passion and a lot more determination than some of the other players who were playing for fun. They were playing for keeps," he says.
The NTFL competition differs from other states in that the season starts in October, takes a break at Christmas and then leads up to the grand final in March.
"The cooperation of Father Cosgrove at Wurrumiyanga and Father Cuneo at Pirlangimpi was essential." – Ted Egan
As the team's first captain Ted Egan relates: "It was essential that we got the better players after Christmas and the cooperation of Father Cosgrove at Wurrumiyanga and Father Cuneo at Pirlangimpi was essential. I would give them the names of the people we wanted and they organised that."
He adds: "As soon as we announced our intention to start the new team, I came under the influence of a senior Tiwi man, Aloysius Puantulura, who became my principal mentor for the remainder of his life. Aloysius said to me: 'It is a good idea, the football team. I want to teach you my language, for our lads don't think in English.' I lived at Belsen Camp – where St Mary's Cathedral, Darwin, is located today. Aloysius worked nearby at the Catholic Presbytery. So three nights a week I spent hours with him, in order to 'bookim down' the Tiwi language. I was never as good as people thought I was, but I was reasonably able to impart specifics."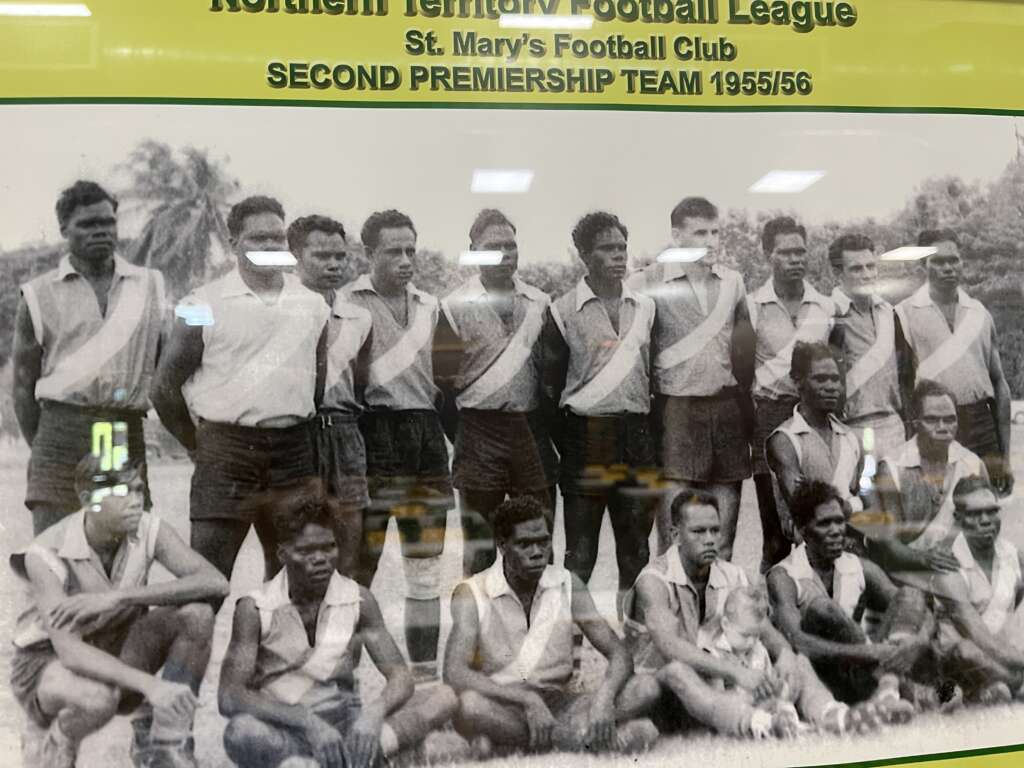 While the Tiwi Islanders were crucial to the club's success in its early days, after about ten years, members of the Stolen Generations came into prominence.
"About 10 or 12 years after St Mary's got going, people from Garden Point, the Catholic community there, came to St Mary's. The Longs, the Riolis, the Dunns, the Burkes," says Vic.
"All those Longs, all combined, played a thousand games with St Mary's. Michael and most of them all had a crack and played a bit. They'd go down south in the winter. And they'd play for South Australia or Western Australia for a few games. Then they go and play out in the bush for some of their mates. There were a lot of Rioli boys, and they all played. Together they played a thousand games too."
To keep fit, Vic became a boundary umpire, but in 1962 was asked to be president. Looking at the honour board together, we see his name repeated in gold letters every year for 42 years, 1962 to 2004.
"Oh, it is an Australian record," he says.
"Well, I had kids growing up through it, but I just wanted to keep the fire burning and help these Aboriginal kids out.
"Bill Iverson asked me to go on the committee. I was only on this committee for about eight months and the president left and I was the only one that had a bit of go in me, so I became the president. And then I couldn't get away from it. Sadie was secretary for several years."
Ted, who spent many years in the public service before working as a musician from 1975, says that without Vic and his wife Sadie, "there would be no St Mary's Football Club."
Sadie was one of seven daughters of Jack McGinness, an advocate for Aboriginal rights who started what they called the Half-Caste Association. He became the first Aboriginal president of the North Australia Workers Union.
"Jack was a very good footballer for the Buffalo Football Club. And, of course, all his kids, which he had mobs of, were Buffalo supporters. But when Sadie and I started going out together and got married, I was pretty involved with St Mary's and she came over to St Mary's with me," Vic said.
The club is "probably the most important thing to happen in my life." – Ted Egan
Sadie was one of the club's main fundraisers and liked to uphold its motto of 'Recte ad Metam' – or kick straight – allowing no rowdiness or mucking about in the clubhouse.
As for himself, Ted says the club is "probably the most important thing to happen in my life.
"It started me in my public service career and led me to experiences and endeavours that wouldn't otherwise have happened in my life," he says.
"My connections to Saints prompted my employment with the Native Affairs Branch. I was a Commonwealth Public Servant for the next 25 years.
"In one of our first games in 1952, I was addressing the players at halftime in the Tiwi language. Sir Paul Hasluck, Minister for Territories at the time, was visiting Darwin and attended the football. He overheard my pep talk. When we won the game that day, he sought me out: 'Would you like to work among Aboriginal people?' he asked. I was Housing Clerk at NT Administration at that time. 'Yes, please,' I responded. As a consequence, I was appointed as a Cadet Patrol Officer.
"That gave me an official connection to the mission stations at Bathurst Island (Nguiu, later renamed Wurrumiyanga) and Garden Point (later, more correctly, named Pirlangimpi). On every visit, I took footballs to seek out the more talented players for Saints. Thereby I established many lifelong family friendships that I will always treasure."
Email This Story
Why not send this to a friend?