It's not just dancing videos. TikTok – the short video app that boasts about 800 million active users worldwide, and that at least part of the US Government thinks is a threat to national security – has something even more powerful on it: the gospel.
It's a rare blessing from COVID, says Operation 513, a bunch of street evangelists, named for Matthew 5:13–16 – "You are the salt of the earth." They seek to preserve their saltiness in actively spreading the gospel through street preaching, tracts and gospel-laden conversations.
What does a street preaching crew do during a coronavirus lockdown? Operation 513 pivoted rapidly with TikTok gospel videos racking up many hundreds of thousands of views.
"We try and put the gospel in each of our TikTok videos, because we want people to grasp the gospel from it – one of the videos has over 700k views," says 513's Ryan Hemelaar. Take a look at their channel here.
Operation 513 rapidly cracked the TikTok formula. The videos only can be a maximum of one minute so, in each video, they aim to include the reaction of the other person.
"Being able to see the person we speak to is also key. Something intriguing, something that will make a person want to watch the whole thing."
"For example, one of our videos that has almost 500k views is of an atheist young lady I spoke with who said 'If God is real I wouldn't be poor' – an outrageous statement, but with a helpful reply to her, the video exploded with views and comments.
"We have six of us regulars [all from Brisbane] who hit the virtual streets every day of Omegle , but also with a handful of others who join on different days when they can."
Omegle is a website that makes it easy to chat to other people across the world.  As COVID lockdowns began in March, an Operation 513 team member remembered Omegle was a place where people could chat about anything.
"We thought, 'Let's give it a shot!' This was the last Monday of March," Hemelaar recalls. "And to our surprise, people on there were willing to chat."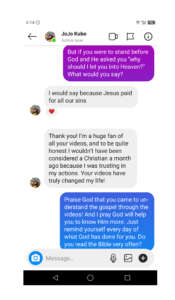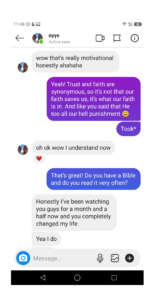 "The online outreaches are usually between three to eight hours in length each day."
Operation 513 started doing this every day, before streaming some conversations live on YouTube and Facebook. They hope other followers of Jesus will pray live for their online evangelism, or be encouraged by seeing the good news proclaimed in such a social-media-friendly way.
"In July, we thought 'Why not make a one-minute summary of some of our chats and post it on to TikTok?' That was a hard feat getting the clip down to a minute in length, but we did and posted on TikTok our first clip. To our surprise, it took off. Each day the clip was going up and up – thousands of views each day – to where that first clip is now at 200,000 views."
"Then we decided to post two new clips everyday and more and more people started following us and watching the clips. Almost daily, we are getting messages from our viewers that the one-minute videos coming up on their TikTok 'for you' page have been such a help to them – and that many have come to grasp the gospel and now believe it for themselves."
As COVID restrictions lift, Operation 513's Brisbane and New Zealand teams are back on the streets. But these days, they will still be seeking souls online too.
Pray
Some prayer points to help
Please pray for 513 and their gospel work online and ion the streets