I have spent a lifetime building endurance – mentally, emotionally, spiritually and physically; and I have found they are all quite connected. When the global pandemic of 2020 began and quarantines went into effect, overnight, I was no longer able to travel and speak at live events, though I did record numerous messages for churches around the world. Because I was unexpectedly at home for months on end, my friend Dawn, who has walked, run, and hiked more trails than I ever will, invited me to start hiking.
Why not? I thought.
Little did I know how God was going to use such a decision.
I began prepping in every way I knew how. In every area I could, I began building stamina, strength, and courage to go a greater distance. To do what I had never done before. Deep inside, I knew that God wanted to increase my capacity, especially spiritually. As He'd used many other activities in my life, such as walking, running, weightlifting, and even boxing, this time He was going to use hiking. How, I had no idea, but I was up for it.
Fuel your faith every Friday with our weekly newsletter
To be honest, as we ventured out on each of the hikes, weekend after weekend, I found myself thinking very little about God and spiritual principles. I was mostly trying to survive! Often we would trek for six to eight hours, climbing in elevation by as much as 4,500 feet in the span of a few short hours. Once we reached a summit, we would have to begin the equally dangerous trek downhill, which requires just as much skill, steadiness, and endurance as the ascent.
In the days following a hike, as I would rest and recover and go for long walks along the beach, I would begin to see volumes of spiritual truth. And out of that truth came my new devotional Resilient Hope – inspiration to help you build the endurance you need to run your race, fulfill all the purposes and plans God has for you, and stay on mission –even in the face of adversity. Especially in the face of adversity …
By the grace given to me, I tell everyone among you not to think of himself more highly than he should think. Instead, think sensibly, as God has distributed a measure of faith to each one. (Romans 12:3)
One of the most important parts of hiking doesn't take place anywhere along the trail. It doesn't take place at the trailhead. It doesn't even take place on the way there. It takes place in the days and weeks ahead. So many times, when I was preparing to climb peaks in Southern California with my friend Dawn, she would send me texts telling me about where we would be going, what the climb in elevation would be, and how many miles we would walk. She would recommend supplements I could begin taking a few days ahead to deal with the altitude and what foods to pack so I stayed energized. She would tell me what to expect from the weather, and then remind me what kind of clothing to wear, what weight of jacket to bring, and what gear I would need.
I came to understand and appreciate that the right equipment is crucial to staying safe and being able to endure all day long—and to succeed at any hike, whether it's up a mountain, through a wilderness, or across a flat plain. I'll never forget when my husband, Nick, ordered me a new hydration vest and set of trekking poles for our Yosemite trip. I laughed at myself for how excited I got. Who knew equipment would be the key to my heart?
God always ensures we have the right equipment for the life He's called us to live.
More than once, I've thought about this, and the spiritual implications haven't escaped me. God always ensures we have the right equipment for the life He's called us to live.
God has called us to live by faith, walk by faith, and stay in faith – and He's equipped each one of us with a measure of faith. That means He's given us all the faith we need to do what He's called us to do – and He's called us all to do something. He has plans and purposes for each of our lives. He has good works for us to do.
Do you know what God has called you to do? Does it feel like a mountain that's unscalable? They all look like that when you're at the bottom or somewhere in the middle. But I know from experience, if you will just reach in your pack and pull out what you've been given, if you'll risk activating the faith God's given you, you will accomplish all that He's called you to do.
Father, thank You for the measure of faith You have given me. I will risk trusting You and stepping out in faith to do all that You've called me to do. In Jesus' name, amen.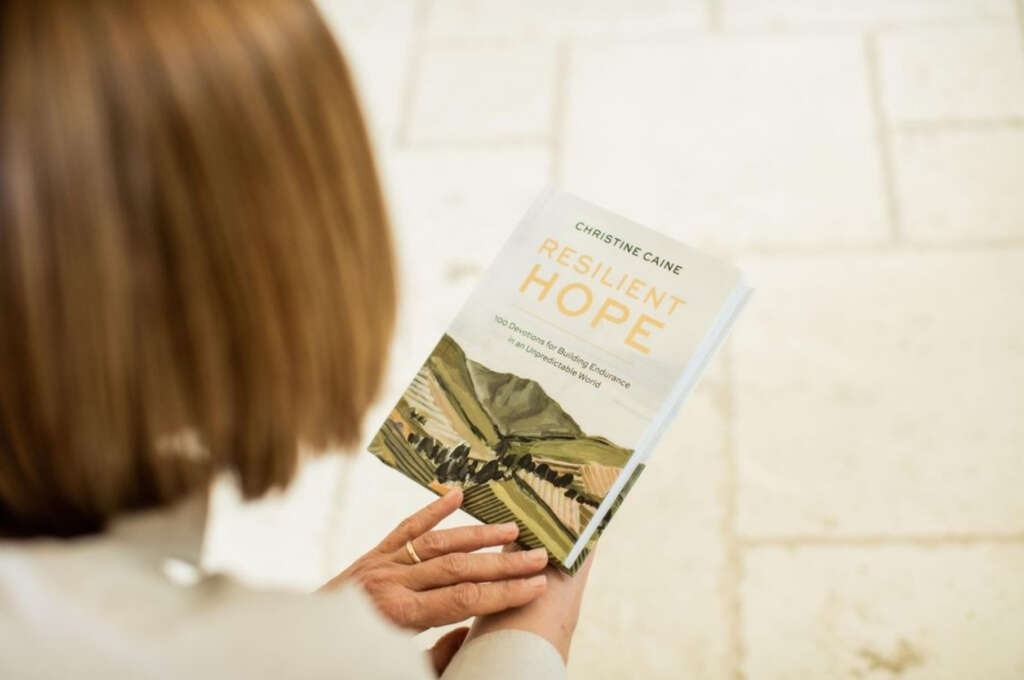 From the new book Resilient Hope: 100 Devotions for Building Endurance in an Unpredictable World by Christine Caine. Copyright © 2022 Caso Writing, LLC. Published on August 9, 2022 by Thomas Nelson, an imprint of HarperCollins Publishers. Reprinted by permission.
Christine Caine is an Australian-born, Greek-blooded lover of Jesus, speaker, author, and activist. Together with her husband, Nick, she leads the anti–human trafficking organization, The A21 Campaign – a recipient of the Mother Teresa Memorial Award for their work combating human trafficking among refugees – and Propel Women. Christine and Nick live in Southern California with their daughters Catherine and Sophia. 
Christine will be speaking at Bible Society Australia's inaugural Bible Conference in Sydney (at the Powerhouse Theatre and online) on September 2 at 6pm. Andy Crouch will also be speaking at the conference, as well as Simon Smart and CEO of Bible Society Australia, Grant Thomson. Both in-person and online tickets are available for a donation. For more information or to book, visit Bible Society Australia's website.