Culture
Music News
Tauren Wells: Mariah tours, Grammy nominations, #1 radio hits – but focused on God and others
After reading Tauren Wells' bio, my first thought is, "Oh no, this guy's a big star."
I'm always like this when facing an interview with someone who has an impressive list of achievements in the entertainment industry. I'm a bit put off by the glamour of it all. (I think it's my Australian Baptist Church roots.)
On paper, Tauren Wells really is a big star. The celebrated recording artist, multi-instrumentalist and songwriter, has had 10 GRAMMY® Award nominations, six number ones, 225-plus million career video views, six GMA Dove Awards, a Billboard Music Award nomination, and over one billion global streams to date. He's even toured with Mariah Carey and Lionel Ritchie, for goodness sake.
Listening to Wells' songs, though, my curiosity is piqued because while they express hope in Jesus, they aren't just expressions of what Wells has experienced. As a listener, I don't feel that I am eavesdropping on the man's devotional time. In fact, his songs seem so focused on his audience – on me –  they are almost pastoral. His lyrics encourage me with a message of hope.
Could this guy possibly be in the Christian music business for others?
Song after song chips away at my cynicism. Wells doesn't seem to be an artist who is in it for the awards and the accolades. Could this guy possibly be in the Christian music business for others? I resolve to ask him when we talk the next day.
By that time, Wells has done six or seven Zoom interviews. I express my sympathy, but he pushes it away, saying he is genuinely enjoying the privilege of connecting with people over the other side of the world. I dive into my questions.
"So, I was just listening to a bunch of your songs over the last couple of days and thinking about what I think your 'signature message' might be. What would you say your signature message is?" I ask.
It's a terribly clumsy first question from someone who gets paid to interview people. I mentally face palm emoji myself.
"Oh, no!" Wells responds, looking amused. "I want to hear what you think my signature message is now!'
I deserve that. I make a mental note to write my first question down in full before I interview the next Big Christian Music Star. But there's no time to waste, so I plough on.
"It's a bit rude of me, isn't it? But I was thinking that your songs are very much trying to encourage others in their journey from what you've come from yourself. I think a lot of artists are singing their own songs to God and they let you in on the process and stuff, but you've really got this 'others' focus…" I stumble. "Would you say that's true?"
Wells smiles. "I think you're very keen. That is the core 'why' of what I do," he says. I breathe a sigh of relief.
"It's to call greatness out of others, to make people realise that their story is possible – that there is still hope in it, even when it feels like you're surrounded by the ashes of bad choices or circumstances."
"It's to call greatness out of others, to make people realise that their story is possible."
The same poetry found in Wells' lyrics is evident in his speech.
"If, for some reason, you feel like you've been sidelined or pushed to the outside and marginalised, that God is constantly calling us up, calling us higher, bringing us in, bringing us closer, giving us purpose. And that there's so much beauty in the story you have left to tell."
I ask him why he has such a strong desire to encourage others. "I experienced that myself," he answers without hesitation. "I had an amazing mentor and student pastor that came into my life when I was about 12 years old and our relationship developed as I grew up a little. He was actually on staff at the church, but also worked in my public high school."
Wells recounts how he would go to his student pastor's classroom during lunch breaks, and they would go through popular leadership author John Maxwell's books together.
"He was teaching me leadership principles and how to steward influence," Wells says. "How to show up for other people and have a great attitude."
Through those lunchtime meetings, Wells was able to work through a lot of his "dysfunctional attributes and immaturity". And there was one message the pastor preached that Wells has never forgotten.
"You can tell it's a youth group sermon, but he had a limbo stick and we played the game 'How low can you go?'" Wells recalls. "And, of course, I'm probably 17 at this time, so I'm like, 'This game is stupid, but I'll do it because I want to be a good sport'."
The pastor told the students, 'The world wants to see how low you will go. But Jesus wants to see how high you'll allow him to take you."
"There is a space of significance that was uniquely designed for you."
The insight influenced Wells profoundly, immediately giving him context to painful experiences such as his parents' separation and negative comments on his rambunctiousness and disruptiveness in school. He realised that while "some people might have set low expectations for what was possible in his life, God has a different set of expectations" – and they were "higher, even if he did call him to a low place of surrender."
"So I just I've carried that [youth group message] with me. I've wanted that to be what I tell others, as a core message. God can do something with your life," Wells explains.
"And it doesn't mean that you're going to end up on a stage, that you're going to be famous, that people are going to know your name, that you'll be recognised, clapped forward, photographed – any of that.
"There is a space of significance that was uniquely designed for you – with your past, your shortcomings, your strengths, your abilities – and God is weaving it all together to create this tapestry that reflects his glory. And yeah, I'm glad that I experienced the power of that message early on because it gave me great clarity for what I wanted my life to aim at."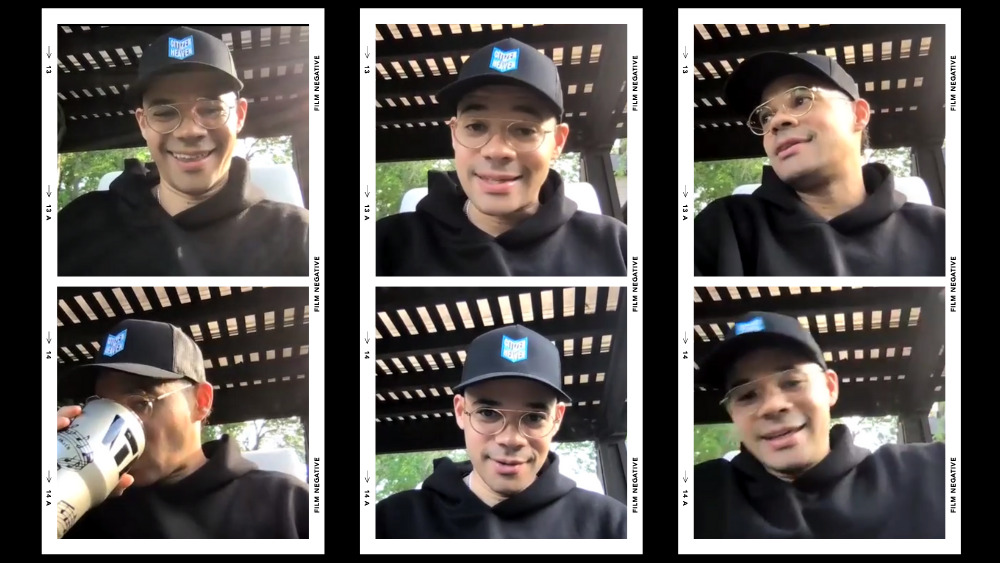 I ask him how he handles all the fame and the awards and still keeps his eyes on what God says is true?
"With counselling and pastoral leadership," Wells replies with a laugh. "But, really. And perspective – it's a big thing. There's so many layers to this answer."
A team member team at Lakewood Church, Wells says he has loved his local church since it was just 50 people with not particularly good music to now being one of the biggest churches in the world that does everything at the level of the Grammys.
"I love it all. I am here for it all. I think there's beauty in it all, and that God works through it all. I love that," he says. "I love being in the trenches with people. I think it's cool to come into a city and drop joy bombs and people are excited and they got to sing their favourite song – that's awesome. [But] I think it's a much richer experience to walk through seasons with people."
Wells lets out a spontaneous whoop. "I feel that! There's just something about being in relationship with people. And honestly, I've had to fight for that. Just like how it is in any industry and in any sphere in society."
"I love being in the trenches with people."
He recalls a comment from his Aunt, an educator. She began her career as a teacher before earning a doctorate in education and holding influential positions such as the superintendents of school districts.
"I'll never forget what she said early on as she started to make these transitions out of the classroom. She said, 'It's interesting, the higher up you go in education, the further you get from the student,'" Wells recalls.
"I think it's the same thing in the church world. Sometimes the larger your platform grows, the more success you have, it's easy to get further and further away from the people. So I have had to pull against that tide to stay connected to people who really know me – to people who were there before anything popped off – and to stay rooted in those relationships."
"I have had to pull against that tide to stay connected to people who really know me."
Wells models that on having seen early in his career how the members of the huge Christian band Casting Crowns stayed grounded in their local church.
"They were a great example to me," he says. "Mark and the rest of the guys and gals who were plugged into their local churches as youth pastors, as worship leaders, who carved out weekends that were just off-limits [for bookings] because they were going to be at home, either serving or in the pew.
"I loved getting to see their success in an arena and their commitment to the local church on a split-screen – both things happening simultaneously. It wasn't one or the other," Wells says. "I admired that and I've wanted to model it in my own life and career."
Wells apologises for being a little long-winded before moving on to the second "layer" of his answer to my question.
"On the other side of that, while I think that there is a beauty in our faith being expressed in corporate worship music – and obviously, no one has done that better than Hillsong for decades – I do think that there is a space for entertainment that has been fused with faith that seeks to operate at the same level of excellence as the best, most acclaimed artists in the world.
"That, to me, is how I honour God. I honour him with the preparation of trying to do my absolute best while leaving room for him to do anything that he wants. And I think that's what makes my live experience unique and why I don't necessarily like being pigeon-holed into just a singular expression of how I worship or bring people to Jesus."
"I honour him with the preparation of trying to do my absolute best while leaving room for him to do anything that he wants."
Wells seems to get that this theology of entertainment for an evangelical purpose is controversial, and not everybody will like it. But I note that he's not on his own in this viewpoint, given the recent rise in Christian artists who have previously only appeared on albums and tours as part of a corporate worship band, who are now also undertaking solo projects in parallel.
Wells continues: "I can make an argument that Jesus modelled it for us," he says. "Because the way that the minds of people were captivated in the times that Jesus was wearing sandals on earth was through story – a hundred per cent. And he caused not just small crowds to gather, but thousands of people to gather, to hear a man tell a story and a sequence of stories – and for them to not be churchy."
"When he was in the synagogue, he read from the Scriptures. But when he was in the countryside, he spoke from his imagination. He spoke from the real-life places that people had been that week. And obviously, they didn't have LED walls and all of that, but don't tell me he didn't use a sermon illustration!"
"Eventually, we're going to step out of this night on earth into an everlasting morning where the sun will shine in an eternity."
Wells is confident that the story of God's love is just as relevant to people today as it was then – a message that is clearly resounding with Christian music fans. His most recently released album, Citizen of Heaven, was nominated in the Best Contemporary Christian Music Album category at this year's Grammy Awards, alongside nominees Kari Jobe, Natalie Grant, Israel & New Breed and an Elevation Worship & Maverick City Music collaboration that took out the win.
Wells describes his hopes for his new album, Joy in the Morning, which is available for pre-order now.
"I hope that people are reminded that there is a horizon," he says. "The reason why the album is called Joy in the Morning is because I feel we get these moments of sunrise in our lives where things are beautiful and seasons are changing, and there's a beauty and a majesty to be experienced every day."
"And that is that eventually, we're going to step out of this night on earth into an everlasting morning where the sun will shine in an eternity. And the goodness of God will be all that there is to experience. That the pain and the discomfort, the weeping, the hurt, the sickness that we endured for a night will end. That there is still a horizon to look toward, to not be distracted by the rocky terrain at our feet, but to lift our eyes a little bit higher and, see that we have a hope rising."
I ask Wells about the single, Hold us together, performed with HER – a track that earned him a second Grammy Award Nomination this year, this time for Best Contemporary Christian Music Performance/Song.
"Hold us together, to me, is an amazing reminder of that Scripture in Colossians that says, 'in him, all things hold together'," Wells explains.
"The relief that gives me is the reminder that he's holding it all together. It's not on me to try and make sense of it all – to try and hold my marriage together, my relationship with my kids together, to hold my career together – like, we can't, we just can't, we will wear ourselves out. And yet there are these everlasting arms that we get to lean on."
Wells' new album, Joy in the Morning, is available for pre-order and will be released on June 10.
Email This Story
Why not send this to a friend?