The Easter handout from my local council, the Inner West Council, nestled against the CBD of Sydney, starts out so well.
"Happy Easter! There's more to Easter than bunnies & chocolate!" It might have been a church handout.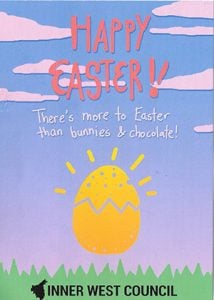 "Amazing," you might think, "it's very inclusive to help the Christians celebrate their special festival."
But then you turn it over.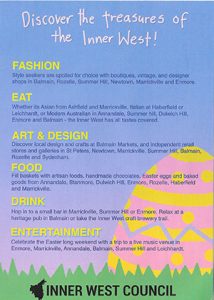 Easter is about FASHION, EAT(ing), ART & DESIGN, FOOD, DRINK and ENTERTAINMENT.
Perhaps church might be included in the ENTERTAINMENT section which suggests a visit to a live music venue. But ART & DESIGN does not include any church building in the district – some with striking artworks.
So Easter, as far as the local council is concerned, is Jesus free.
Luckily the local churches have been leafleting too. With the message of the first Easter.
Here's how Saint Paul records it.
For what I received I passed on to you as of first importance: that Christ died for our sins according to the Scriptures, that he was buried, that he was raised on the third day according to the Scriptures, and that he appeared to Cephas, and then to the Twelve. After that, he appeared to more than five hundred of the brothers and sisters at the same time, most of whom are still living, though some have fallen asleep. Then he appeared to James, then to all the apostles,  and last of all he appeared to me also, as to one abnormally born. (I Corinthians 15:3–8)