BSA History
Good News
Bible Reading
Want to raise a spiritually healthy kid? Read them the Bible
Plus: Bible giveaway for babies born in Bible Society's bicentenary year
The best thing that parents can do to raise kids who become spiritually healthy young adults is get them reading the Bible regularly, according to a recent study.
The study, conducted by Lifeway Research, aimed to discover which parenting practises pay off over the long haul by interviewing a group of 2000 Protestant and non-denominational church-going parents about the spiritual health of their adult children.
"We know that a Bible reading habit is the single biggest contributor to growing faith," – Melissa Lipsett, Bible Society Australia
Parents gave observations for a total of 3,472 adult children. The study found that 29 per cent of those adult children regularly read the Bible when growing up. These early Bible readers, when evaluated for their spiritual health as young adults, were found to be 12.5 per cent higher than comparable young adults who didn't read the Bible regularly as kids.
The survey group were asked about 40 factors regarding their young adult's childhood, including: whether divorce occurred in the family; whether the family ate meals together; the kind of school that the child attended; whether the family prayed together; what kind of music the child listened to; and how often they attended church or youth group.
They were then asked to identify whether their young adult identified eight 'observable factors' that indicate spiritual health, including:
–       Identify as a Christian;
–       Shares his/her faith with unbelievers;
–       Is involved in church;
–       Reads the Bible regularly;
–       Serves in a church;
–       Teaches others at a church;
–       Serves in the community; and
–       Supports local or foreign missions.
Of the total of 3,472 young adults reported on by their parents in the survey, 85 per cent identified as Christian. However, 50 per cent of the young adults practised one or none of these spiritual practises, and only 3 per cent of the young adults practised all 8 of these spiritual health indicators.
Lifeway Research then compared these findings to the information they had gathered about the child's upbringing, to evaluate which parenting practises were most likely to predict  spiritual health as a young adult.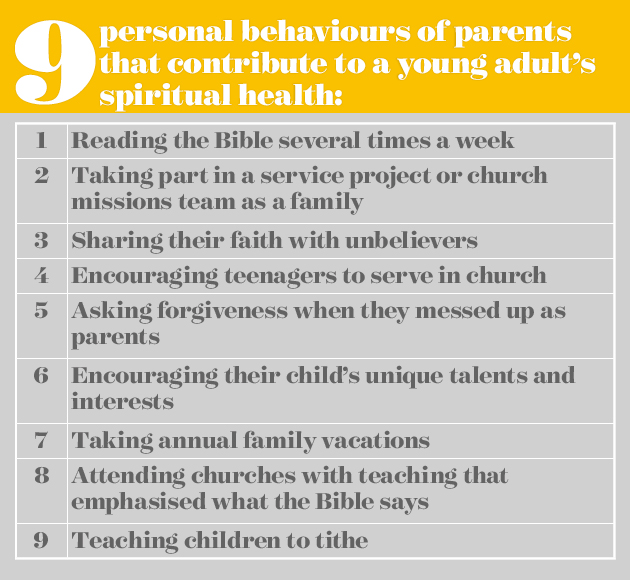 Whilst Bible reading came out on top as the biggest predictor, the survey also found that spiritual health levels were 7.5 per cent higher on average for young adults who regularly prayed, served in church, and/or listened to primarily Christian music, than they were for comparable young adults who didn't.
For the Bible Society Australia, these findings fuel a passion to make the Bible available to all – and especially to kids, according to the Society's Chief Operating Officer, Melissa Lipsett.
"We know that a Bible reading habit is the single biggest contributor to growing faith," says Lipsett. "As a Christian mum, my greatest desire for my children is to see them develop a faith of their own. In that context, reading the Bible to children has got to be seen as an absolute imperative."
Just this week the organisation announced the launch of 'Bibles for Bubs' – a giveaway of one thousand Bibles to babies as a part of their Bicentenary celebrations.
"We think reading and engaging with the Bible is life giving for everyone, no matter their age." – Melissa Lipsett
Bible Society Australia is inviting parents to register babies who were born throughout 2017 and up to 7 March 2018, to receive an initial free gift of a Toddler Bible.
In addition, each baby will then receive an annual birthday card, with suggestions to encourage their faith and family Bible reading. Then, when the child turns 5 years old, they will receive another beautiful gift – a CEV Big Rescue Bible that will see them through their Primary years and help them establish the regular Bible reading practises that can set them up for a lifetime of walking with the Lord.
"We love the Bible and want to get it into the hands of as many people as we possibly can. Concentrating on the next generation is key so we're engaging with young families and young people in as many new creative ways as we possibly can," said Lipsett.
"We're going to track alongside these families to help encourage and nurture family faith and Bible reading and then when the child turns five, we'll be sending them a gift of a Big Rescue Bible, one of our most popular bibles for young, school aged children.
"We think reading and engaging with the Bible is life giving for everyone, no matter their age. Adults can do that for themselves, but children need help and encouragement, and we'd love to help and encourage parents and carers as they do that."