Dena Gower knows what God has called her to do.
"A lot of people say to me that I'm kind of like the bridge between Aboriginal and non-Aboriginal people," says Dena humbly about where she believes God has wanted her to be for the past few decades.
"You know, the bridge so that we can come together.
"I just want us to get away from the black and white issue, and the anger out there and the division that divides us."
Dena is a Wadjuck, Balladong and Wilman woman from the part of Nyoongar country now known as the Perth suburb of Manning in Western Australia. She's mother to eight children in a blended family with husband of 21 years, Garry, who she loving calls "her rock". They share 26 grandchildren – and one great grandchild (with one more on the way).
Dena also is a community leader. Along with Garry; their Christian faith has inspired them to create services and ministries which support Indigenous people as well as promote racial healing. Together, they co-founded community group Moorditj Keila ('healthy dolphin' in Nyoongar) almost 20 years ago, and Dena now leads Ngaama Ministries which, among other things, hosts art exhibitions and provides cultural workshops to churches seeking better understanding and relationships with First Nations peoples.
Trying to organise a phone interview with Dena was tough – her diary was chockers before Perth's latest lockdown this week. From helping at a local op shop to practicising for a NAIDOC Week choir performance that has been cancelled due to COVID, Dena seems to be involved in everything. She even was the voice of Ruth – for the audio recording of the Nyoongar translation of the Old Testament's Book of Ruth.
But this warm, relatable woman does not position herself as a hero or a one-person answer to social issues or Christian fellowship. How she came to be a "bridge" for God's work in the world is grounded in Dena being open to where the Spirit leads her, even as it tires her out or weighs upon her.
"My main focus is doing what God wants me to do," reveals Dena.
"You don't intentionally want to take on that [leadership] role but, you know, when we started Moorditj Keila, we had the Ministry of Housing come to us and the shopping centre here in Manning where we live, because there was some young Aboriginal kids stealing at the shops and causing a real havoc."
A couple with established respect and influence in their Manning community, Garry and Dena quickly talked about how they might help the younger generation. Dena had an idea that would come to anchor the Gowers as key leaders able to engage both Indigenous and non-Indigenous Australians.
"I said, 'Let's start a basketball team.' At least we can get them into something, to get them out of the shops and somewhere where they can just let all their energy and aggression out on the court if they need to."
"That's how we started with Moorditj Keila really was with the basketball teams and the woman's group."
God gets Dena's attention
Moorditj Keila has blossomed into a robust enterprise that now resides in the Manning Community Centre, still offering social and sport groups as well as a program to help learner drivers, while acting as a "gateway" for local government, schools and clubs to connect with Aboriginal people.
"They can come to us because we're kind of like the gatekeepers, you know?" says Dena, who has positioned Moorditj Keila  as a conduit for everything from education scholarships to donated goods.
"We are able to access whatever we can, to make sure that these young people are happy. That they have resources they need to reach their dreams and be a part of the community."
Dena calls her community work "ministry". She sees whatever she does as some form of service to the God who spectacularly grabbed her attention – in prison.
Growing up on an Aboriginal reserve outside the country town of Narrogin in WA, Dena went to Sunday School. She remembers being four, trying to sing along with the Christian lyrics which she could not read from the overhead projector's light.
"I felt like the seed was planted then on that reserve … but then after that I came to Perth and I didn't give my heart to the Lord until … you know, I ended up in prison."
Dena served three months behind bars for being caught on a "joy ride", having been "thrown in the car" at a time when she was in a relationship involving domestic violence. "While I was in there, Pastor Cedric Jacobs came in there and I re-committed my life to the Lord."
Jacobs is "resting in peace with the Lord now" and played a pivotal role in Dena's faith journey. But it was a shocking vision that compelled Dena to change her heart and life.
"[One] night in my cell this big lion was dragging me around the cell in my dreams, smacking me all over the place. I woke up in the morning and when [Pastor Jacobs] came there, I thought then that I needed to give my heart to the Lord … And me and my mate, one of my friends, we both gave our heart to Jesus – and then everything since then, that's when God has just kept calling me after that."
"And here I am."
Dena says her life experience means she can relate to women who have also been through domestic violence, and women who have been through the prison system.
"I can relate to the girls that just feel like they're nothing, you know, that they're worthless; that's black or white, doesn't matter.
"I always say to them, Jesus loves you. Even though you don't feel loved, he loves you all. He wants better for you because you deserve it; you're a woman of God, you belong to him. You're his child.
The water of life
Dena had another palpable revelation a few years ago when she felt it time to step away from steering Moorditj Keila with Garry. "I said to the Lord, 'Well, what do I do now?'"
"My daughter left one of her paintings [at my house], because she's an artist, and it had on it a waterhole. I looked at that painting … and I rang one of my cousins and asked her what was the Nyoongar name for 'waterhole'.
"She said, 'Ngaama'. Then I looked up the verse, you know that 'if you drink of my water, you'll never thirst,'" says Dena, referencing Jesus' words about himself in John 4:14.
"That was the scripture then for Ngaama. I got excited. It was like a whole new birth. I was that happy."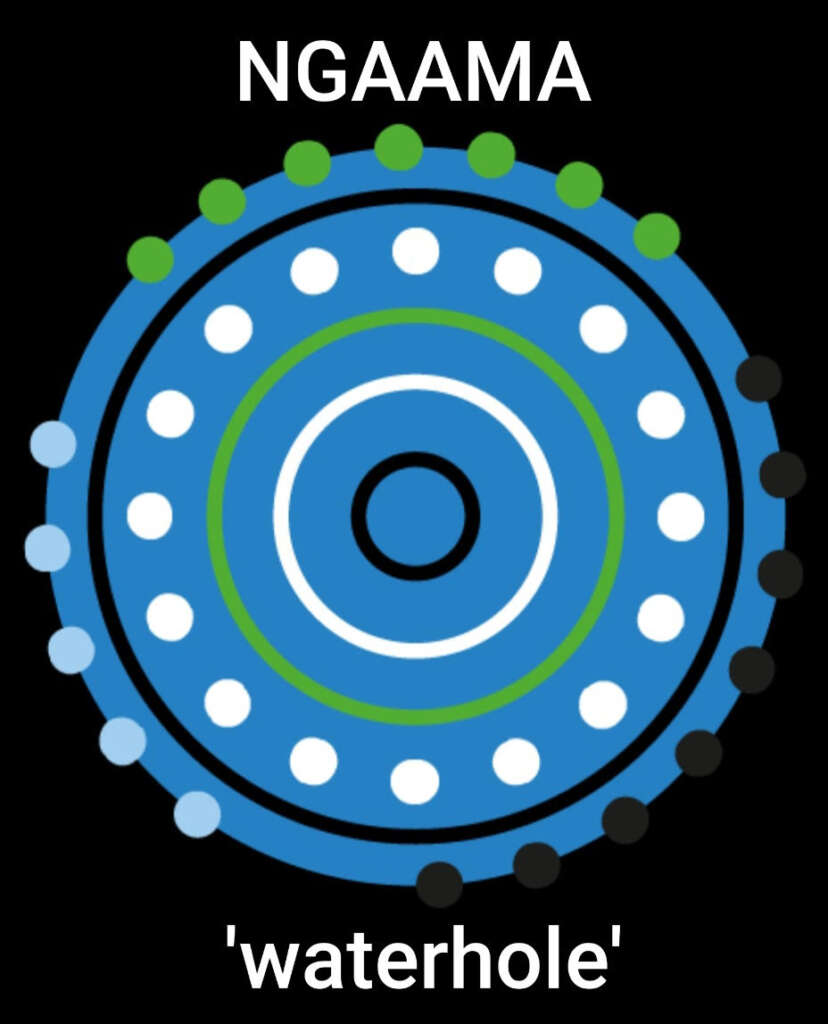 The artwork became the symbol for Ngaama Ministries, which has grown to be involved with churches across Perth including Mount Pleasant Baptist and megachurch Riverview in Burswood. Dena is glad that her and Garry's 20 years of bridge-building have resulted in strong relationships with "wonderful brothers and sisters in Christ" who are Indigenous and non-Indigenous. But a primary passion is raising up the next generation of Aboriginal leaders.
"Everything that we do, we have young people involved with us … I want to set up a safe pathway, safe journey for Aboriginal kids and non-Aboriginal kids to be able to come through," says Dena about Ngaama. "[We also] encourage other people, like the elderly ones to continue ministering and to not to give up."
One of Ngaama's distinct offerings is Knit Cultural Yarning Workshops, a full-day gathering that Dena facilitates with Keren Masters. Keren is not Indigenous, but grew up at Hall's Creek in the East Kimberley region, knowing five Aboriginal languages before she could speak English. The daughter of missionaries, Keren offers a potent perspective on race relations in Australia.
"We do [the workshops] with pastors and churches," says Dena. "We talk about the history of Aboriginal people, and about the trauma and what's happened – and how the church was involved in a lot of that – and the colonisation and everything."
"The most amazing thing is that God is in this, you know, he's the one that's healing through this here.
'I'm only asking you to come over to my side, my Aboriginal world, just for a couple of hours.' To come to a conference or a workshop or something … Come and feel uncomfortable for a couple of hours.
"The workshop we had yesterday, people were just really amazed; they've heard a lot of things, but they haven't had the chance to sit down and actually yarn about it."
Dena and Keren seek to bust myths about Aboriginal people, as well as represent the ongoing trauma caused by assimilation into Western culture. "We bring somebody in that's been taken away, you know, that was one of the Stolen Generations and they tell their story.
"It's so powerful, just the way that God is using it."
A simple suggestion for healing
One senior minister who recently did the course told Dena it inspired him and his church to better reach out to Indigenous people. In the words of the Apostle Paul in 1 Corinthians 9:19-23, the minister wanted to "become all things to all people so that by all possible means I might save some".
"He said that the workshop was extremely useful in helping him to unlearn so much of what he simply picked up from his 'white perspective' and to relearn with more of an understanding of the Aboriginal perspective. He found it not only a humbling experience, but encouraging, and that the whole process was very gracious and healing."
'Heal Country' is the theme of NAIDOC Week 2021, which starts Sunday July 4 and runs until July 11. With many NAIDOC events cancelled or postponed around the country which were meant to celebrate the history, culture and achievements of Aboriginal and Torres Strait Islander peoples, Dena has a simple suggestion for something non-Indigenous Christians in Australia can do right now: go and relate with Indigenous brothers and sisters, engaging with, hearing and learning from them.
God has made us Aboriginal people; come and feel the presence of what he's made us.
"I encourage you to see the difference in cultures, the difference in your Western culture compared to our Aboriginal culture that God has given us," says Dena. "God has made us special people as well, you know? If you just go and hear the voices and feel their presence and the love, because we do want to show our love, God's love.
"A lot of times people are frightened of us but I think it's just the ignorance and the stereotyping … You really need to just go for it."
"Every day we got to get up and go out into the western world to get our food and to live. That's it; we've got to accept that.
"I say [to non-Indigenous Australians]: 'I'm only asking you to come over to my side, my Aboriginal world, just for a couple of hours.' To come to a conference or a workshop or something … Come and feel uncomfortable for a couple of hours.
"When I get out every day, I feel uncomfortable; I'm watched at the shopping centre to see if I'm stealing. You get a lot of racism and prejudice throughout the day.
"Sometimes you just ignore it, but sometimes you just say something back.
"I just challenge them to come … God has made us Aboriginal people; come and feel the presence of what he's made us."
'The only hope that we have'
Dena's straightforward suggestion to non-Indigenous Australian Christians comes from a woman who has been a bridge between two divided worlds for a long, long time. But it takes its toll.
"It's really hard for me to be able to go out into the white community all the time, you know, because I'm tired of trying to build that bridge between us. [There's still] racism, prejudice and stereotyping, you know?"
What keeps Dena going is her team, working with "warm" churches, and the spirit-filled truth that God desires the coming together of his people, not their breaking apart. 
"God wants to unite us. He wants us to be united because when we go to heaven, we're not going to have a white church or African church or Black church or Nyoongar church or something – we're going to be all together. So we should try and practice it down here."
"God created us and I don't think he wanted us to be divided the way that we are.
"The only time he divided us was at the Tower of Babel [see Genesis 11:1-9] because people thought they were so smart they could reach heaven. And now, they are still building empires – but you don't see any black fellas doing it," chuckles Dena, "Or digging up all the earth and killing it and mining."
As Dena raises ongoing issues of greed, exploitation and division, her tone doesn't change. While she admits to being tired and having righteous anger, Dena is notably calm and reflective even as she references the hurt and trauma of her people. The reason for her pragmatic but positive outlook is clear and unchanging.
"I think the more you get closer to God, the more you understand that nothing [else] really matters," says Dena. "It's just being close to him and doing the work that he wants us to do.
"You can't force people to change. You can only tell them what God wants you to tell them. And then it's up to them and it's up to God to make that change in them.
"… I know that he's the only hope that we have."