The most useful ancient text of the Old Testament used to be the Masoretic text that was written by the Masoretic Jews between the 6th and 10th centuries AD. People wonder, fairly reasonably, if this text was the same that Jesus would have read a thousand years earlier.
The answer to this question came in 1947 when a young Bedouin shepherd boy discovered some pottery jars in a limestone cave whilst he was looking for a lost goat. (The cave was about one mile from the northwestern shore of the Dead Sea in Palestine.) Inside the jars were leather parchment scrolls wrapped in linen. These became known as the Dead Sea Scrolls.
Eventually, scrolls were found in eleven caves situated around the ancient ruins of the Qumran community. This community was a splinter group of pious, nationalistic Jews who chose to live an isolated monastic existence. They were particularly active between 130 BC and 68AD, which means they were active at the time of Jesus.
The community was eventually wiped out in 68 AD by the Roman army bent on stamping out Jewish rebellion. Before they were killed, however, the community managed to hide their library in the surrounding caves.
About five hundred documents, some just fragments, were found. About one-hundred of these were texts from the Old Testament. In fact, portions of every book in the Old Testament were found except the book of Esther. The remarkable thing was that when these texts were compared with the Masoretic text, they were nearly identical. This was despite them being up to a thousand years older! This gives us confidence that the Old Testament had not been changed in any significant way. What we read now in the Old Testament are the same Scriptures Jesus read.
John, the disciple who was closest to Jesus begins his epistles with these words:
That which was from the beginning, which we have heard, which we have seen with our eyes, which we have looked at and our hands have touched—this we proclaim concerning the Word of Life. The life appeared, we have seen it and testify to it, and we proclaim to you the eternal life, which was with the Father and has appeared to us. We proclaim to you what we have seen and heard, so that you also may have fellowship with us (1 John 1:1-3).
John is making it quite clear that he is writing from his first-hand experiences of Jesus. He is not at all interested in promoting myths that might have occurred about him at a later stage.
Scholars have more fragments and copies of early New Testament manuscripts than any other historical document.
The apostle Paul was equally passionate about accurately transmitting Jesus' words and actions (2 Timothy 2:2; 2 Timothy 2:15). Paul understood that the revelation he had of Jesus, and the truths handed to him by the apostles, were a sacred entrustment that he needed to pass on faithfully in an untainted way. He wrote:
For I received from the Lord what I also passed on to you: The Lord Jesus, on the night he was betrayed, took bread and when he had given thanks, he broke it and said, "This is my body, which is for you; do this in remembrance of me" (1 Corinthians 11:23-24).
Historical accuracy has always mattered. The apostle Luke took pains to research all that happened in the life of Jesus using the first-hand accounts of the apostles (Luke 1:1-4).
The Scriptures came into existence really quickly
One of the extraordinary features of the New Testament is how soon the Scriptures were written after his death. Paul wrote his letters just fifteen years after Jesus' ascension. It is thought that his letter to the Galatians was one of his earliest, and it contains a fully developed understanding of Jesus' death and resurrection, and a full appreciation of their significance (1 Corinthians 15:1-8). What is more, he knew that what he said could either be endorsed or rebutted by those still alive who remembered Jesus. He couldn't afford to say anything that was historically absurd.
Scholars have more fragments and copies of early New Testament manuscripts than any other historical document. Because so many early copies of the New Testament text have been found, the different texts can be crosschecked for accuracy. Remarkably, the texts have been found to retain an accuracy of over 99%. In archaeological terms, this level of accuracy has no parallel.
The Holy Spirit has brooded over the development of the New Testament
It seems as if the Holy Spirit of God has brooded over both the content and development of the New Testament accounts of Jesus. This should not surprise us. If you look at the gospel accounts of Jesus and the start of the book of Acts, you can't help but be impressed at the priority Jesus placed on teaching his disciples the full truth and significance of his ministry, and how he completed the prophecies written about him in the Old Testament (Lk 24:44-48; Luke 24:25-27).
And now this teaching has reached you.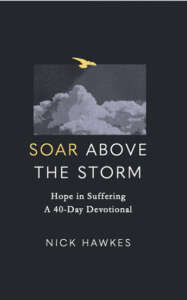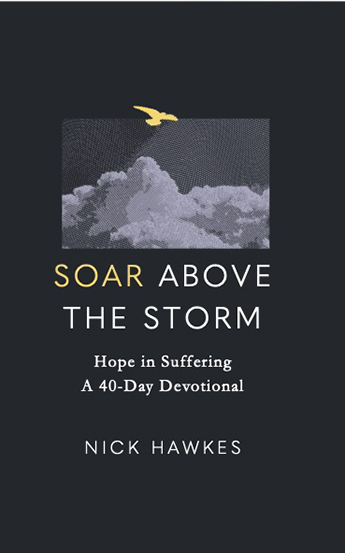 Dr Nick Hawkes is a scientist, pastor, apologist, writer and broadcaster. He also describes himself as an absent-minded, slightly obsessive man who is pathetically weak due to cancer and chemo, who has experienced, and needs to experience, the grace of God each day.
Nick has written a book Soar above the Storm in which he draws on his experience of cancer to encourage anyone walking through a storm in life to find rest and hope in God. It offers a 40-day retreat to be refreshed and strengthened and find deep peace in God. Order it at Koorong.
He blogs and records podcasts at nickhawkes.net
Nick told his life story to Eternity https://www.eternitynews.com.au/good-news/deadly-storms-heroin-addicts-cancer-and-my-faith/
Email This Story
Why not send this to a friend?